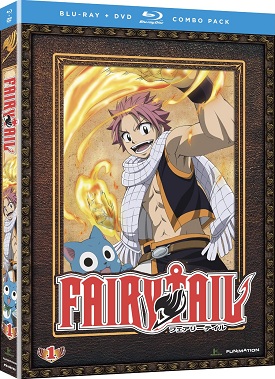 Fairy Tail: Part 1
Studios: A-1 Pictures, Satelight
Publisher: FUNimation
Release Date: November 22, 2011
Price: $54.98 – Available Here
Overview:
Over the past decade a number of series have begun to dominate the anime world. All of these series focus on the shōnen genre and have risen to such popularity and hate that their names have become synonymous with the genre. These big three are Bleach, Naruto and One Piece and while all of these series have been running for well over a decade in Japan, one series began five years ago in manga format and begun as an anime two years ago.
Now the first part of that anime has been released in North America courtesy of FUNimation. That series I am talking about is Fairy Tail. While it may follow the standard shōnen format, the unique premise helps set it apart from the larger series that hold the shōnen genre in a death grip. Now does this unique premise translate into an interesting viewing experience? Let's find out.
Story:
The story of Fairy Tail takes place in a world where not only does magic exist, but it is a commonplace tool that most people use to accomplish many tasks in their lives. However while most of the world is satisfied with their minor knowledge of magic and can go about other lines of work and live a normal life, there are those who choose to make magic their life and become Wizards. Now not only can Wizards come in all different genders and ages, there are also a number of specialties that most Wizards begin to follow.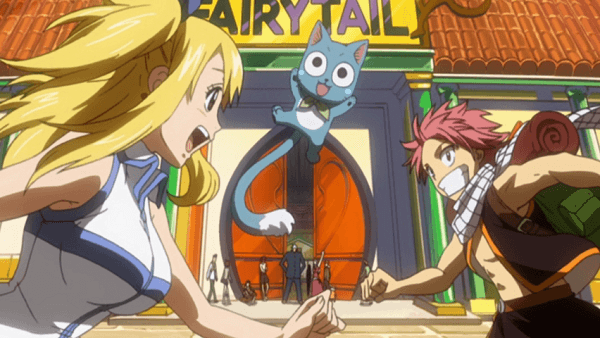 The first Wizard we are shown is a young woman named Lucy who focuses her magic around being able to summon contracted spirits through a spirit gate with the use of a magic key. Her brand of magic is that of a celestial wizard which is rather unique in the Wizarding world. But when a Wizard chooses to become a master of their craft and use their magic to make a living, the best way to do so is to find a guild to work in.
A Wizard guild is exactly as it sounds. A place where Wizards can meet and join together as well as accept various jobs that are submitted to the guild to be taken and completed. Of course these jobs will provide plenty of money, so the best way to make money and create a living is to join one such guild. However Lucy is aiming for the most notorious guild of them all, the Fairy Tail guild. Through a chance encounter she meets Natsu a literal hotheaded fire using wizard with unique abilities and a flying blue cat named Happy who are members of the Fairy Tail guild and they not only introduce her to the guild but allow her to join their ranks as well.
Now being as this is Part 1 of the Fairy Tail series, we are treated to episodes 1-12 of the series, and since this is the beginning a large amount of the first few episodes have to do with introducing a number of characters as well as set the groundwork for most of their abilities and character growth. The first few episodes are therefore rather stand alone as we are introduced to the main characters, Lucy the celestial wizard, Natsu a fire wizard who can literally eat fire for dinner, Happy a flying blue cat with a squeaky voice, Gray an ice wizard usually at odds with Natsu who just can't keep his clothes on and finally one of the strongest in the Fairy Tail Guild, Erza who possesses a unique ability that allows her to change her magical armor and weapons on the fly and finish off nearly any opponent she comes across.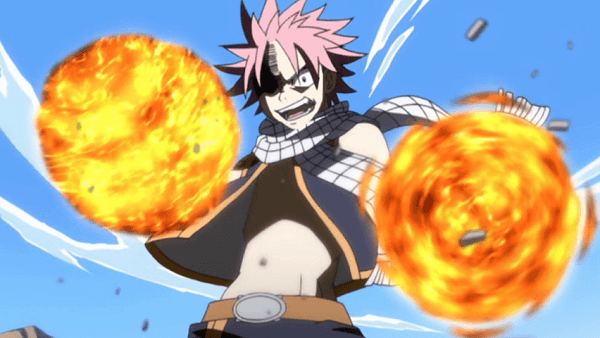 Shortly after we are introduced to all of these characters we are treated to a multiple-episode long story arch that spans most of the rest of Part 1 that focuses heavily on the main five characters. Now the only issue that I have with the story in Part 1 is that it chooses to end right in the middle of a cliffhanger involving Gray and his character development. Now this really isn't too much of an issue as a whole, but ending with a cliffhanger always makes fans want to buy the next part of the series just to see what happens next. Now with Fairy Tail Part 2 and Part 3 coming out in the next few months, thankfully that wait won't be very long as I could not get enough of all of the enjoyable characters that exist in Fairy Tail.
Visuals:
One thing that Fairy Tail has is a massive amount of characters to work with. Now there are obviously the main characters which get a lot of focus and therefore a lot of detail, but what is surprising here that even side characters who are less important and only get a few minutes to shine have a splendid amount of detail in their design making every character look unique despite their large number.
Being a shōnen anime means that there is going to be a lot of combat and it is essential that the animations stays fluid and of a high quality during these sequences to ensure that everything looks great when the battles are at a fever pitch. Thankfully Fairy Tail pulls this off perfectly and nearly all of the high quality animation is reserved for the combat scenes where Natsu, Ezra, Lucy or Gray are battling it out with enemy wizards.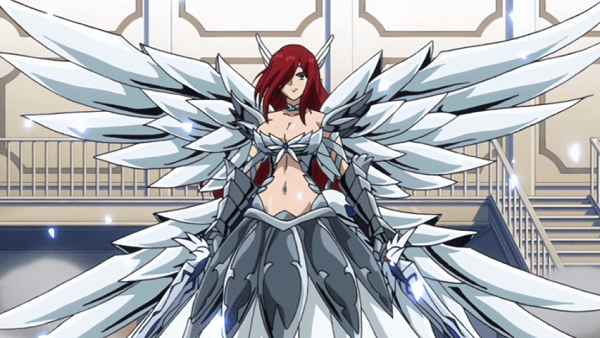 Of course this does mean that there are occasional drops in quality, but most of these drops are during the conversations or non-action parts of the show so it isn't very noticeable and doesn't detract much from the overall experience. As a whole the picture quality on these DVDs are nice and crisp and the color palette pops quite nice.
Also I must make a mention about the shows two ending sequences. While the opening animation follows your standard anime route, albeit with great songs, the endings follow a different art style with more chibi like characters and seem more like a picture book than anything else. The difference in style between the show and the ending provides a pleasing contrast and a satisfying closer to each episode as you either wait or speed to the next one on the disc.
Audio:
As per usual with FUNimation, Fairy Tail: Part 1 comes with both the English and Japanese voice tracks so those who prefer to listen to the Japanese track and read the English subtitles should find no problem doing so with these discs. But for everyone else, of course the English dub is the way to go so that you can experience everything without reading it.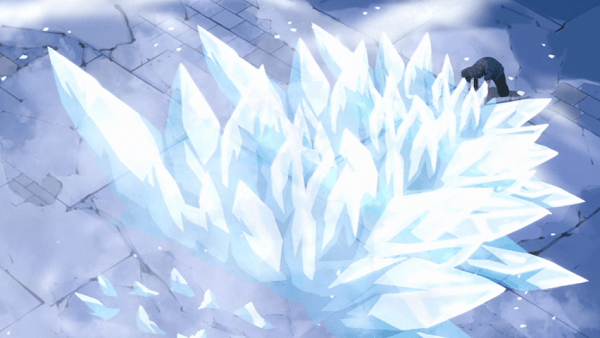 Now with any English dub the quality of the voice actors is a must, and the actors that they have brought in to voice the characters of Fairy Tail have done a great job mimicking the personalities of their characters. I especially enjoyed Todd Haberkon's performance as Natsu as he captured the essence of the character perfectly, while I thought that Tia Ballard's voice work for Happy was spot on, which is great because I was initially concerned with how the little blue cat's voice would sound.
Now the opening songs that we are treated to are still in Japanese and the song you'll be hearing most of the time is "Snow Fairy" by Funkist and it is one of the most enjoyable openings that I have heard for a series, especially the first fifteen seconds of the song. While the other opening "S.O.W. Sense of Wonder" by Idoling!!! does a good job replacing it, I still preferred the first opening song. The endings are enjoyable and follow the same theme that the artwork does, but I found myself less impressed with the songs "Kanpeki Gu~None" and "Tsuioku Merry-Go-Round" as a whole.
Extras:
With the release of Fairy Tail: Part 1 a few extras are included. Now you have your standard inclusion of upcoming and recently released FUNimation trailers but there are also a clean version of both openings and ending songs which are a big highlight as all of the opening and endings to Part 1 not only look great but sound great as well.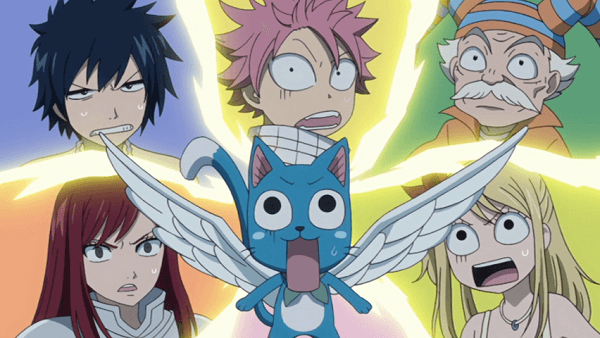 Besides these rather standard inclusions we are also presented with two episode commentaries. While most of the bonuses are on Disc 2, Disc 1 contains commentary from the English cast including the voice for Natsu, Happy and Lucy for Episode 01 while the second disc contains commentary by the voice of Natsu, Happy, Lucy and Erza as well for Episode 09. As usual the commentary is pretty interesting to listen to and also will provide a few laughs and is best for people who enjoy listening to the cast out of character such as myself.
Overall:
Now Fairy Tail has some rather large shadows to move out from under, but as long as it continues to go at the same pace that we are shown in Part 1 it should not be any trouble. While there aren't any groundbreaking formula changes to this shōnen anime, the use of magic and comedy creates a unique blend that you won't find in the other popular shōnen shows at this time. The enjoyable characters each have great personalities and excellent dub work and the story that pushes them together and onwards is a joy to behold. Stand aside Bleach, Naruto and One Piece… there is a new show in town… its name is Fairy Tail and it isn't planning on leaving anytime soon.