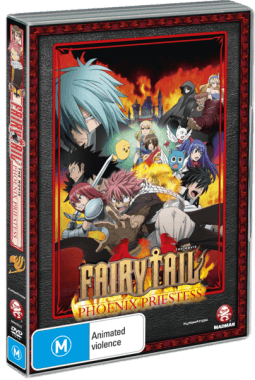 Fairy Tail Movie: Phoenix Priestess
Studio: A-1 Pictures
Publisher: Madman Entertainment
Format: DVD, Blu-Ray
Release Date: March 19, 2013
Price: $29.95 – Available Here
Overview
Shonen anime movies are historically a hit and miss affair. More often than not they come off as little more than a overly long filler episode or merely an unnecessary side-story with no relation to the canon of the main series. By and large Fairy Tail: Phoenix Priestess falls into these traps common the genre. It feels like a filler and it feels like a meaningless side-story that has zero impact on the main series in and of itself. While it doesn't matter in the long run, nor is it essential viewing, it does prove to be a spot of fun that fans of the Fairy Tail series may enjoy passing some time with.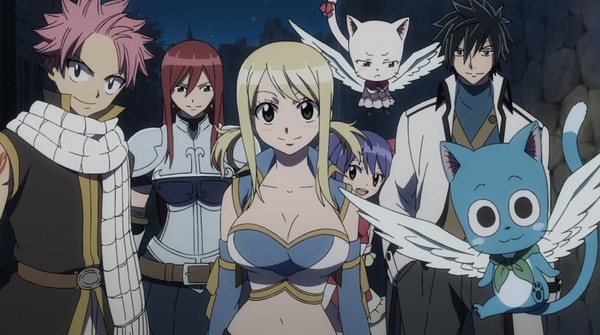 Story
Fairy Tail: Phoenix Priestess is essentially a big side-adventure for the 'Fairy Tail' guild. It revolves around the titular priestess Eclair, who is Fairy Tail's take on the amnesia trope. She doesn't seem to remember anything and they must help her do just that, all the while becoming entangled in the web that she herself is embroiled in.
In traditional Fairy Tail fashion, Phoenix Priestess is about a 60/40 in terms of Comedy to Drama, it doesn't dive too strongly into the serious side of things until it confronts Eclair's struggle head on. Outside of that it is generally all fun and games for Natsu and the rest of the goofball guild members. There are times when Fairy Tail's insistence on comedic relief verges on inappropriate, often ruining moments that should be moving and emotionally rewarding, all for the sake of a cheap gag. It is a problem inherent to the series and it continues here in this film albeit to a slightly lesser extent.
The film takes on a more Arabian styled aesthetic, story-line and setting here, one that does feel a little out of sorts in the world of Fairy Tail, but it ultimately fits into the world we have come to know quite nicely, even if it isn't exactly canonical. The new cast members for the film take a little getting use to, struggling to gel with the main characters in an organic way. There however does prove to be some chemistry between Lucy and Eclair which saves things on that front.
Ultimately there is very little to take away from Fairy Tail: Phoenix Priestess other than a rather half-hearted side-story that will only really prove to be a worthwhile viewing for fans of the series. This is a very poor entry point into the series and doesn't go very well as a stand-alone film despite having no narrative connections to the main story canon. In the end it is really just a bit of fun, but that fun is best left to the die-hards that just can't get enough of the mages of Fairy Tail and their comedic antics.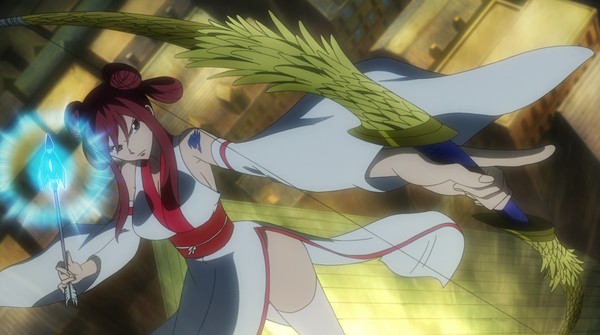 Visuals and Audio
Despite its inconsequential and forgettable story, Fairy Tail: Phoenix Priestess does feature some rather stunning aesthetics from A-1 Pictures who have clearly brought their A-Game to the table for this film. It really carries the cinematic feel quite well and brings Fairy Tail to a grander stage visually. This is easily the best Fairy Tail has looked yet and A-1 Pictures should be commended for their efforts on this film's animation which is really quite brilliant.
As for the audio portion of this release, the series' trademark Scottish-inspired backing tracks are highlighted here with some bag-pipes meets shredding guitar tracks that will really blow your mind. The film's theme song is decent while unmemorable but does a pretty good job at setting the stage for the movie.
This release features dual languages, the English dub from Funimation and the original Japanese audio track. The English dub is great from Funimation and brings the Japanese version to life in English language. It is always good to have options available and this is really a best of both worlds scenario.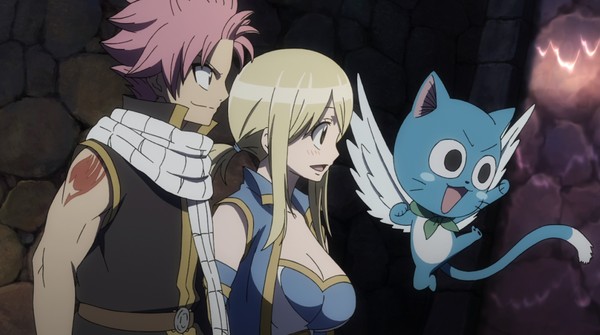 Extras
As for special features, Madman Entertainment have packed a solid amount of bonus content. Included in the Prologue to the film titled 'The First Morning' which is a nice piece of complementary viewing for the film. There is also the original trailer and US trailer for the film which are interesting as a comparison between the two and there is of course the clean opening and ending themes. It amounts to a great amount of extras for a film release and it definitely gives the added punch that this release needed.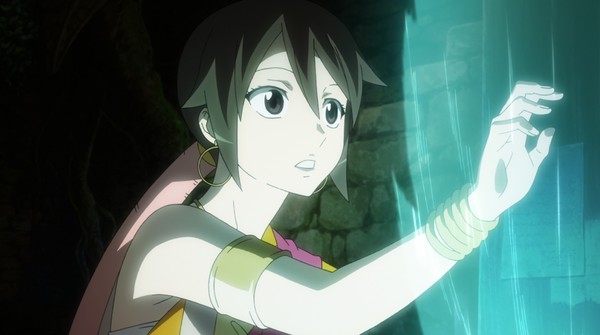 Overall
Fairy Tail: Phoenix Priestess is shonen anime cinema at its most inessential. This is far from must-see anime, it is really just a glorified filler episode. While it may feature a fairly decent story it is hard to escape the feeling that this is an inconsequential tale in the world of Fairy Tail, one that lacks emotional gravitas and relies far too heavily on cheap laughs to progress through its run-time.
The series has featured much better quality writing then that seen in this movie and it is very clear from the get-go that this is not up to the standard of the series. It may serve as a fun way to spend an hour or so for fans of the series but this film is in no way up to task as an entry-point into Fairy Tail nor is it even fit to be a stand-alone film. This one is best left for the hardcore Fairy Tail fans that will appreciate this film for what it is, a chance to hang-out with their beloved characters for an extra hour or so in what is a relatively fun side-story albeit a very forgettable one.
If you are a fan of the series, Fairy Tail: Phoenix Priestess is likely worth your time. If you don't fit into that category it's probably best you avoid this film or take a look at the series itself first. A middling effort at best, Fairy Tail: Phoenix Priestess does little to shake the stigma associated with shonen anime film adaptations.

Capsule Computers review guidelines can be found here.