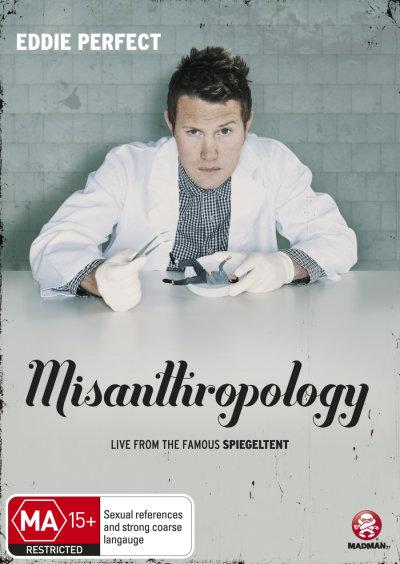 Eddie Perfect : Misanthropology
Publisher: Madman
Release Date: October 19, 2011
Price: $29.95 – Available Here
Introduction:
Eddie Perfect is an Australian actor, composer and comedian, currently starring in Offspring on Channel Ten. Known for his political satire, Perfect has in the past taken on targets like Guantanamo Bay, casual racism and most famously, Aussie cricketer Shane Warne.
This DVD is a recording of his 2011 stand up show from the Sydney Festival, hosted in the Famous Spiegeltent (mirror-tent). It's a venue that is traditionally used for cabaret acts, and Perfect brings a mix of comedy and music to his show, with a three piece band along for the ride when he breaks into one of his many satirical songs.
The obvious comparison to make is with fellow Aussie Tim Minchin, and although comedy is incredibly personal to judge, Perfect just doesn't have the same quality of comedy to his songs – they're more likely to make you uncomfortable than laugh.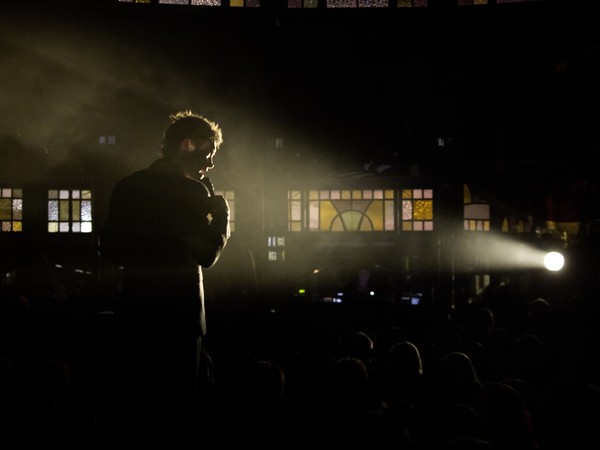 Content:
Misanthrope (a person who hates mankind) + Anthropology (the study of humankind) = Misanthropology
And there you have the idea that forms this show. Perfect takes it upon himself to guide the audience through some of humanity's greatest stupidities, pointing out that in his view, the human race's evolutionary journey has slowed down somewhat. He takes easy swipes at iPads and Richard Branson, making his entrance in a space suit helmet as if to suggest that he has come from somewhere beyond Earth to let us know how ridiculous we are.
It's a strong satirical concept that sadly never takes off. Perfect has a great voice and the songs sound like they've come from a Broadway musical, but the subjects he tackles tend to be ones with a narrow appeal.
Opening number 'Primitive Tribe' pokes fun at the idea that going 'back to nature' is somehow a good one, whilst 'The Eco Lodge' carries on the environmental theme by taking a swipe at the fad for eco friendly holidays for the wealthy. Both songs have their clever lyrical moments (dying young from a sore tooth, taking a holiday to hope that it makes you and your partner forget how much you hate each other,) but never provoke the big laughs.
Indeed what Misanthropology provokes is a feeling of discomfort, of awkwardness. Yes, a father buying his daughter breast implants is creepy, but Perfect's 'Daddy's Tits' creates the same feeling that the idea does – it's uncomfortable, not funny.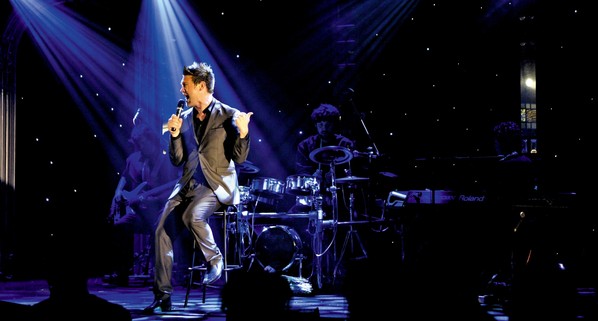 There are some segments that stand out, and show that Perfect is more than capable of getting a laugh with a more appealing subject and grounded style. His theories on why whales beach themselves are good for some actual laughter, and the stand up segments are generally more comedic than the musical numbers. They still have their weaknesses though- his timing is certainly off and one attempt at a bizarre running joke falls particularly flat.
When Perfect introduces a song targeted at contemporary theatre, you can't help but groan. But despite taking a pop at this rather niche target Perfect manages to make 'Too Fucking Long' more accessible to the people who don't know who Barrie Kosky is (myself included) by turning it into an attack on the excruciatingly elevated opinion that 'artists' can have of themselves – everyone has that 'artsy' friend somewhere.
Despite a few promising moments Misanthropology is not a show that will have you in hysterics, and Tim Minchin certainly tops Perfect in style and charm. Where Minchin pads around in bare feet singing songs about inflatable dolls with naught but his piano, Perfect has his suit and his three piece band behind him whilst he croons about the wealthy and the self righteous. Although he undoubtedly has confidence, lines and ideas that should have been funny are hindered by his delivery, and lyrics can become as awkward as the subject matter that they target.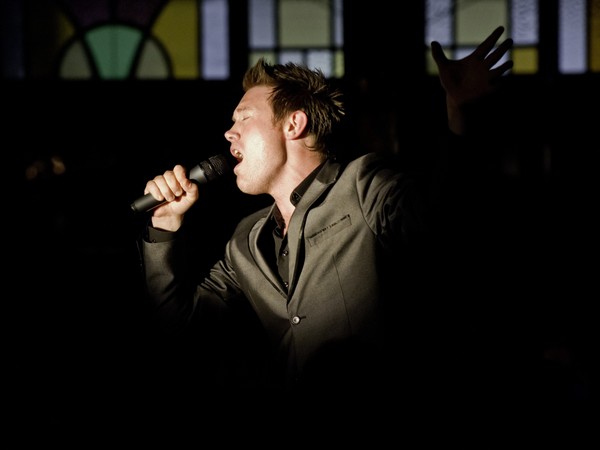 Extras:
In addition to a collection of trailers fittingly labelled as 'Madman Propaganda' Misanthropology includes three songs from 'Angry Eddy', a 2005 show from Perfect also previously released by Madman as a thirty minute DVD.
Although the visual quality is a step down from the main feature, the satire here is actually stronger. Juice Bar Girl is the least impressive of the three, but still provides an uncomfortable watch as Perfect croons about wanting to take home his favourite juice bar girl and turn her into a smoothie. In the other two songs Perfect finds heavier targets, taking on causal racism with Dwayne's Song (Some Of My Best Friends Are Aboriginal) and American foreign policy in Guantanamo Bay.
Dwayne's Song actually takes on an issue we've all experienced, the 'some of my best friends are – insert minority here-' line that somehow is an excuse to say whatever you like about anyone. This song in particular is a response to a 'Dwayne' met at a party who preferred Melbourne to Perth because there were less Aboriginals living there. Perfect takes this as a cue to rip the guy to pieces with a surprisingly catchy bit of satire (just don't go around singing this under your breath!).
What if you wanted a holiday in Guantanamo Bay? If torture was your thing, how much would it set you back for a week in the world's most infamous prison? Perfect peppers the satire of these verses with dead serious monologues that describe the horrific nature of cluster bombs. This is the masterstroke that turns Guantanamo Bay from a comedy performance to political and personal thought provoker. It's not particularly funny, it's eye opening and uncomfortable, but it does a far better job at pointing out the ignorance of the human race than any of Misanthropology's songs.
In addition to the DVD content, Misanthropology comes with a sturdy slip case and a 'Misanthropology Field Journal', which contains some of the lyrics and sheet music for the songs featured in the show. The inclusion of the music and lyrics is a nice throwback to the CD booklets of old, and is something Perfect fans will no doubt appreciate.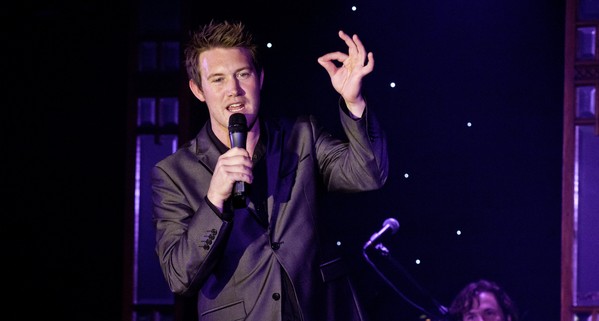 Overall:
Comedy is incredibly subjective, but as a fan of both satire and musical comedy I just wasn't impressed by Misanthropology. Although his performance style has remained the same over the years, Perfect himself seems to have mellowed somewhat, turning from the weightier subjects tackled in the more universally relevant  Angry Eddy to Misanthropology's attacks on inappropriate plastic surgery, eco holidays and contemporary theatre.
As a package the release is very well presented, and the 'extra' content from Angry Eddy adds a few points to the score for being more entertaining and thought provoking than the main feature. However Perfect's latest show simply failed to make me laugh, and I could count the number of bemused chuckles on one hand. It has it's moments and Perfect's voice makes the songs easy to listen to, but the satire doesn't have enough bite and the subject matter is very niche. If you're looking for something with a broad appeal and lots of laughs, look elsewhere.