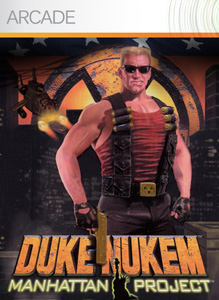 Game Name: Duke Nukem: Manhattan Project
Platforms: Xbox 360
Publisher(s): Xbox LIVE Arcade
Developer(s): 3D Realms
Genre(s): Action
Release Date: 6/23/2010
ESRB Rating: M (Mature) Blood and Gore Violence
Price: 800MSP ($10 USD)
Demo: Add the Demo to your download Queue here.
Story
"Duke Nukem is back in Duke Nukem Manhattan Project™! New York City is being overrun by a mutant menace and it's time to de-worm the Big Apple. This explosive 3-D action game features the politically incorrect action hero defending the city that never sleeps, and its babes, from the evil Mech Morphix across 24 levels from Chinatown to Space. A super-sized collection of weapons, enemies and bosses await. As Duke would say, "Babes, bullets, bombs. Man, I love this job!"" [Via Xbox.com]
Take control of Duke Nukem as you fight against Mech Morphix and his evil mutated forces. Mech Morphix is placing GLOPP bombs throughout New York city on scantily dressed girls. It is your job to save the girls and in turn save the world from Mech Morphix. The game does indeed take place in New York city, even it isn't noticeable due to a lack of any noticeable landmarks.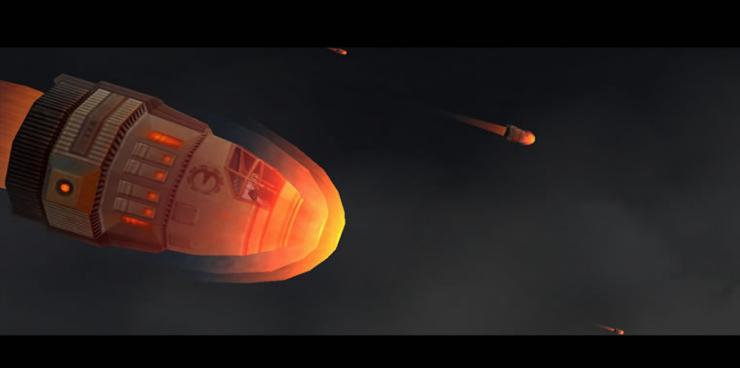 Gameplay
The side scrolling gameplay for this game is quite fun. There are multiple dimensions in each level and by pressing up you can either go deeper into the levels background or closer to the camera at certain locations. While this mechanic is pretty good at creating much bigger and more complicated levels, it tends to make the player lost and confused. I found myself lost a few times in some levels, just to find out there is one location in the background that I could go into.
A majority of the game is focused on shooting and jumping through the levels. It would've been nice if there was more focus put onto these roles, since such a large majority of the game has to do with it. Sadly double jumping is awkward and annoying at times, and many of the guns are hard to aim. You can either shoot forward, or up. Pipe Bombs are even more annoying to use since they have a certain range and they are hard to aim. The game still succeeds successfully in both fields and you get used to the style pretty quickly.
Every level contains a multitude of secret areas as well as collectable "Nukes". By collecting all 10 within a level you gain a stat increase that will help you later in the game. The stat increase sadly isn't that noticeable. The "Nukes" do provide something to collect for those people that enjoy collecting things. As for the achievement, you only need to collect half of them and on most levels you will easily get 5 of the 10 without even trying.
There are 8 levels in total, and each level consists of 3 zones. In order to progress through each zone you have to find the key card and rescue the babe. This progress gets repetitive after a while, but by the time it gets really annoying the game comes to a close. At the end of each level you have to fight a boss. These bosses aren't challenging and only require you to pump them full bullets. The last boss is pretty epic though, and kind of challenging but I'll let you see his awesomeness for yourself.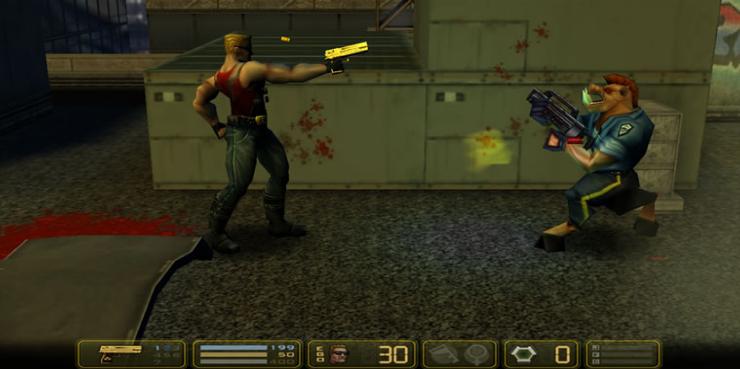 Audio & Graphics
Classic Duke Nukem music is back to tantalize the player's ears. There are also regular comments made by Duke Nukem as you play through the levels. Each level has a specific music track and some even have unique 'Duke' sayings specifically for that level. The music is only audible if you are actually trying to listen for it, at all other times you just hears Duke Nukem jumping around, shooting, and spitting out one liners.
Duke Nukem: Manhattan Project is a 2D sidescroller with 3D models. The game is actually really dark, and I suggest increasing the brightness to the max. With it at a normal darkness it is almost impossible to even see anything. The most memorable graphical thing in the game are the explosions, but it is Duke Nukem after all.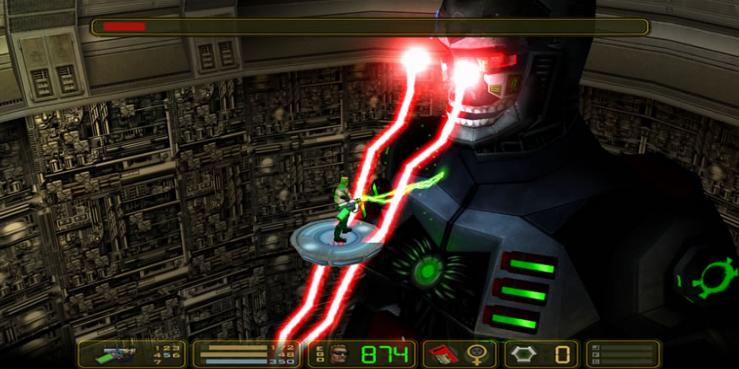 Achievements
The achievements in Duke Nukem are easy. There is nothing more to say about it. You will get pretty much all the achievements just by beating the game on easy. You have to pick up nukes and squish a few enemies that you demutate, but overall you can get every achievement in one playthrough on easy. The hardest achievement is literally beating the first level in less than 3 minutes, and even that one only takes a few attempts to memorize exactly where everything is. Some people may like these easy achievements because they either want an easy 200g or they have OCD and like a game that they can complete. Other people won't like these easy achievements because there is literally nothing to go back to after you beat the game.
The Achievement List is:
Deworming the Big Apple – 20 – Finish 'Rooftop Rebellion'
Confucius Say…Die – 20 – Finish 'Chinatown Chiller'
Max Pain on the A-Train – 20 – Finish 'Metro Mayhem'
I Love the Smell of Sewer Scum – 20 – Finish 'Unholy Underworld'
Worker Safety, Last – 20 – Finish 'Fearsome Factory'
This Ain't the Love Boat – 20 – Finish 'Tanker Trouble'
Going Down Faster Than Enron – 20 – Finish 'Deviant Drilling'
Space, the Final Frontier – 20 – Finish 'Orbital Oblivion'
My Boots Are Made For Stompin' – 10 – Stomp on 20 enemies.
Pig Out – 10 – Kill 75 enemies.
Glow Like Dr. Manhattan – 10 – Collect 120 Nuke symbols.
New York Minute – 10 – Finish the first level in under 3 minutes.
There are also two Avatar Awards in Duke Nukem: Manhattan Project. See the video below for what they look like.
Jetpack :: Complete the game.

Male/Female T-Shirt :: Save one Babe.
Overview
Duke Nukem: Manhattan Project is a sweet and fun game featuring the ultimate antihero, Duke Nukem. This game is an awesome Action Sidescroller. Duke's one liners are funny and witty but tend to get annoying and not everyone will like them. Some camera angles are kind of awkward and the multi dimensional levels can make you lost at times, but the game is still a fun experience. For only 800MSP, Duke Nukem: Manhattan Project is a fun package that also has avatar awards. Some people may not like the sidescrolling Duke Nukem, but download the trial and give it a try.
I give Duke Nukem: Manhattan Project

Pros
Save the New York as Duke Nukem and hear his witty Remarks.
Leaderboards
Perfect Length
Cons
Awkward camera angles.

Once you beat it there isn't much reason to continue playing.

Hard to tell where to go sometimes
Optional
Easy Achievements could be a good or bad thing depending on how you look at it.