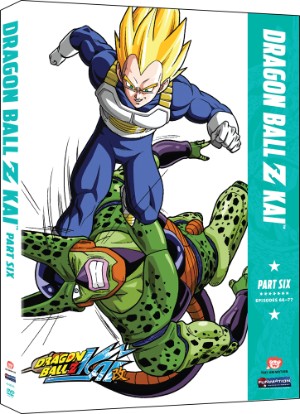 Dragon Ball Z Kai Part 6
Studio: Toei Animation
Publishing & Localization: FUNimation
Versions: Blu-ray, DVD (reviewed)
Price: Blu-Ray $34.98 – Purchase Here!, DVD $29.98 – Purchase Here!
Overview:
The Dragon Ball franchise most likely is one of the most recognizable anime in the Western world. Sure recently other anime have become extremely popular but most likely none of these could have been created in Japan, let alone brought over to North American shores if not for the influence that Dragon Ball has had on the world.
Dragon Ball spanned across numerous television series, movies and all of it started from one manga which began in 1984 and ran for eleven years. The franchise has been around for twenty seven years and one of the most popular series in the Dragon Ball world was Dragon Ball Z. To celebrate the 25th anniversary two years ago, work began on Dragon Ball Z Kai, a trimmed down and redrawn collection of the entire series. FUNimation has brought us each part every few months and now we have seen the release of Dragon Ball Z Kai Part Six. How does this section of the epic series fare?
Story:
One of the biggest highlights about Dragon Ball Z Kai is that it has been trimmed down from any extra fluff and filler episodes which may have interrupted the action. When a series can be trimmed from a stellar 291 episodes and brought down to only 98 you know that what is left is only going to be Dragon Ball Z to its fullest potential with action and combat.
Part Six of Dragon Ball Z Kai picks up on Episode 66 of the series and contains plenty of combat which is to be expected but also a rather decent amount of story development. We pick up with our Z fighters being soundly decimated by the force of Android 17 and Android 18 and only some desperate measures by the crew prevent their imminent destruction at their hands. With Goku still unconscious from his sickness and the Androids closing in, Bulma finds a strange time traveling pod similar to what was used by Trunks. Who is this strange creature Cell and why is he seeking out the androids?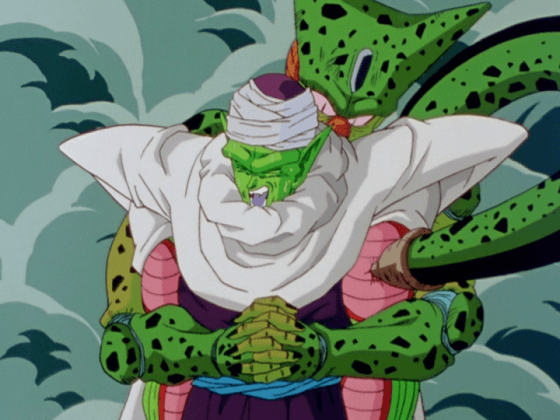 If you are a fan of Dragon Ball Z then you of course know the answer to all of those questions, but watching the series never feels old and this remastering and trimming of the series is a great way to introduce DBZ to the younger audiences of today. Cell's story arc fully takes over the series from the training arc and android arc and Part Six takes us from Cell's introduction, the mystery of the time travel that was used to bring him to where the Androids are alive and where he can seek his true form.
The Androids and Cell provide extremely interesting enemies for the most part and Goku's reentry to the fight later on is something that fans of course will be waiting to see. Goku's absence for the first half of Part Six provides plenty of action for the rest of the characters which are usually overshadowed by everyone's favorite Super Saiyan, even though some of them are soundly beaten many times.
Part six ends rather abruptly after Trunks and Vegeta leave their power-up training. Meaning of course that those eager to see Cell in his true form have to wait until part seven as the episodes contained in part six only introduce his character all the way up until he is nearly perfect. Still part six will be a welcome addition to anyone who has been collecting all of the parts so far or a great jumping point for those who loved the Cell Saga in the original Dragon Ball Z series.
Artwork:
Besides being trimmed down, Dragon Ball Z Kai has also received a fresh treatment from Toei Animation. The company has went back to the original drawing and animation to redo much of the series which means the series will have a crisp and clean look drawn with modern technology but will retain the same style and appearance that fans will remember from the original. This may make the series look a bit aged despite new techniques used, especially when you take a look at the opening animation which has been completely redone and makes me wish that the whole series was given as HD of a treatment as that was.
The series' colors and environments look as great as one would remember and they are very detailed. Combat looks perhaps even better than ever, perhaps due to the crisp detail and line art that has been redrawn since the past series or simply thanks to the DVD format. Regardless Dragon Ball Z Kai's fighting is some of the best you'll see in an action anime, especially since the nostalgia for the series will be so extremely high for many viewers.
Audio:
Many anime have been remade in the past or given a bit of an HD treatment but usually their soundtrack or voice cast are simply upgraded in quality. However that isn't the case with Dragon Ball Z Kai, in fact the original English voice cast has been brought back in to re-record their parts in the series to provide a completely fresh but extremely similar experience.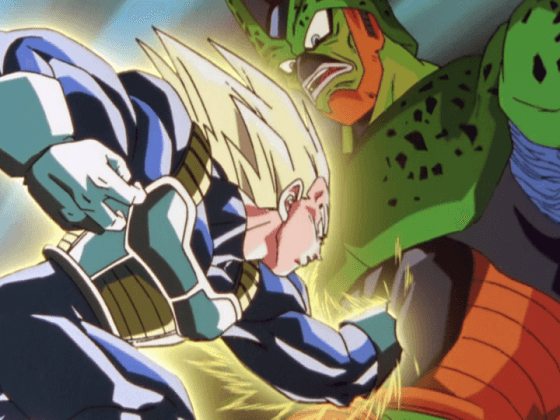 FUNimation does provide both the original Japanese track as well as the English track which means that you can pick whichever version you wish to listen to. The English voice cast does a stellar job and nostalgia will most likely draw you into listening to the English dub, though the Japanese version is also rather well done. Neither version is truly superior in the end, but most will prefer hearing the nostalgic voices of characters they listened to in the original version.
Overall:
Dragon Ball Z Kai: Part Six provides us with the beginning of the end. The DBZ Kai series concludes after the end of the Cell Saga and with Part Six we see the introduction of that finish to an amazingly remastered and trimmed series. Unfortunately the extra features in this release are extremely weak, with only a clean opening and ending song and trailers for other shows. Still the DVDs do come in a slip case with two slim dvd cases that is of good quality and will look great on your shelf.DBZ fans will need no convincing to purchase this part of the series and new comers could pick a worse time to join in than now.
I give Dragon Ball Z Kai: Part Six