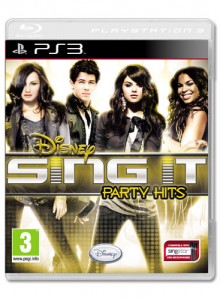 Game: Disney Sing It: Party Hits
Publisher: Disney Interactive
Developer: Zoe Mode
Genre: Music
Release: Out Now
Format: PS3

Disney Sing It: Party Hits is the 6th entry into the popular Sing It series and continues with the successful formula that Disney established in previous titles.
There are however, more than a few new touches throughout that give the game fresh appeal to new and old audiences alike. Disney Sing It: Party Hits still has the familiar, tried and tested interface with lyrics appearing onscreen alongside the pitch indicator.  Players then attempt to sing in time and on key to earn a higher score and in-game trophies.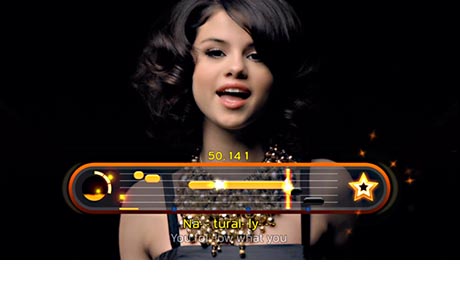 Disney Sing It: Party Hits offers a number of different game modes to keep players entertained, from singing solo to having full on sing-a-long with family or friends. Along with the standard playback option, there is also a full karaoke mode which removes the original vocal track from the song.  The game supports up to 8 players with the game's Party Mode including an option for duets – which enables you to sing with a partner- either as a team or against each other in a sing-off. Like the Sing It franchise the game includes the option to plug in a Playstation Eye so you can see yourself on screen in true Idol fashion.
After each song you can choose to review your performance by watching the tracks music video back but with your own audio on top. This encore mode will let you tweak your vocals during playback by adding affects such as re-verb to improve the quality of your performance. Alternately you can go in the opposite direction and use the chipmunk audio affect to make you sound making you sound just like Alvin! Sadly for those of us who are vocally challenged there is no Autotune option as yet!
Unique to the sing it franchise is the vocal coach feature which will gently guide you along the road to becoming the next sing-it superstar.  Disney Sing It: Party hits also features teen sensation Demi Lovato from Disney's Camp Rock.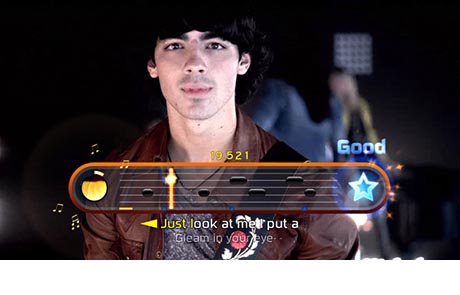 If this is your first time playing, then Ms.Lovato will provide you with a step by step guide in vocal training which is a really nice touch and a great starting point.
At the moment the only potential downside to this fun and addictive game is the lack of a Downloadable content. The ability to add new songs –  paid or otherwise, would help to extend the experience.  That being said though, there is more than enough content to keep the target audience, potentially teenage girls and young adults, singing for some time to come.

Overall
Whilst he song selection of this particular title will not suite everyone's taste, any fans of teen stalwarts such as Justin Bieber, The Jonas Brothers and Selena Gomez will love Disney's latest line-up.
The HD music videos are visually impressive and graphically speaking the game could not be any better. With a great sound and a good track listing, this game should have lasting appeal for any teenagers that love a good sing song. So if you are after some top notch entertainment for a sleepover or party, then this is definitely the game for you – it's certainly beats singing into the mirror with your hairbrush!
Tracklist:
| | |
| --- | --- |
| From | Song title |
| All Star Weekend | A Different Side of Me |
| Camp Rock 2 | It's On |
| Camp Rock 2 | Fire |
| Camp Rock 2 | I Wouldn't Change A Thing |
| Camp Rock 2 | Introducing Me |
| Camp Rock 2 | Brand New Day |
| Camp Rock 2 | Can't Back Down |
| Demi Lovato | Remember December |
| Demi Lovato | Here We Go Again |
| Demi Lovato as Sonny | Me, Myself and Time |
| Jonas Brothers | Paranoid |
| Jonas Brothers | Fly With Me |
| Nick Jonas & The Administration | Who I Am |
| Selena Gomez | Magic |
| Selena Gomez | Naturally |
| Selena Gomez | Falling Down |
| Ashley Tisdale | It's Alright, It's OK |
| Black Eyed Peas | Boom Boom Pow |
| Colbie Caillat | I Never Told You |
| Iyaz | Solo |
| Jason Mraz | I'm Yours |
| Jordin Sparks | Battlefield |
| Justin Bieber | One Time |
| Justin Bieber | One Less Lonely Girl |
| Kelly Clarkson | Already Gone |
| One Republic | All the Right Moves |
| Owl City | Fireflies |
| Paramore | Ignorance |
| Paramore | Brick by Boring Brick |
| David Guetta ft. Kelly Rowland | When Love Takes Over |
I give Disney Sing It: Party Hits