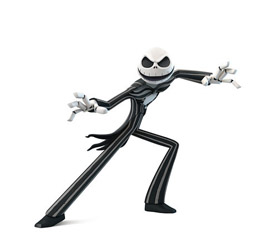 Disney Infinity: Jack Skellington
Developer: Disney
Publisher: Disney
Platform: Xbox 360 (Reviewed), PS3, Wii U, 3DS, iPad (Reviewed)
Release Date: Out Now
Disney Infinity is an absolute behemoth of a game. From its five different Adventure campaigns, to the ever-evolving Toy Box mode, there is always more to see and do.  We just recently took a look at the Wave 2 figures for the game. Wave 2 brought in the classic characters from Toy Story, as well as new favourites like Anna, Elsa, Rapunzel and Wreck-It-Ralph. However, eagle-eyed readers will have noticed that we omitted a very important character in our review. Jack Skellington, the Pumpkin King and wannabe Santa Clause was the figure that kicked off wave 2, yet we left him out of our review; why? Well because ole Jack is so iconic that he deserves special treatment.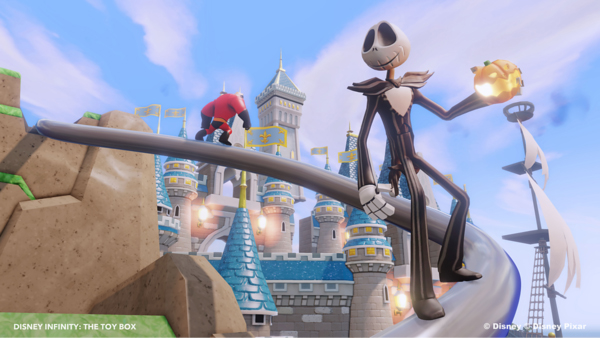 Disney Infinity has had the hard task of carefully recreating some of Disney's most famous characters so that they fit the game's aesthetic, all while making sure that they all kept their look and charm that made them so lovable in the first place. To that end, Jack's new look nails this to a T.
When you think of Jack Skellington, you immediately picture his elongated limbs and his perfectly round head (complete with his strange teeth and empty eye sockets) and this has been retained perfectly. The figure itself is rather tall, almost reaching up to Ralph's height, but still has that thinness. The figure looks great on a shelf, and his black/white colour scheme really makes him stand out from the rest of Disney Infinity's brightly coloured crew.
The figure is one thing, but when you put King Skellington onto the Infinity Base it becomes something else entirely. There is no proper way to describe how Jack moves other than to say it is authentic. Nightmare Before Christmas was a stop-motion clay film, and Jack's movements are very reminiscent of that animation style. He moves, walks and attacks like he does in the movie – probably more so than any other Infinity character to date.
While he looks and acts like he does in the movie, it is also exciting to note that Jack SOUNDS like he should. Chris Sarandon, who has voiced Jack in all of his non-singing appearances reprises his role here, and 20 years after first taking on the roll, still fills it with such class that it is impossible not to love it. Sadly, Jack doesn't do any singing in Infinity so Danny Elfman doesn't make any appearances. Although that being said, you can trigger the "This is Halloween" tune in the Toy Box.
When it comes to actual play-style, Jack acts as a combination of the Monsters U and Wreck-It Ralph characters. His primary attack is a monster scare. Like the Randy, Mike and Sully before him, Jack can sneak up on unsuspecting enemies and scream them into oblivion.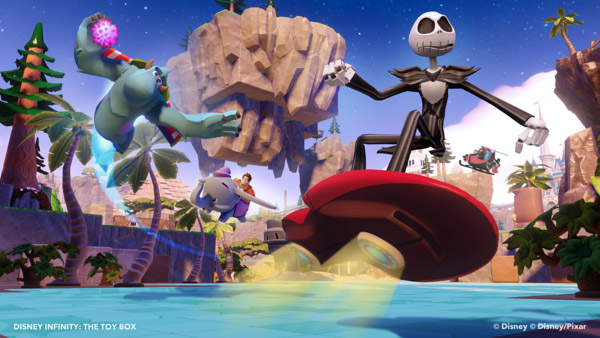 As if that wasn't enough, Jack can also throw his pumpkin bombs. Pumpkin bombs work in much the same way as Ralph and Vanellope's cherry bombs and allow jack to protect himself and deal damage to any number of enemies from afar. I was a little disappointed that Jack didn't get any truly unique abilities or attacks, but at least what he does have is very authentic to the character and his film.
Jack is one of the coolest Disney Infinity figures to be released, and I can tell you first hand that it is an amazing sight to place him into the Toy Box and use the two world-change Power Discs to turn your playground into Halloween Town. Even better is when you place the Curly Mountain into your world, and place Jack on its peak while "This is Halloween" plays in the background – simply awesome.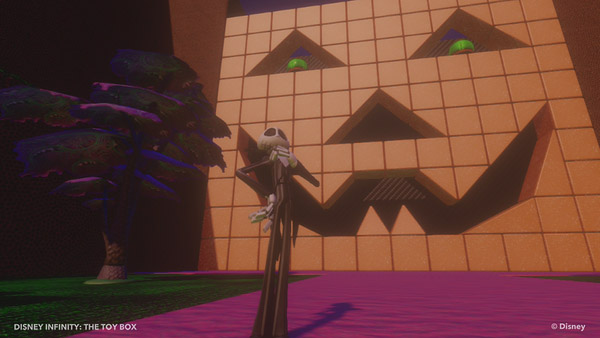 Jack delivers on all fronts, and while it would have been great to have him be a little more unique when it comes to gameplay, it is hard to fault the work and creativity that has gone into bringing him to life here. Sadly though, with all the excitement behind the Pumpkin King, and of course his loyal fan-base; the Jack Skellington figure has become quite a rare commodity. It almost entirely sold out during the pre-order period, and is currently only available at four different EB Games stores Australia-wide and is going for more than double his RRP on sites such as Ebay.

Capsule Computers review guidelines can be found here.