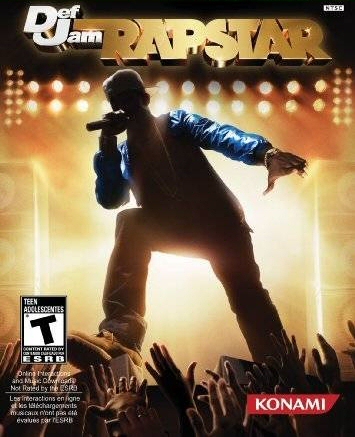 Def Jam Rapstar
Developer(s) Terminal Reality, Def Jam Interactive
Publisher(s) Konami
Platform(s) Xbox 360, PlayStation 3 (reviewed), Nintendo Wii
Release date(s) October 5th, 2010
Genre(s) Music, Simulation
Mode(s) Single-player, Competitive Multiplayer, Co-op modes
Rating(s) ESRB: T
Difficulty: Medium Rare
For years, people have gathered around the television with microphone in hand and possibly beer while attempting to sing across a wide variety of musical genres. Failing or not games such as Singstar and Lips track pitch and timing to rate how a singer is doing, like a better version of Guitar Hero. However rap songs involve more rhythmic speaking than tuneful singing and possibly misogynistic themes in the lyrics as well. As such, the genre has been under represented in karaoke games. Until now!
Story
Enter Def Jam Rapstar yo, the game features songs from some of the most famous rap acts in the world, both past and present. The songlist is impressive, and though there are some questionable choices when it comes to what parts you do and don't sing on a given song, the added dimension of lyric tracking allows the game to reward you for singing the right words. Rapstar can not only rate your performances, but record them as well, and there is a community Web site dedicated to creating a video-fuelled social network where players can emulate the pros by posting their videos, representing their crew, and challenging each other to popularity contests. The community features add some depth to what is otherwise a fairly predictable karaoke game, making Def Jam Rapstar an entertaining endeavour for both aspiring amateurs and weekend wannabes. The story is basically about the player and developing yourself into a star, if you can do that, I'd consider it a successful story. But the game does a good job of being believable and putting itself into the context of the rap world, especially with social media integration, which encourages competition.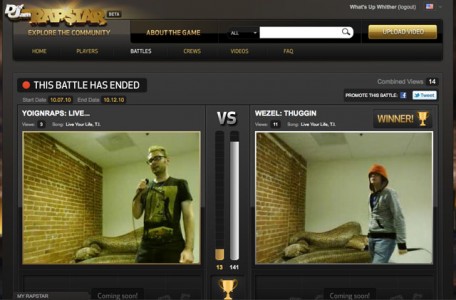 Gameplay
Any modern day karaoke game lets you get straight to singing from the get-go, and Def Jam Rapstar does just that. In any mode, one player can sing solo, or two players can either sing a duet or battle each other for a high score. Party mode offers most of the robust songlist right away, from old-school tracks like Public Enemy's "Fight the Power" to recent hits like "Live Your Life" by T.I. feat. Rihanna. Lyrics range from tongue-twisting to mind-numbing, and though there are some notable omissions, Def Jam Rapstar covers an impressive cross-section of the genre. The game is, however, rated T for Teen, so some of your favourites may have gaping holes where lyrics should be (especially if you're a Lil' Kim fan), though you can fill them in without penalty. Seeing the references to older songs in more recent songs helps cultivate a neat sense of continuity across the 45 song catalogue, and there are more tracks available for download and purchase from the online store.
There are two types of judging mechanics at work in Def Jam Rapstar. Melodic sections are represented by bars that indicate the relative length and pitch of each note in the phrase, as is the standard in karaoke games. Rap sections display a dot over each syllable, and a bouncing ball indicates when you should speak each one. The pace of the ball is meant to dictate your cadence, but it is small and moves quickly, so it doesn't make a very good guide. While it's possible to use the pitch bars to guess what the pitch and duration of a given note are, players who are unfamiliar with a song will likely have a harder time picking out the rap sections. If you're braving an unfamiliar track, your best bet is to listen to the rapper and try to follow, though some artists make that easier than others. Some tracks can also cause problems for solo players because of odd phrasing that, for example, makes you sing the lead vocals and the chorus in rapid succession (like "Put On" by Young Jeezy feat. Kanye West). Nelly's "Hot in Here" has you sing both the male and female parts of the call-and-answer chorus, while some other melodic sections have you sing a pitch that isn't the obvious choice. Finding a spare moment to breathe and picking out the right pitch can occasionally be challenging, but on the whole, Def Jam Rapstar does a solid job of presenting the songs and tracking performance.
In addition to all of the existing material, Def Jam Rapstar also comes with a collection of all-new instrumentals for use in the game's freestyle mode. Obviously, the game can't score you on your freestyles, so this is strictly useful for the game's video sharing component. The variety in the freestyle tracks is pretty good, with a range of tempos for you to employ. You can also choose to go with no backing track at all, but it would have been nice to see some sort of music import feature, to allow people to use their own tracks.
Some of the trimming around the outer edges is shaky, but the core of Def Jam Rapstar is rock-solid, and the community video feature is sure to provide a lot of entertainment on its own. If the game continues to release additional tracks at a decent pace and the community keeps posting videos, this could fill a huge gap for hip-hop fans who have been undeserved by most other rhythm games.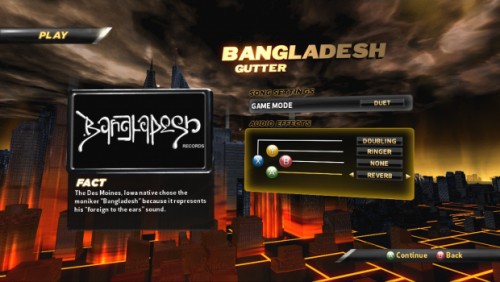 Graphics/Audio
All songs in the game are backed by their original videos, but these play out in a 4:3 ratio box in the centre of the game screen, a presentation that immediately makes the game look cheaper in comparison to SingStar's offering. But it's understandable because I couldn't imagine the developers converting all SD videos to HD, that's alot of work. But it does comes across like it's straight out of a 90's karaoke machine, rather than a high-quality transfer like gamers come to expect from modern releases.
However this effect isn't helped by the UI design, which features jagged lettering overlaid on a rudimentary 3D model of a gold city under a blackened sky. This uninspiring interface doesn't match up to the creative flair demonstrated by the artists on-board the game; otherwise the rest of the game looks good. The on-screen lyrics while ugly, are easy to read and a bouncing ball follows along with your rapping, though there are times it's too easy to lose your pacing, particularly on more challenging songs.
As in any music game, much of the heavy lifting is done by the song list, and here Def Jam's offering doesn't disappoint.  UK Tracks from London grimesters Devlin, Wiley and Chipmunk, not to mention classics from older UK rap artists, such as Root Manuva's classic Witness the Fitness, So Solid Crew's 21 Seconds To Go and Dizzee Rascal's Mercury Music Prize-winning Fix Up, Look Sharp.
For the US-flavoured, tracks include the mainstream hits of Kanye West and Nelly as well as vintage cuts such as Public Enemy's Fight the Power, Run DMC's Run's House, Beastie Boys' Brass Monkey, Dr. Dre's Nuthin' But a "G" Thang and Salt-N-Pepa's Push It. It's a varied and impressive soundtrack, including a slew of desirable tracks already on the Rapstar store for purchasing (including Flo Rider's Low), with many more to come.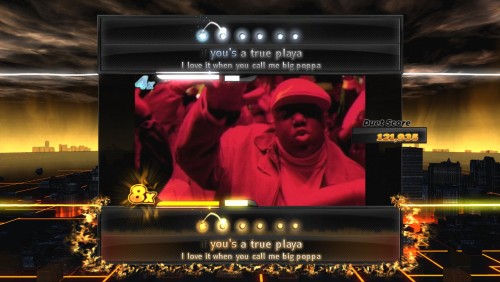 Overall
For owners of the PlayStation Eye, you can record, edit and upload short 30-second clips of your performances to the Def Jam Rapstar online community. While this features lets you show off some of your best performances, or most shameful, an increase over the 30 seconds clips is much needed. It's not long enough because for the most part, 30-seconds won't even cover the length of one hectic verse.
Perhaps the biggest gripe with Def Jam Rapstar is the exclusion of swearing, it's a big part of rap music and taking it out is more offensive than if it was there. It's understandable to cater for the younger market, but a simple option for the parent's sake to turn it off would have been more practical than killing the flow of songs for the purpose of censoring. It isn't game breaking, but it's sure to disappoint in some areas.
Wrapping…. errr rapping it up, if you've been looking for a good karaoke game centred on Hip-Hop, Def Jam Rapstar is definitely the shizzle and it's a nice inclusion into the rampant music market. It might not be incredibly complex, but it delivers the essentials to making a great, fun karaoke game. If only the best rappers were included, which is Bret and Jemaine from Flight of the Concords, then I'd be even more impressed.
The Good
On the whole, a great, simple karaoke game

The set list should please fans of the genre

Social Media integration
The Bad
Only 30 seconds? Come on

No mother flipping swearing

Poor interface design
I give Def Jam Rapstar a