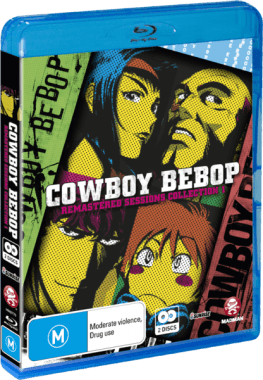 Cowboy Bebop Remastered Sessions Collection 1
Studio: Sunrise
Publisher: Madman Entertainment
Format: Blu-Ray
Release Date: October 16, 2013
Price: $39.95 – Available Here
Overview
What makes us alive? What makes us dead? Cowboy Bebop asked these questions 15 years ago, by the end of its troubled original 1998 TV run it had reached an answer. We don't die until we're forgotten and we're not alive until we have something worth remembering. In many ways Cowboy Bebop embodies these notions. 15 years after it wrapped up its 26 episode run, it lives on in the minds of anime fans around the world. Why is it that this anime has stood the test of time? Well it's quite simply one anime series that you'll never forget.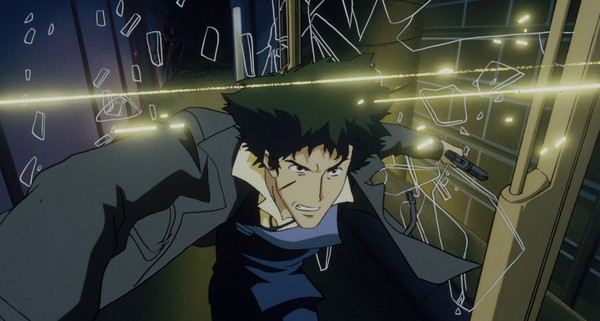 Story
Mars, Earth, the expanse of the Universe – this was the vast playground that made up the world of Cowboy Bebop. Throw in a rag-tag group of bounty hunters traversing the enormity of space in search of a quick buck and you've got yourself the makings of a pretty good anime series. What makes Cowboy Bebop truly great however is what lies beneath – heart and soul.
Cowboy Bebop is of course the work that made Shinichiro Watanabe the renowned director he is today. This was the series that changed the landscape of anime forever. Cowboy Bebop became a wild success throughout the world, especially in the West where it came along with a tide of anime series proving that anime had a mature side too. There are many things about Bebop that made it so popular in the West, such as its many Western-styled settings and themes, but at its core its real success came from the fact that there was just simply nothing like it.
It was a special breed of anime and with these remastered episodes, the series hasn't aged a day since 1998. The stories are just as impactful today as they were back then and the same goes with these characters. It has a timelessness to it that will likely never fade. There is something for everyone to relate to in here because no matter how extraordinary the lives and adventures of these characters may be, the emotions that come with them ring true. Once again it is that genuine heart and soul beneath Bebop's surface that make it such an endearing series. Watanabe understands that sincerity is necessary for connection and in Cowboy Bebop the storytelling is about as emotionally genuine as it gets. Bebop understands human emotion and it underpins all of its stories with it in one way or another.
Whether it is feeling philosophic or adventurous, episode after episode, Cowboy Bebop proves to be a profound journey that is every bit as fun as it is thought-provoking. With this first collection the journey may have only just begun, yet so very much has happened. It is a true testament to Cowboy Bebop's superb writing that it can accomplish so much in so little time. In what would take lesser series an entire season to do, Bebop does in one smooth episode. With each passing episode another layer is added to the world of Bebop and the tales that string it all together. This is storytelling at its finest.
Cowboy Bebop is not considered one of the greatest anime of all time for no reason. It is genuinely ground-breaking, following the beat of its own drum and being something unique in the immense history of the medium. To this very day, Cowboy Bebop still stands out as an anime masterpiece the likes of which few can match. It is the heart of Bebop that keeps it alive and it is its soul that keeps it in our memory.
Visuals and Audio
As far as aesthetics go, Cowboy Bebop was far ahead of its time. With sprawling locales and highly detailed character designs that were both distinct and creative, it is hard to forget the visual style of Bebop. Blending film-noir, westerns and space opera, Cowboy Bebop stumbled upon a unique aesthetic to use as a backdrop for the series action. Each of the planets is varied and detailed in their own way, crafting a sense of true scale for this universe sized canvas that Watanabe and his team were painting. The animation is superb, with high level fluid sakuga being prominent throughout. You can very much tell that Watanabe and his team were at a creative high point when developing the series world and characters. In this special remastered edition of the series it only looks better in HD, with true crisp pristine visuals preserving the original work for modern audiences.
One of the most touted features of Cowboy Bebop is its brilliant soundtrack, with this remastered collection it is easy to see why. Yoko Kanno's immortal compositions sound incredible on this release. The soundtrack itself is every bit as brilliant as they say, not only adding immensely to the action on screen but also at times being a part of it. Kanno truly had a special vision for Cowboy Bebop and that musical creation stands the test of time as one of the greatest ever as far as anime goes.
Extras
Madman Entertainment have done an absolutely remarkable job on this collected release of remastered episodes of Cowboy Bebop. The release comes jam-packed with a plethora of bonus content and goodies that are sure to delight fans of the series and make this release a true collector's item.
The Remastered Sessions Collection 1 comes bundled with a 40 page art book that compiles several of the series original design artwork for characters, vehicles and locations. It is a great look into the world of Bebop in the form of an art book. Not only that but there are also several commentaries both Japanese and English, the music video for theme song Tank! and much much more. It is real value for money and a must have for all fans of the series.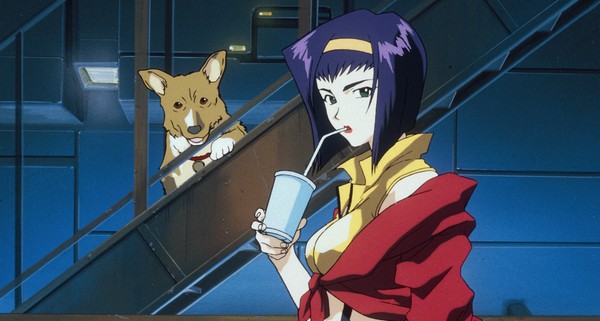 Overall
15 years later we still remember Cowboy Bebop, it still captures our imagination and evokes thought and introspection. For a series that had its initial TV run aborted and put into question as to whether it would ever be completed, it is actually quite fitting that it has experienced such a long shelf life with anime fans. That's the Cowboy Bebop way after all, rebellious through and through. In fact its not hard to believe that 50 years from now people won't still remember Cowboy Bebop and the real folk blues it brought to the world.
Cowboy Bebop is simply an anime masterpiece, an adventure that all anime fans must take. This is heart and soul, love and hate, time and space, all wrapped up into what is one of the greatest anime of all time. And you know, this collection is only the beginning, what lies ahead is something you'll really never forget. So until then, just for now – See You, Space Cowboy.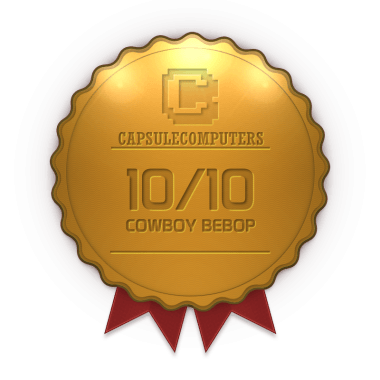 Capsule Computers review guidelines can be found here.