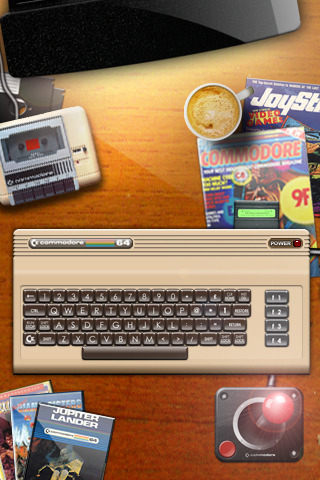 Commodore 64 Emulator
Platform: iPhone (reviewed)
Developer: Kiloo
Release Date: November 13, 2009
MasterAbbott From Capsule Computers sat down and did a video review for the Commodore 64 emulator going through all the options and details.
The emulator is well designed and very user-friendly.  When running on the iPhone 3GS load times are amazingly fast, there are no wait time what so ever.  The C64 emulator ships with 8 classic games which are :
Arctic Shipwreck
Dragon's Den
International Basketball
International Soccer
International Tennis
Jack Attack
Jupiter Lander
Lemans
All games play with their original graphics and SID Sound, no enhancements have been made (no they dont play in HD) so you get to relive your childhood the way it was meant to be lived out.  All this is covered in the video review.  So there is no need to double up on same information twice.
One good option discussed in the review is the Auto-Save feature which will save as soon as you exit out or go back to the "My Games" section.  Once you go back into that game you will be asked if you want to resume from that spot.  If you don't then you will lose that save game spot and it will create a new one upon you exiting again.  It's great to have a save game option, BUT I believe this section needs a little work.  It would be better if there was an actual SAVE game button/option menu that allowed the player to save their progress any time during play (possibly offering more than one save game slot per game) and also giving them the option to re-load and choosing which save game they would like at any point.  As explained above the Auto-Save works well but adding in a save/load option menu will make it even better.
The full vertical full screen feature is also fantastic and makes things very easy to see on the screen.  The onscreen virtual joystick looks really cool and has a great retro feel to it (reminds me of the controller i used have when I was young).  The joystick is easy to use but will take a little time to getting used to.   Some games for example like Lemans you will find it a little hard to control the car as originally Lemans was a designed to use the paddle controllers for easy maneuvering.  Possibly an option to add in future releases in the advanced settings would be a joystick sensitivity section to allow users to best configure joystick settings to their own liking.
Another thing missing is the traditional Blue start up screen and virtual keyboard.  This option was actually in the first release of the Commodore 64 but issues were encountered and it seems its now been removed.  Not having the traditional blue start up screen is a little disappointing, but it's not really needed as the game menu from My Games looks clean and neat and simple for players to use.  I would however suggest that the virtual keyboard does return as for future release games that did require the keyboard it will be impossible to play them without it.
Check out the video review below for the rest of the update and features discussed.
[youtube=http://www.youtube.com/watch?v=5o_0_kBdDxM]
–
Capsule Computers gives the Commodore 64 Emulator on the Iphone 7 Capsules of 10.  I does need a bit more work.  The lack of games (only 8 included)  and advanced settings, save and joystick calibration etc.  Moderately priced at $4.99 US / $5.99 it's not that expensive and hopefully with the next few updates and releases especially with the extra game packs coming out, the C64 emulator will be worth every cent, as its truly AMAZING !!
The Commodore 64 emulator is available for download from the iTunes store for only $4.99 US / $5.99 AU  
Click on the RED BUY NOW BUTTON
 Best iPhone apps at AppStoreHQ
–
Also check out the official Commodore 64 site here all the latest info and updates.
Let us know what you thought of the review and also tell us what you think of the C64 emulator if you have it already and most of all .. WHAT NEW GAMES would you love to see released for it.
–