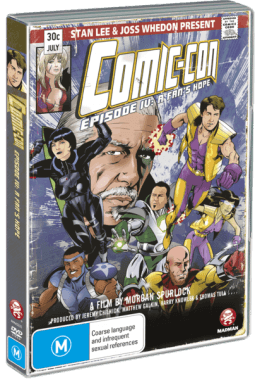 Comic-Con Episode IV: A Fan's Hope
Studio: Thomas Tull Productions/Warrior Poets
Publisher: Madman
Formats: DVD
Release Date: Out Now
Price: $29.95 (Available Here)
Overview
Morgan Spurlock has become the biggest household name in documentary film-making since Michael Moore, and he just doesn't stop. In Comic-Con Episode IV: A Fan's Hope, Morgan Spurlock has set out to create a love letter to the pop culture event whilst following the journey and stories of 6 sets of people as they all converge at the San Diego Comic-Con for a multitude of reasons. Some for love, others for business, but most to fulfill a dream. Can we self-professed nerds be proud of this documentary? Read on to find out!
Story
The documentary starts at the beginning. You're all thinking "duh!", but I'm talking about the beginning of Comic-Con itself. It's San Diego in 1970, and comic-book letterer and artist Shel Dorf had organised and held the first ever Comic-Con in the U.S. Grant Hotel. A sound-bite plays of a news program, back in the day, that was playing a recent interview with Shel where he promoted the event as old black and white photos from the inaugural event display in a slideshow for the viewer. Fast forward to 2010 and we begin to get acquainted with the subjects of the documentary. They are presented with a moniker in the film, which is displayed on a freeze frame in a comic-art style filter and panels. First up is "The Geek" (couldn't that apply to all of them?)…
'The Geek' is Skip Harvey, a young man who works at a sci-fi/video game themed bar and dreams of one day becoming a comic-book artist. His 'nerdisms' were passed down to him by his parents. In his words, they are "uber-geeks". They met at the planning committee for the first Star Trek convention in Kansas City in 1976, and even designed his Birth announcement in a Star Trek theme. But there's another who shares the same dream as Skip, and that would be "The Soldier", Eric Henson. That's right, a military man who wants to become a comic-book artist! Now I've seen everything!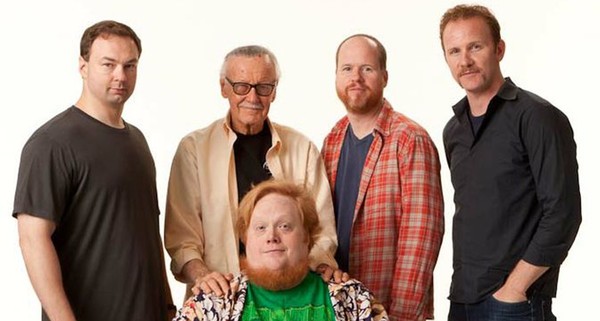 Next up is Holly Conrad, "The Designer". Living in San Berardino, California, "where people stop to go to the bathroom before they go skiing", Holly and a bunch of her good and equally passionate friends make costumes. For the 2010 Comic-Con Masquerade, the team have been readying some Mass Effect costumes. The pièce de résistance is an animatronic Grunt, whose jaw opens as the puppeteer opens his. It has lights in it's armor, and it's brow also has the capability to furrow and relax. You may have actually heard about Holly, because not too long ago, she was hired to be the wardrobe consultant on the upcoming Mass Effect feature film. She also worked on the E3 2011 Mass Effect 3 live action trailer, making the Husk costume. Okay, I ruined the conclusion of her story, but you'll still want to see her process and the costumes in detail. Very impressive.
Then we have "The Survivor", Chuck Rozanski, owner of "America's Largest Comic Dealer" Mile High Comics. Chuck makes the claim as, at the time, Mile High had over 8 million comics in their warehouse and serviced more customers than anyone else. He'd been going to Comic-Con for 38 straight years, and at the 2010 con, was hoping not to have to sell his immaculate and super-rare Red Raven #1 to make a profit. Now, here's where an issue with the film's plot rears it's head. The next subject is introduced 20 minutes later in the course of the film. After having all of these prior introductions made almost back-to-back, this large gap is indicative of the imbalance and lack of equal attention that should have been given to each story. The documentary is just not timed out and plotted out too well, which is it's worst flaw.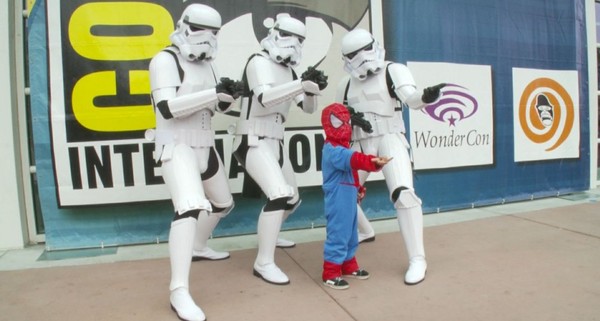 That subject in question is Anthony, "The Collector". Now, Anthony has the thinnest story to tell; his agenda for visiting the convention is to collect a limited release Galactus figure…and he does so almost immediately. His tale (if you can call it that) was an afterthought. He didn't even get an update at the end of the documentary. Tying in with my previous criticisms, maybe to save the pace and plot of the film, his scenes should have been all together relegated to the extras. Practically his whole story was told within 8 minutes, after which we get an interview snippet with Seth Green, where he talks about meeting his wife at Comic-Con. This led directly into our final subjects: "The Lovers", James Darling and Se Young Kang. They too met at Comic-Con the year before, and at the 2010 event, James plans to propose to Se Young in front of everybody during the Kevin Smith panel.
The tone of the film is very light, sweet and respectful of the culture and the event. Criticisms aside, I like that I wasn't watching a pretentious, biased propaganda piece, but instead a light-hearted, honest look at the first-hand experiences of these 6 sets of people amongst a sea of approximately 140,000 people that attended the event across it's four days of operation. It clocks in at 82 minutes, so it's not going to bore you. But, looking back, and in considering the sheer number of attendees, it would be fair to think that Spurlock and Co. could have hand-picked a more interesting subject than "The Collector" in particular. Nonetheless, it's a feel-good documentary, which I don't get to say very often.
Visuals & Audio
I always feel this sections lacking when it comes time to review a documentary. There's not much that can be said here. The video transfer is presented in anamorphic widescreen 16:9, and the visual quality is reflective of the format and genre of film-making. There is one visual aspect that's missing; that is usually found in a Morgan Spurlock documentary…Morgan Spurlock! He's nowhere to be seen on-screen. He didn't need to take the spotlight here, and so he made the right decision. All of the individual interviews that were conducted, and played in snippets throughout the film (and found in their entirety in the extras section) are front-on against a plain-white backdrop; very simple, with the emphasis being placed on the stories the subjects are telling.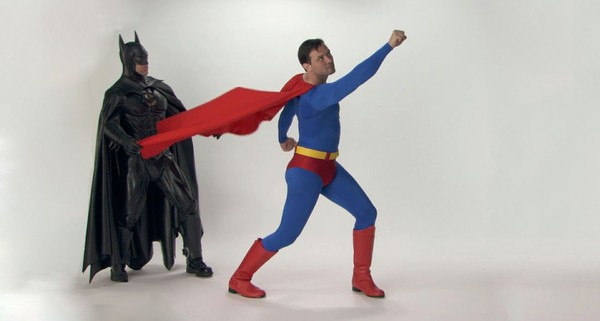 There are no issues with the visual or audio quality. The audio is played in the Dolby Digital 5.1 format. English is the only language and subtitle track available…there isn't even a Setup sub-menu on the disc like you would expect to see in pretty much all home media releases. So basically, if you're not an American, the producers don't care about you. I guess they see it as American-only subject matter/culture. Another thing that's missing from the menu interface are "Play All" buttons in the extras sub-menu. Considering that there are 15+ interviews scrawled across three pages, a Play All button would have been appreciated and appropriate.
Extras
All in all, there is over an hour worth of special features on this disc. The usual inclusions of a Theatrical Trailer and – with most Madman titles – Madman Propaganda (not a negative connotation; actually their wording!), which includes trailers for four other Madman distributed films, are present. Then there's the Deleted Scenes, of which there are 5. They are "Anthony's Car Breaks Down" – which is really upsetting because he had a 65′ Ford Mustang with the Punisher logo painted on the hood ready to drive to Comic-Con, "Holly Looks At Gremlims On Showroom Floor", "Holly Talks To Costume Designer Guild", "Anthony Makes Custom Action Figures" and "Skip Gets Reviewed By Phil Hester". I love how their contents are all completely obvious by their titling. Very short, but then again most deleted scenes are.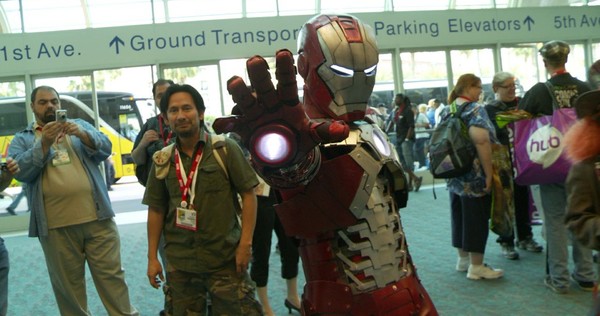 The best part of the extras package are the "Extended Interviews". A plethora of talent and celebrity fans give insight into their starts in the industry, their fandom, what Comic-Con means to them and more. The names on this list are impressive: Joss Whedon, Stan Lee, Kevin Smith, Frank Miller, Todd McFarlane (his name was misspelt in the menu!), Robert Kirkman, Ellen Page and many more. It was all inspiring to listen to, except for one. Jon Schnepp pretty much talked trash about the event and what it has become for the entire interview and really put a downer on the whole vibe of the disc. He was making the argument that comics are not even the focal point any more and the spirit of the con has been sucked away by film production companies that now use it as a platform to advertise their upcoming projects. Which is fair, but completely out of tune with the tone of the film/extras on a whole.
Overall
Comic-Con Episode IV: A Fan's Hope is a fun documentary; something you don't hear very often. I'd heard criticisms that the film is empty and pointless, but I think those "critics" missed the point all together. Spurlock took the opportunity to use the documentary genre and format to tell a happy story, an entertaining one for once that doesn't necessarily have to have a deep and powerful message about the world, or politics or global warming. Other than, of course, the simple message that there is always a place for us, and we're all nerds in some form or fashion…but we already knew that. It's just comforting to explore the culture and hear/see these people's stories (including all the industry members and celebrities). For all of our people: buy this DVD, and celebrate your geekdom.