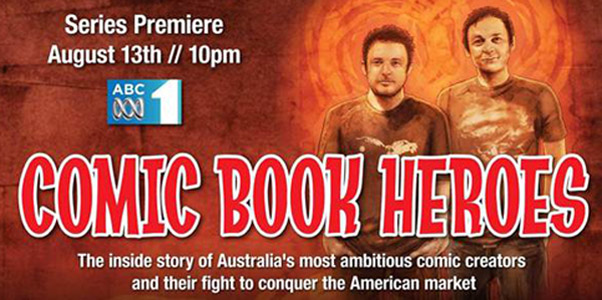 Comic Book Heroes
Studio: Little Star, Wild Fury, Screenwest, Lottery West, Screen QLD, ABC TV
Publisher: ABC TV
Format: TV (ABC1)
Release Date: August 13th 10:00pm, August 20th 10:00pm
Overview
Comic Book Heroes follows the life and trials of two struggling comic book entrepreneurs; Wolfgang Bylsma and Skye Walker Ogden, and their Australian company; Gestalt Publishing. Trying to crack into the American comic book market, which is almost completely dominated by Marvel and DC is no short feat, and the struggles that the team at Gestalt go through will make you cheer for their successes, and genuinely wish them well for the future.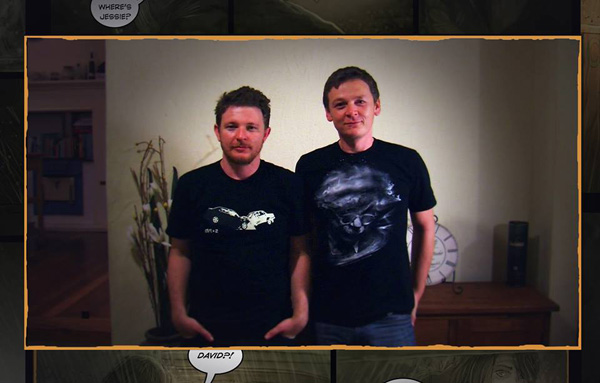 Story
The comic book industry is one of the most unique and interesting on the planet. Typically the phrase "comic books" is closely linked to Batman, Superman, Spider-Man, Marvel, X-Men or DC. The superhero genre overwhelms the market, and the "Big Two" dominate because of it. However, the industry, and the artform go so much deeper than that. Ask any self-proclaimed comic-book aficionado out there, and they will tell you that the real heart and soul of comic books and graphic novels lies in the small, independent publishers.
Comic Book Heroes follows the life, trials and successes of one of these small, independent publishers; Gestalt Publishing. Created by two Aussies, Wolfgang Bylsma and Skye Walker Ogden, Gestalt tries its hardest to make ends meet in a market that is dominated by two gargantuan corporations, and an environment that almost necessitates being based in America.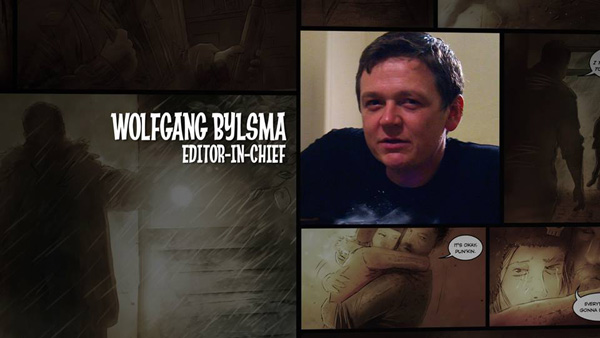 The two hard-working, yet struggling businessmen, along with their amazing crew of creators (which includes an Academy Award winning animator) want their company to succeed and they know there is only one place to go; San Diego Comic Con. Following this team of passionate individuals along their journey is an emotional experience and you really find yourself wanting them to succeed.
Bylsma's passion and drive are both immediately apparent at the beginning of the documentary, and throughout you can really empathize with him as a person. Anyone can have a dream, but it takes someone of incredible strength and character to endure the types of hardships that Bylsma has in order to make his dream into a reality. Everything from dealing with late shipping to printers screwing up and even illness while in the middle of San Diego.
That isn't to say that Ogden doesn't have an incredible amount of passion too. Normally based in Tokyo, he is forced to live with his Japanese in-laws as he cannot make enough money from Gestalt to financially support himself and his wife. We see Ogden's wife and in-laws a few times, and they all appear to be 100% supportive despite the dire times.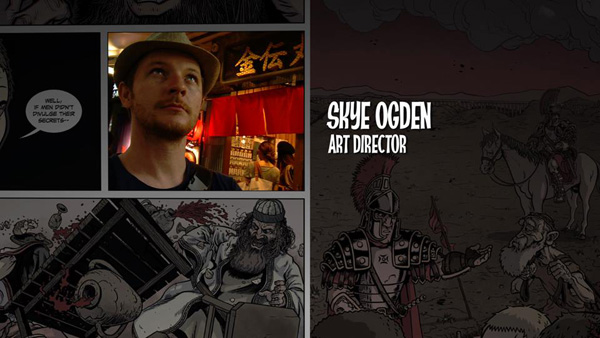 The emotional connection is part of what makes this documentary a feeling of realness. There are no phoned-in performances here, just the real life story of the little Australian publishing company that could. Organising the small company's first trip to Comic Con, which has over 120,000 visitors a year is by no means a small feat, and the pressure looks like it really does get to Bylsma, who for a good portion of the program looks like he is about to snap at a moment's notice. All of the members of Gestalt Publishing and their drive and determination are all raw and unhindered, giving a true account of how tough a mistress the industry can be. Part of the program that really stuck out for me was that it was uncensored. F and C-bombs were getting dropped throughout and it added to that feeling of raw intensity and passion from the Gestalt team members.
Comic Book Heroes is really the story of the Little Aussie Battler, and I think this will allow it to resonate with all Australians, not just "Comic Book Nerds." We are let into the lives of these guys for around 18 months, and by the end of it, will genuinely be invested in their future and where the team will go from here. The investment comes not only from the passion and determination, but also in the fact that these guys are trying the impossible; they are trying to grab hold of the tightly-sealed market that is the comic book industry.
Visuals & Audio

The production values for Comic Book Heroes are a mixed blessing. Much of the program is filmed with simple handheld cameras. Although this causes a dip in some of the visual quality in segments, it makes the whole presentation feel like it is a video blog. it helps us to feel like these guys and girls are actively letting us into their lives as opposed to just watching a TV show.
Splicewd through the program are scenes of Comic-Cons cosplayers, as well as nerddom icons like Kevin Smith and Stan "The Man" Lee (Eagle eyed viewers will also notice the briefest of cameo's by one of cosplay's biggest stars; Jessica Nigri). Seeing some examples of the attendees of the biggest pop culture convention in the world really brings to life how enthusiastic fandom can be.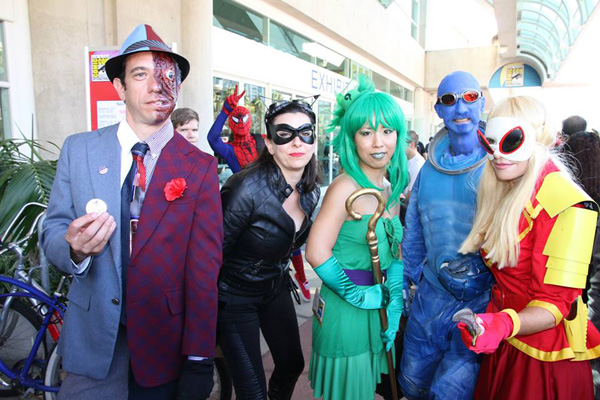 Cosplay, Fandom, Nerddom and Pop Culture Lovers come in all shapes and sizes, and you can see that just from these few splices segments. Ranging from people who will spend hundreds of hours (and dollars) meticulously creating a costume of an obscure character from an obscure anime, to those who "just wanted to dress up," it is all encompasing, and it shows clearly.
I personally would have liked to see a little bit more from the celebrity cameos. People like Kevin Smith have such a depth of insight into the industry and how it operates, and it would have been interesting to hear more than a few passing sentences from him.
If there is one complaint I have with Comic Book Heroes it is the sound. Audio-wise Comic Book Heroes can struggle a bit. Some of the recording sessions suffer from a bit of echo and this can make some sections difficult to understand. Across the two episodes these instances are few and far between, and from the nature of how the program was filmed they were almost unavoidable. Regardless, It would have been nice if a little bit more of the budget was spent on audio recording.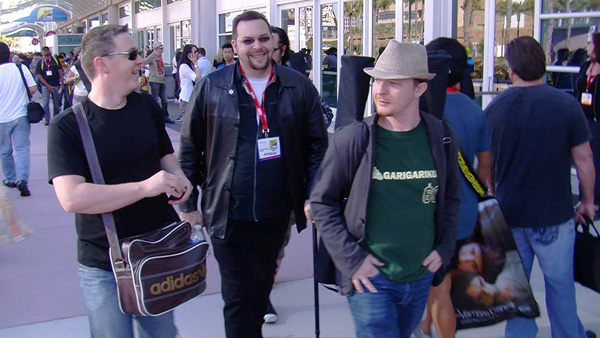 Overall
Gestalt Publishing, Wolfgang Bylsma, Skye Walker Ogden. These aren't likely to become household names in the near future, but Comic Book Heroes shows that they damn well should be. The documentary offers a real insight into the difficult world of comic book development. From the ecstatic highs of having a book made into an animated series, to the crushing lows of not having any books to sell at Comic Con, Comic Book Heroes feels real, raw and makes you wish for nothing but good things from these little Aussie battlers.
Capsule Computers review guidelines can be found here.