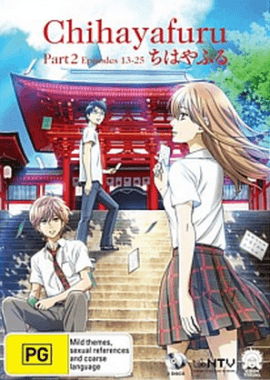 Chihayafuru Part 2
Studio: Madhouse
Publisher: Siren Visual
Format: DVD
Release Date: September 19th, 2013
Price: $49.95 – Available Here
Overview
What is poetry? Is poetry simply pretty words arranged in pretty ways or it something much deeper than that? Chihayafuru is an anime series that explores poetry at length, no not the kind with pretty words, it is all about the poetry of life.
There is beauty in just about everything and Chihayafuru explores the inherent poetry in motion that is life, love, passion and all the good and bad that lies between. This isn't just a silly old sports anime, this is a series that breaks down all the walls that define the genre.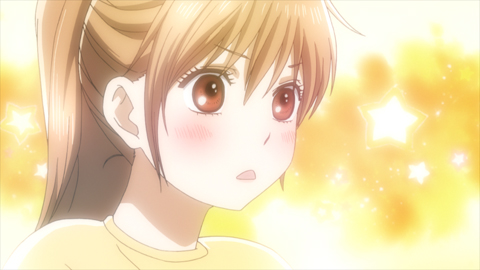 Story
Chihayafuru is a sports anime that even those who aren't a fan of the genre can enjoy. It has just about everything you could possibly want from an anime series. It's got action, romance, a detailed plot, variety, an excellent cast of characters, an unique concept and setting. There is so much going for this series that it could easily be enjoyed by just about anyone.
In Part 1 of Chihayafuru we seen the foundations laid out for the series, we got a deep origin story for our protagonists and an intricate detailing of the wonderful sport of karuta that the series revolves around. On top of that we see Chihaya and her team make it all the way to Omi Jingu, the grandest stage for karuta players. That is where Part 2 picks up, right in the heat of the action.
Over the course of Part 2 we follow this endearing cast of characters through a number of intense games of karuta, each tougher than the last. We come to see something quite interesting from Chihaya in this arc. She has to learn that having a dream also means having to struggle to get it. We see her faced with her own flaws and she must confront the idea that she might not be as good as she thinks she is. This was a great bit of story-telling as thus far Chihaya has been mostly portrayed as pretty flawless, so it was nice to see a weakness in her. We all have flaws, it is how we transcend them that defines us.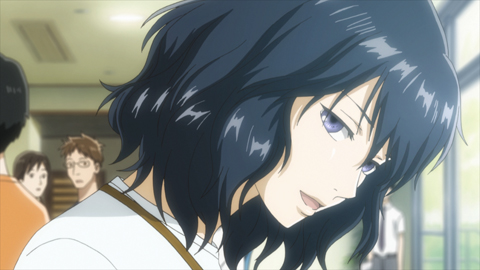 This season concludes in a decidedly quiet fashion, leaving things open for a continuation, which as fans of the series would know has already aired in Japan. It is a fitting end for the first season and one that provides a solid amount of closure for the story arc of this season and its characters.
Ultimately Chihayafuru isn't simply a show that goes through the motions. It is a deeply intimate anime series with a complex story and rich cast of characters each bursting with personality. While it may seem to be just another sports anime, this time with an obscure sport named karuta, it's not, it is so much more than that. Chihayafuru is about the love of things, it is about passions and dreams. The focus here isn't on karuta, but rather the love of karuta. That is what separates Chihayafuru from other anime series, it has heart, pure and true.
Visuals and Audio
Madhouse studios are one of the cornerstones of the anime industry, producing dozens of highly inventive and awe-inspiring visual works that are simply unmatched. Chihayafuru is one of those works. The aesthetic appeal of Chihayafuru is instantly apparent, with the gorgeous array of vibrant colours that make up the series wonderful palette. You get the sense that Madhouse was attempting to capture the beauty of the story through visual form. They truly succeeded in creating an unforgettable aesthetic experience that has few rivals in the medium.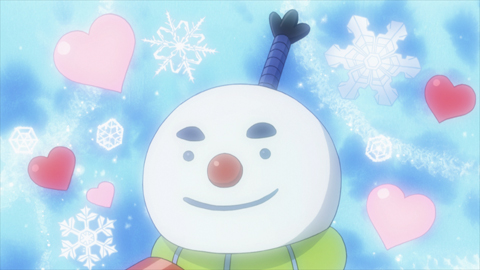 Along side the superb artwork and animation is the stunning soundtrack for the series as composed by Kousuke Yamashita. The tracks are each intricately composed to perfectly add to the action playing out on screen. It adds so very much to the series that it would be quite difficult to imagine Chihayafuru with any other soundtrack, it is just that good.
This particular release of Chihayafuru, much like Part 1, features a Japanese audio track only. It is somewhat of a shame that an English dub track was not available to Siren Visual, but it will likely not hinder those who are looking to pick up this excellent series. The original Japanese audio features some of the best voice actors and actresses in the business giving their best for what is truly a special series.
The standout performance on the series however is undoubtedly Mamoru Miyano as the conflicted Taichi. His performance is every bit as moving as it is powerful and highlights why he is such a hot commodity in Japan right now. Also worth an honorable mention is the hyperactive performance of Asami Seto as Chihaya. She brings life to the character in ways that few could and makes for a memorable protagonist for an absolutely unforgettable anime series.
Extras
Chihayafuru Part 2, much like Part 1, does not feature a great amount of bonus content. It does however feature some of the usual extras such as a clean opening and ending theme song. Other than that, there is very little in the way of bonus content. Regardless of that, it is an all round great release of a series that many thought wouldn't see the light of day outside of Japan. Thankfully Siren Visual have brought this amazing show to us here in Australia and for that we are quite lucky.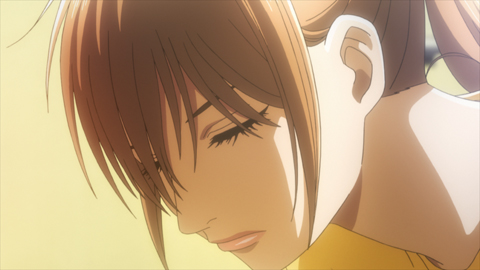 Overall
Chihayafuru is the kind of anime that comes along once in a blue moon. It transcends all preconceptions attributed to the genre and medium, making it look easy while doing so. Special anime like this are rare, they aren't shows that should be missed. In fact Chihayafuru is something to cherish – a genuine masterstroke of creativity and passion. This is something all anime fans need to experience. Chihayfuru is simply animation at its finest.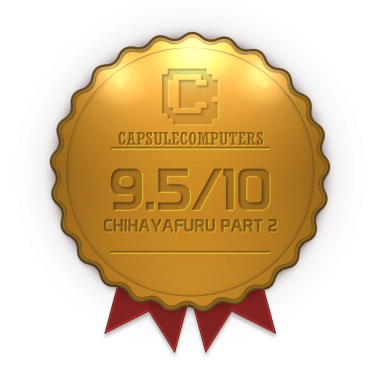 Capsule Computers review guidelines can be found here.