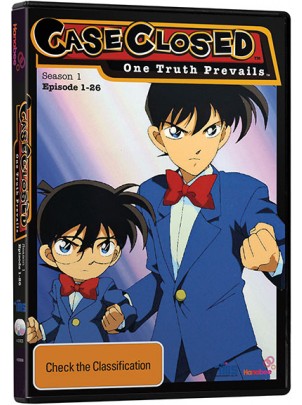 Case Closed
Studio: TMS Entertainment
Publisher: Hanabee
Format: DVD
Release Date: April 2nd, 2014
Price: $49.99 – Available Here
Overview
It doesn't get much more iconic than Case Closed when it comes to anime. The mystery anime following Conan Edogawa, a talented young detective who is transformed into a child after a run-in with a sinister organisation. Known more commonly by its Japanese title Detective Conan, the series has spanned countless manga volumes and is fast approaching 800 episodes.
So what is it about the adventures of Conan and friends that has enchanted anime viewers for the past 18 years? Well it really comes down to the series being a jack of all trades, its got comedy, its got mystery, its got action and its got some romance. It has something for everyone and beneath all of that it has heart, that intangible spirit that transcends all. That is why Case Closed has stood the test of time and that is why it is still going strong after all these years, there is always time to solve another mystery.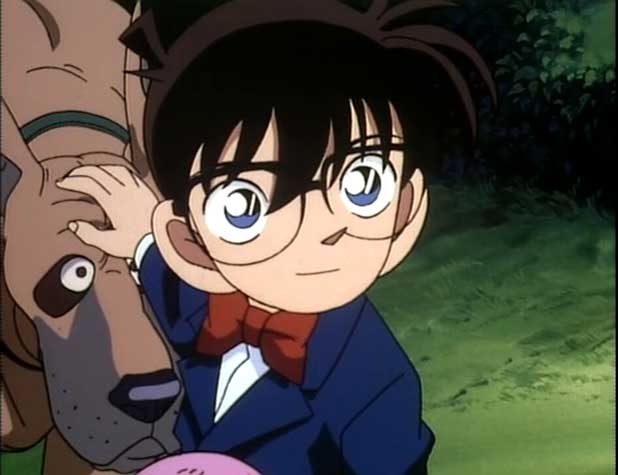 Story
Case Closed is a rather episodic anime, it features a mystery of the week formula for the most part with very little overarching plot line. While the major driving force is of course the fact that Conan has been transformed into a child and he seeks to fix that, it more often than not takes a backseat to whatever mystery must be solved in any given episode.
The episode structure works quite nicely for Case Closed and feels somewhat reminiscent of American procedural dramas in some aspects. The basic set up for most episodes is generally a murder victim, a key clue and Conan absolutely flogging at being a detective. It works very well and makes for a familiar yet addictive viewing experience.
This first part release from Hanabee includes the first 26 episodes of the series and covers some truly intriguing cases. Some of the standout episodes include 'The Timebomb Express', 'The Moonlight Sonata Murder Case' and 'Lights, Camera, Murder'. Each highlights how very engaging Case Closed truly is.
As far as characters go, Case Closed has plenty of colourful personalities that make up its cast. The series even goes to great lengths to provide a good level of development to one-off characters, adding depths to them and leaving an emotional impact on viewers with their motivations and individual scenarios. Our lead character Conan is of course the most interesting of the bunch and while he is extensively explored in these 26 episodes, there still feels as if there is much more to him than meets the eye. When you look at Conan you get the sense that there is layers to him that are just waiting to be pulled back. As the series progresses we are sure to see more exploration into his character.
Ultimately Part 1 of Hanabee's collected releases of Case Closed is a lot of fun. It is a great entry point into the series and it still holds up as a benchmark for mystery story-telling in anime even after 18 years since it originally aired.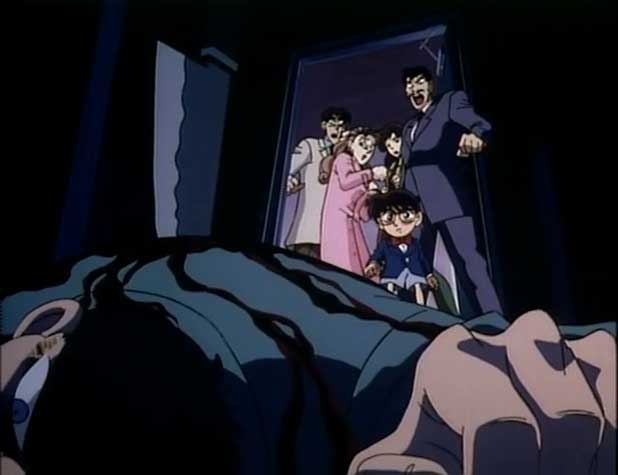 Visuals and Audio
After 18 years it must be said that Case Closed has aged as far as visuals go. It is absolutely oldschool in appearance and represents one of the last remaining ongoing series of that time. If you were to compare the the episodes of this to the most recent episode of the series, you would see just how far it has come in that time. This here is a aesthetics artifact of a bygone era of animation and the hand-drawn art style is nostalgic in many ways. The animation is mostly fluid but as with many series of the time, there are bouts of repeated animations but it is nothing that distracts in any substantial way from the proceedings of any given episode. All in all Case Closed Part 1 is a true blast to the past visually.
As far as audio goes, the series features a killer soundtrack with plenty of memorable tunes that will become ingrained in your mind while watching. The series opening theme is likewise very catchy and while the lyrics aren't exactly the most fitting, the song itself is really just great.
This release also happens to feature both Japanese and English language tracks, with the English track coming courtesy of Funimation over in the states. The dub was produced quite a while back now but still remains one of Funimation's finest. It is a great addition to a great release. Extras
Unfortunately Hanabee's release of Part 1 of Case Closed is rather bare bones in terms of special features. The release only includes the first 26 episodes and doesn't feature any bonus content. This is surely more than enough to satisfy the most die-hard of Detective Conan fans out there, but it is somewhat of a disappointment considering the iconic status of this series and the number of different special features that could have possibly been added as a cherry on top of what is already a great release.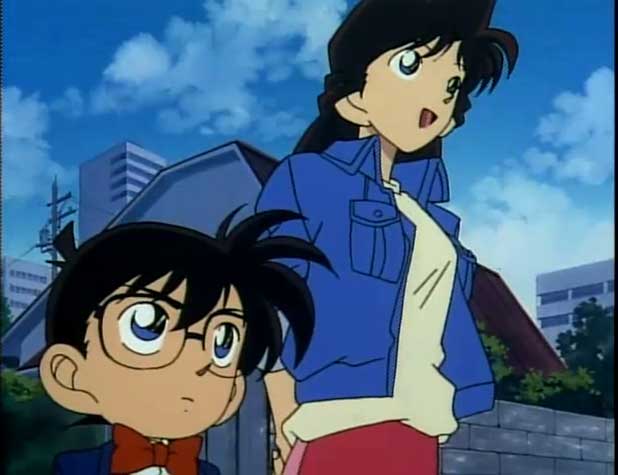 Overall
Whether you know it as Case Closed or Detective Conan, you undoubtedly know it as iconic. This is truly one of the biggest releases for Hanabee Entertainment to date and considering the legendary status of Case Closed it is no wonder. It is really one of those series that any anime fan would instantly recognize, a real monolith of the anime medium.
The fact that Hanabee have brought such an iconic series down under is something worth praising. The series has long evaded release in Australia and it is about time that anime fans down under get to follow the adventures of Conan and friends as they prove that no matter the case, one truth prevails.
If you are a fan of action, romance, comedy or most importantly mystery, then Case Closed is a must watch anime experience. It is a series that resonates with millions of fans across the globe and it is finally time for Australia to get a taste of the fun. If you have never seen the brilliance that is Case Closed you are in for one hell of a treat.

Capsule Computers review guidelines can be found here.