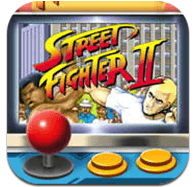 Game Name: Capcom Arcade
Platform(s): iPhone
Publisher(s): Capcom
Developer(s): Capcom
Genre(s): Arcade
Release Date: 4th October
Price: FREE (DLC Options)
Yesterday I gave you a brief rundown of Capcom's latest iPhone App – Capcom Arcade.  Today as promised we have a review / video walkthrough of the game in action.  Capcom Arcade is very similar to Microsoft's Games Room on Xbox Live Arcade where you can play arcade classics for a price or purchase the arcade machine and enjoy the game as much as you like.
On release Capcom Arcade has the following launch titles available :  Street Fighter II, Ghouls 'n Ghosts, 1942 and Commando.  The games are near perfect ports of the originals – having gone through all four titles, gameplay will suffer in certain games due to the onscreen virtual controls.  The reaction times are a little laggy and unresponsive and not 100% accurate.  Hopefully with future updates Capcom can work on fine tuning the control system so that they are a little more responsive.
As explained in further detail in the video review – Capcom Arcade is FREE to download (160mb) Once you download it and fire it up you will receive Three FREE tokens that will enable you to play any of the four available games for free.  Once you run out of tokens you will have to wait till the next day to receive another three more.   If you're desperate and want to play more you have the option to purchases additional tokens (coins).  You can pick up 10 tokens for $1.19 AUD (.99c USD) from the options menu.  Purchasing the tokens will bill your iTunes account once you've logged in an authorised your purchase. 
Now personally buying tokens is going to add up after a while so if there is a game you truly love (for me that's all of them), the option to buy a game's "Arcade Machine" outright for unlimited play is also available.  For only $2.99 USD ($3.99 AUD) you can own the arcade machine, which I personally recommend – these Original Capcom titles are well worth the $2.99 price tag.  Purchasing these elsewhere will have you spending a whole lot more.  Along with purchasing the "Arcade Machine" outright you also have the option to purchase extra features within each game that increase your abilities, give you extra strength, more lives etc.   Everything comes at a price with Capcom Arcade and if you want it you'll have to pay for it.  To purchase the Arcade Machine or the special abilities within each game simply speak to the girl at counter (tap on her) and all the options appear – Buy Tokens, Buy Arcade Machine and Buy Special Moves.
Along the top of screen when you're browsing the Arcade room Capcom have allowed ADs to appear which I personally believe degrades the overall look and feel of the game.  The ADs appear over the arcade machines and are quite annoying, tacky and have no real relation to the game what so ever.  Hopefully Capcom listen to what the end users have to say and remove this in the next update as it's not needed.
Capcom Arcade is not compatible with Open Feint or Game Center so you wont be able to challenge your mates online or compare high scores which is a bit of a let down as most Capcom titles are always best played with or against your friends.  What Capcom have done is introduce a "Collection" achievement / Gallery where you can unlock super cool retro wallpapers from each of the games by completing specific tasks such as playing the game for the first time, or purchasing a special move or completing the game.  If you're a die hard Capcom fan I can see good reason for trying to obtain these achievements as some of the gallery images are well worth the effort.
On the other side of the Arcade Room there's a cool dude who lets you know that you can link up your Twitter or Facebook account to Capcom Arcade and once you unlock specific achievements it will post these to your Facebook or Twitter feeds for all your friends to see.
Thats enough reading for now, sit back and enjoy the video review.
[pro-player width='530′ height='253′ type='video']http://www.youtube.com/watch?v=AN8ACUP_Ak4[/pro-player]
Capcom Arcade is every Capcom fan's wish come true, being able to take with you an original near perfect copy of Street Fighter II, 1942, Commando and Ghouls 'n Ghosts with you anywhere you go is exactly what the doctor ordered.  Purchasing these arcade machines outright is the only smart choice as the token option will end up costing you way too much in the long run.  Capcom have promised that new games will be added every month to Capcom Arcade so if you bite the bullet and purchase all four arcade titles right now you'll be looking at approx $12 USD and then only an additional $2.99 each month after that.  Is it worth it ?  Yes if you're a fan – No if you're not.  In the end you could always just wait 24 hours and use your three free tokens then go off and play something else, the option is yours.  For me, well let's see $12 USD already deducted from my iTunes account … Ryu made me do it !! 😉