Canon XL-H1 Review
Overview:
The Canon XL H1a is no cheap, ordinary or hand-held camera – but a sturdy, durable camcorder which can be said to target the semi-professional videographer/film maker. It is priced around the $6000 mark and in this package you will get: a monster 108mm 20x optical zoom lens with a Vari-angle Prism Optical Image Stabiliser (VAP OIS), decent quality microphone, extra long life battery, high quality viewfinder, manuals and all the necessary cables. This review will discuss the Design, Footage, Hardware and Sound, then finish up with Pros and Cons followed by a Conclusion.
Design:
The Canon XL-H1a has a very sleek design. Just by holding it you can tell it is a very solid, well built camcorder made especially for filming documentaries and short films. The shoulder-mount attached to the XL-H1a makes a huge difference in terms of less fatigue when you compare it to an average semi-professional camcorder using wrist strength only. It has a handle which you can use to hold onto for low shots, but is quite unstable because of the front-heaviness of the XL-H1a. The camcorder also has a headphone jack and firewire port (used to transfer footage from a DV tape to your computer)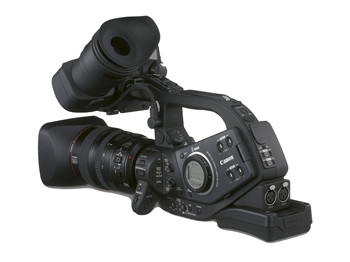 Footage:
With this camcorder, you can expect to see high quality video shot in full 1080i, 1440×1080 resolution and MPEG2 compression which fits up to 63 minutes of HD footage on an DV tape. The XL-H1a uses three 1.67-megapixel, 16:9-aspect, 1/3-inch CCDs with the Digic DVII image processor which are superb at making your film look good. A bad trait of this camera is that it can't shoot in a true progressive form, leading to fast movements of the camera looking bad and the footage not quite film-like. To compensate for this, the XL-H1a has a feature which allows you to shoot in 30F or 25F mode. This is similar to a 30p and 24p cinema style look, and you could probably get away un-noticed by using it. As I exported the footage I had filmed onto my computer, it instantly hit me – The quality of the footage is phenomenal. Even after finishing up with the editing and rendering, the quality still stayed crisp and clear. There is some noise in the footage produced, but you can easily avoid it with adjusting the gain and a few other features. The auto white balance is OK, but as with other camcorders, you should manually white balance often. The XL-H1a also has a variety of modes which surprisingly include a night-shot mode. Although manual mode is highly recommended for all types of shooting, night-shot mode is acceptable at pulling a dark scene off.
Hardware:
The view finder is extremely effective at showing even the most minor details, but as a result of the size, it may interfere with how you focus the camcorder. The 20x optical zoom lens is about three-quarters the weight of the XL-H1 itself; a heavy duty, high quality lens. On this lens, you can easily control the focus, zoom and iris in smooth and controlled movements. The zoom feature, while it has a controllable zoom speed from 1-16, I sometimes find is still too slow at the maximum setting. The focus ring is very controlled and glides smoothly leading to great shots. The iris is adjustable to any of the following apertures: f/1.6, 2.0, 2.8, 4.0, 5.6, 8.0, 9.5 and with this camcorder is also 13 levels of shutter speed. Other than the minor sluggishness of the zoom (probably just my personal opinion), it performs extremely well and is reliable in most situations. The Vari-angle Prism Optical Image Stabiliser (VAP OIS), which comes on the lens works wonders. It is something that you absolutely must use since this camcorder is so front-heavy. Another great perk of this camcorder is that you can interchange your lenses, leading to more of a variety of shots you can take.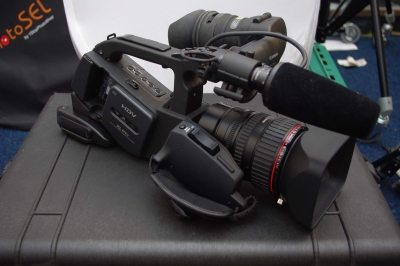 Sound:
Included with the camcorder is a decent quality internal microphone. I don't recommend this microphone for professional film as a result of the sound quality being not up to par with professional microphones, but for home videos it should be suitable. The camcorder comes with 2 XLR female jacks used for your professional grade shotgun microphones and +48v phantom power is included. On the side of the XL-H1 is where you have all your CH-1 and CH-2 volume adjustable controls which is similar to most other semi-professional grade camcorders.
Pros:
Shoulder mount included to take stress off your wrist and distribute the weight to your shoulder
Excellent quality viewfinder
Fantastic 20x optical zoom lens
Superb image stabilisation
Long-lasting battery
Smooth rotation of zoom/focus/iris
Sound controls are easy to use
White balance is accurate
Image quality is immaculate
Cons:
Front heavy because of the massive lens
Can't set timecode for multi-camera work, need to buy the XL-H1s which would run you a few thousand dollars more
No true progressive recording (eg. 720p or 1080p)
The viewfinder fitting is bulky and can become a bit loose, so you might find it sliding from time to time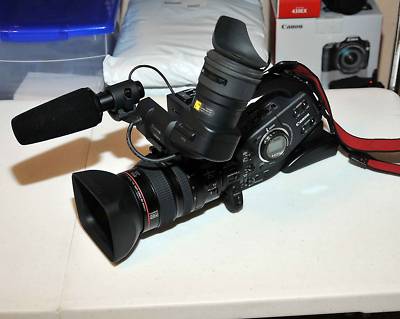 Conclusion:
All in all, the Canon XL-H1 performs well in all the sections listed above. The long-lasting battery allows you to be filming for a few hours without replacing it and the 20x optical zoom lens is a great addition to the camcorder. The smoothness of the lenses zoom, focus and iris and the image quality of the footage make the XL-H1 a pleasure to work with. While it can't shoot in progressive, it has different modes which are similar to progressive to make up for it. Unfortunately you can't multi-cam well with the XL-H1, but single-cam use is superb.
I give the Canon XL-H1 a rating of: