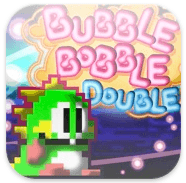 Game Name: Bubble Bobble Double
Platforms: Apple iPhone
Publisher(s): TAITO
Developer(s): TAITO
Genre(s): Action, Arcade
Release Date: October 1st, 2010
Price: $4.99 USD
Bubble Bobble has finally made it's way to the Apple iPhone !! Anyone who's as old as I am would of spent HOURS and HOURS in front of the TV playing Bubble Bobble when they were young and hands up the few of you out there who made it to the 100th round and actually finished the game ?? (Puts hand Up).  Well if you think you've got what it takes then pick up your iPhone browse the App Store download Bubble Bobble Double and take up the challenge once again as you will not be disappointed.   TAITO have brought back this beloved classic in all its arcade glory.  If you've ever wanted to sit down and play the original Bubble Bobble adventure once again, then you've come to the right place.  Everything you remember from playing this game back at the Arcades is right here in the palm of your hands.  Everything from the classic 8 bit style graphics to the legendary music score which sounds even better now than it did all those years back is waiting for you to master all over again.
That said, fans of the series will also be glad to know that TAITO have also included another mode called NEW STYLE, that offers a completely new kind of experience which will keep you entertained for hours.  New Style consists of two modes ; Normal and Challenge Mode.  (This is discussed in greater detail in the video review below).  Normal mode and Challenge mode work pretty much the same way.  You must defend Bubblun from waves upon waves of approaching enemies by trapping them in a bubble by touching them on the screen then touching them again to burst the bubble and destroy them.  The gameplay is quite simple but can become very tactical as you advance through the branching zones that lead you through the game determined by your performance and skill ranking at the end of each zone. 
At the end of each zone you get to take on a boss enemy that will test you skills and reflexes.  The video review will go through in further detail how trapping, flicking, and popping bubbles to destroy other enemies to set off bubble chain reactions to score you higher point bonuses which can then be posted online on Open Feint in the worldwide leaderboards. 
New STYLE also consists of Challenge mode that has you battling against the clock in either 2 or 5 min challenges for the best possible high score so you can brag to the world how great you are (Currently MasterAbbbott is ranked 10th in the world in the 5 min challenge)  See the bragging has already begun.  Challenge mode is also covered in the video review in further detail.  In a nutshell challenge mode is all about the high scores and getting the recognition you deserve online in the leaderboards.
The NEW Style also has an ITEM Library.  Once you destroy enemies in either Normal Style or Challenge Style items appear on the screen.  Touching them will add them to your collection, examples such items are the classic bananas apples and watermelons which appear if take out an enemy without performing any chain pop kills.  There are also other items which will be harder to get and will need you to fulfill special in-game conditions before they appear.  In total there are 80 items to collect and 2 achievements associated to them on Open Feint so for all you die hard collectible / achievement junkies out there this will keep you busy for quite some time.
The Classic mode is what all us hardcore Bubble Bobble fans have been waiting for.  100 levels of fast paced relentless arcade action with fluid and intuitive controls, fantastic music and most of all Unlimited continues !! Gameplay in classic mode is amazingly accurate.  TAITO have not re-programmed or modified the original in way what so ever.  If you still remember or used to have a specific strategy to take out the enemies on each level it will still work.  The game runs exactly the same as the original arcade machine.  As all iPhone games the onscreen controls still take a bit of time to get used to but once you have the hang of it and the speed of the game then this becomes second nature.
With the written review completed please enjoy the video review below.  This does go through in greater detail all the modes and features of the game including Open Feint.
[pro-player width='530′ height='253′ type='video']http://www.youtube.com/watch?v=hQjLmxj_mKg[/pro-player]
Bubble Bobble Double is great mix of old and new.  Classic mode will bring back great memories where NEW STYLE will create new ones.  Being able to take this classic game anywhere you go with the added bonus of unlimited continues will surely have anyone who wasn't able to finish the game when they were a kid to go back and do it now.  Pick this up from the Apple iTunes store for only $4.99 USD.
Capsule Computers Score

Screenshots
[Gallery=114]