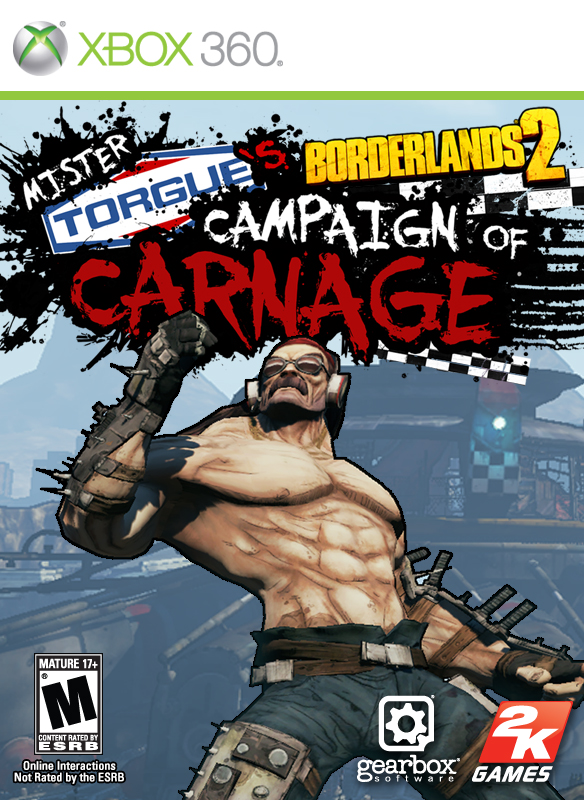 Borderlands 2: Mr. Torgue's Campaign of Carnage
Developer: Gearbox Software
Publisher: 2K Games
Platforms: PC, PlayStation 3, Xbox 360 (Reviewed)
Release Date: November 21, 2012
Price: 800 MSP ($10) – Available Here
Overview:
Many gamers have taken the fight to Handsome Jack and put an end to his plans and many of those people have already ventured the desert wastes in the search for Pirate Booty. After returning from the desert, what is next for the Vault Hunters of Borderlands 2? Well 2K Games and  Gearbox Software have recently released their latest piece of DLC for the game in the form of Mr. Torgue's Campaign of Carnage. Is this piece of DLC just as explosive as the Torgue weapons fans have come to know? Let's find out.
Story:
The… very outspoken… CEO of Torgue industries has organized a special tournament for the residents of Pandora. You see, he has discovered a new vault and Mr. Torgue is planning on giving the winner of his tournament of badassery an amazing grand prize if they eliminate their opponents and become the number one contender. As such, the Vault Hunter sets out with the quick travel system to Torgue's Badass Crater of Badassitude to take on this challenge.
As with the past piece of DLC in Borderlands 2, Mr. Torgue's Campaign of Carnage takes place outside of the main storyline but that doesn't mean that familiar faces won't be there to help you out. In fact a couple of fan favorite characters play some integral rolls in sponsoring and training the Vault Hunter as they fight against the various opponents in this badass tournament. In case you're curious about who these two happen to be, let's just say one happens to be a sexy bartender named Moxxi while Tiny Tina just the right amount of crazy with her explosives to fit right in with the Torgue mindset.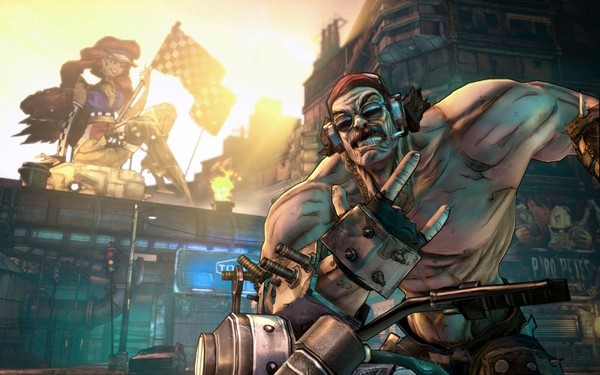 What is that mindset you say? Well why don't I briefly let Mr. Torgue pop by for a quick message. "DID YOU KNOW THAT OVER 97% OF ALL LIVING THINGS ON PANDORA AREN'T EXPLODING RIGHT NOW? THAT'S BULLSHIT! BUY TORGUE!" Yes, buy Torgue indeed. As you can see what really helps sell this piece of DLC is the fact that Borderlands 2's comedic nature never misses a beat. In fact the combination of Torgue, the two fan favorite characters mentioned earlier and everything else that occurs within the Badass Crater of Badassitude a laugh riot.
Visuals & Audio:
A number of new areas have been created for this DLC including the Crater of Badassitude, Beatdown, and The Forge to name a few, and each of these areas has been given an expected level of Borderlands 2 charm. As for the enemies you encounter, there are a number of new baddies mixed in with your run of the mill bandits which have been given a re-skin to match the new theme. These new enemies and some of the vehicles you encounter are very well animated and Torgue himself is splendidly done.
As for the game's audio, wow. That is pretty much all that can be said for Mr. Torgue's Campaign of Carnage as far as the game's voice work is concerned. While the background noise and soundtrack are your standard affair, the voice actors and the writing team must have taken a look at other scenes in Borderlands 2 and decided to take their performance to an entirely new level. Not only do we have Moxxi and Tiny Tina returning with new lines of hilarious and well performed dialogue but we also have Mr Torgue himself.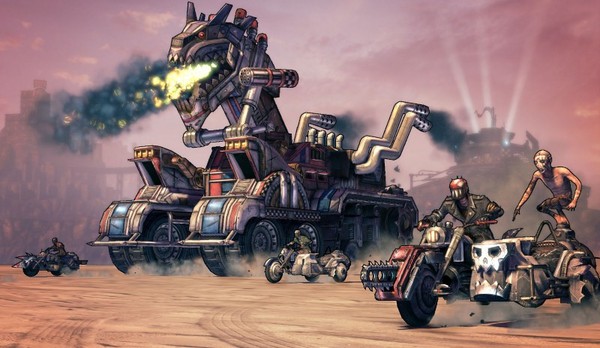 Any fans of the wrestling industry should instantly see how Torgue seems to be an amalgamation of many wrestling personas all combined into one over the top, raucous, foul-mouthed person in the entire game. That brief quote earlier was just a small taste of what Torgue brings to this pack of DLC as he frequently unleashes a verbal barrage of swear words that are bleeped for comedic effect only as they leave absolutely nothing to the imagination. This creates an absolutely over the top persona that fits perfectly with Borderlands 2 and the DLC itself.
Gameplay:
As a whole the gameplay of Borderlands 2 changes very little with the inclusion of Mr. Torgue's Campaign of Carnage DLC as they will still  have the same type of weaponry and skills they have always had to take out all of the enemies which appear before them. That being said, gamers should not worry that this DLC is similar to Moxxi's Underdome, as there are a number of different quests to complete which put together an interesting and hilarious story outside of the arena combat.
These quests you go on still have the same Borderlands 2 humor as always, with outlandish objectives and goals that the player must complete, though many of them happen to feature either killing or gathering certain things. However thanks to the charisma of Torgue, Moxxi and Tina these missions never feel like a chore as their rewards are not only physical in the form of weapons, money and tokens, but also in witty dialogue and stellar writing.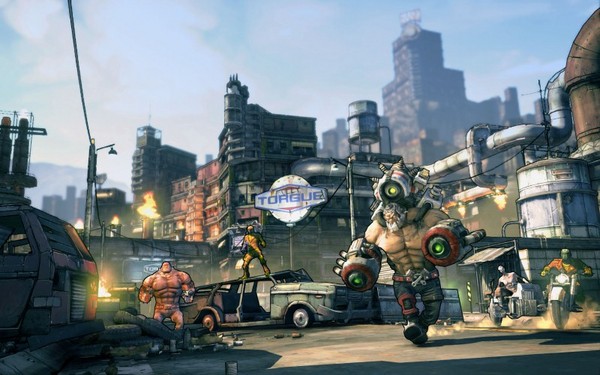 There is also a new form of currency introduced in this piece of DLC in the form of Torgue Tokens. Torgue Tokens can be obtained in a number of ways such as completing various missions, defeating enemies and they can even be awarded by a special slot machine that requires a Torgue Token to play. These tokens can be used to purchase legendary Torgue type weaponry, many of which are brand new to this DLC.
Overall:
While many people may have been concerned that Mr. Torgue's Campaign of Carnage would follow the route of Moxxi's Underdome when it was first revealed, but those fears can be put to rest as not only does this DLC feature a humorous and compelling storyline strung together by interesting quests but also a brand new colorful character and a large role for two fan favorite characters. While the DLC can be a bit short for some and the basic gameplay hasn't changed at all, Mr. Torgue's Campaign of Carnage offers a hilarious experience which will leave you in stitches while you put your enemies in ditches.