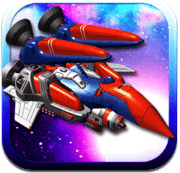 Blazing Star
Developer: DotEmu/SNK Playmore
Publisher: SNK Playmore
Platform: iPhone
Release: 26/7/12
Price: $2.99 – Available Here
Overview
Straight out of the late 1990's and onto your phone, the Neo Geo classic Blazing Star is back. Developed by SNK Playmore and retro-game enthusiasts Dot Emu, Blazing Star says bye to the old home console and control, and hello to touch screen control. The side-scrolling shooter was the sequel Pulstar, and features similar mechanics to the classic series R-Type. While it may have been a hit on the Neo Geo, how does it hold up on iOS? Do the pseudo-three-dimensional sprites and classic voice samples fit in today's 'casual' App market?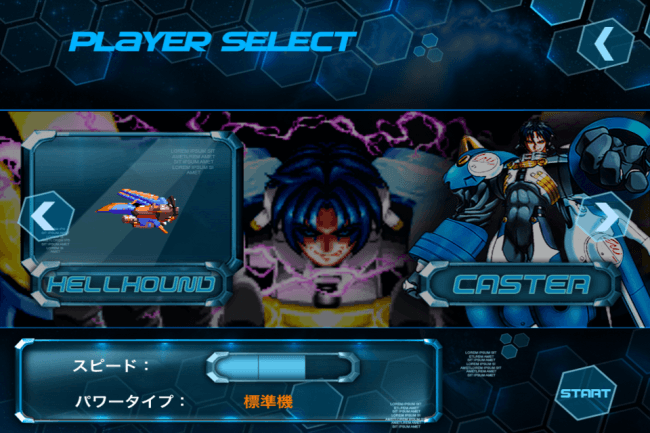 Story
The story isn't explicitly outlined. But then again, arcade titles very rarely do so. They rely on the games packaging, the arcade cabinet graphics, and other external means of telling the story. The downside of playing a classic title revamped for iPhone is that we lose these little things along the way. Nonetheless, there is still a story behind the game. An interplanetary war resulted in the development of a new type of weapon – Organic Weapon Production. The result was the development of a sentient weapon – Brawshella. Brawshella began to attack, and eventually assimilate humans, who then had no purpose other than to continue fighting. Eventually six assimilated fighter pilots regained consciousness and began to fight back again Brawshella.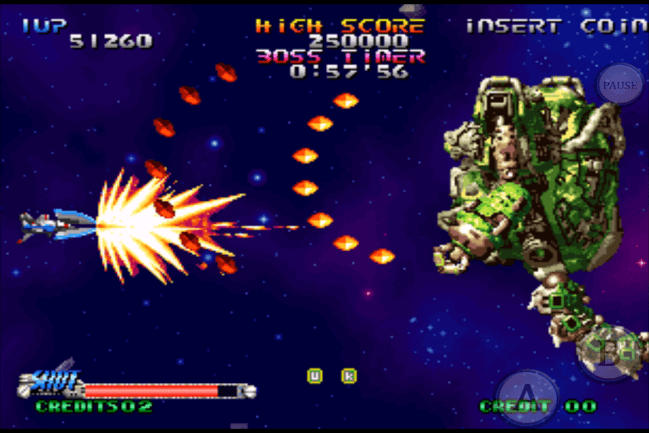 Gameplay
Blazing Star features both multiplayer and single player game options. Multiplayer lets you play with friends who are in bluetooth range. This allows for co-operative gameplay of the levels in single player mode. Single player allows you to take on the challenge of the original arcade mode -starting from beginning until as far as you can get. Mission mode however, lets you pick any level you have completed in arcade mode.
The game has a simple interface, as most iOS games do. It's a slide to move, push button to fire, type of thing. If that sounds too difficult, don't worry. There is a short tutorial before playing the game that shows you how to control your ship. There are six ships/fighter pilots to choose from, each with their own advantages and disadvantages. There are also varying degrees of difficulty, from easy to very hard, depending on your skill level. Scrolling shooters tend to work well on the iOS, and I'd say Blazing Star is no exception. It's easy to slide your finger around the screen to control your character with precise movements. At times it can be a little difficult, and the controls aren't as responsive as you'd like. But overall it works well. For those who don't like touch based controls, there is also the option of a thumb pad.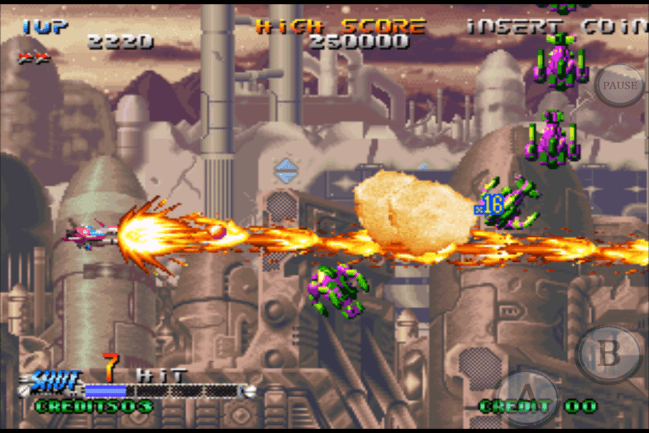 Visuals and Audio
The visuals are exactly the same as the original game. So, if you like the look of classic consoles, using semi-3D sprites. Then hell, you're going to like the look of Blazing Star. I feel as if the return to retro-aesthetic can be a bit overwhelming. So many games try to recreate the look of classic videogames and often fall short. Dot Emu like sticking as close as possible to the original titles, and I think, working with SNK Playmore, they have done the original title justice.
I really enjoyed the audio, from the fantastic, hyperbolic science-fiction style music running through the game, to the sound effects. My favourite part is catching those bonus or power ups and hear the narration of "BONUS" or "POWER-UP". It just makes the achievement of earning a bonus so much more enjoyable.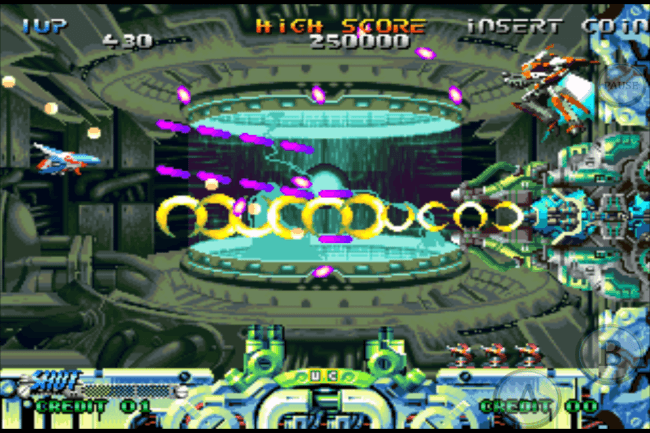 Overall
Blazing Star is an enjoyable side-scrolling shooter. The gameplay may be simple, but it's all you need with a game like this. It's nice to see original titles held in such high esteem by iOS developers and publishers that they honour the original game as they can – Blazing Star is truly an example of this. The game is great fun, doesn't have any serious elements, and functions very well as a casual game – getting a fix whenever you can. Retro-game enthusiasts, Neo Geo fans, this is a game that must grace the screen of your iOS device.