 Asphalt 8: Airborne
Developer: Gameloft Barcelona
Publisher: Gameloft
Platform: iPhone (Reviewed), iPad, Android
Release Date: 23 August 2013
Price: $0.99 – Available on iTunes and Google Play
Overview
Asphalt 8: Airborne is the latest addition to Gameloft's long running arcade racing series. This edition completely shakes up the car lineup with 80% of the lineup new to the series. Gameloft also introduces the new physics engine which allows players to execute death defying aerial stunts.
Story
There is no story in Asphalt 8: Airborne, just eight seasons worth of racing events and a whole load of people to beat.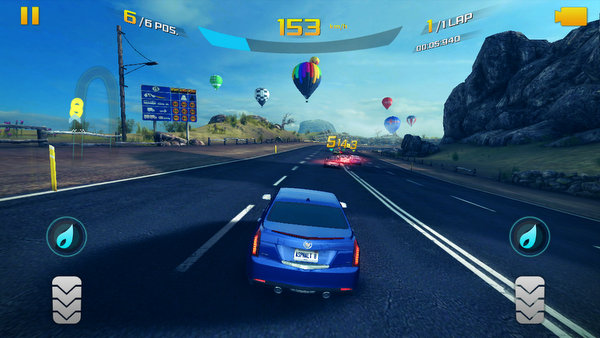 Gameplay
Asphalt 8: Airborne is an arcade racer. Unlike racing sims, "knockdowns" and stunts play a major gameplay role. Players acquire Nitro boosters by picking up Nitro bottles scattered across the track, causing knockdowns by instigating a crash, drifting, driving aggressively, and completing airborne stunts. The Nitro booster will give the player's vehicle a speed boost and comes in three tiers of speed. Skilled players can save themselves a step by tapping the Nitro booster a second time in the middle of the red zone. Success in the race will require a combination of controlled risk taking and clean driving.
The traditional video game racing events are all present in Asphalt 8: Airborne. Classic mode will pit racers in traditional first past the finish line racing. Elimination is a twist on Classic mode that eliminates the slowest driver at an interval until only one driver is left standing. Versus mode will pit two racers in a head to head race. Drift Gate is the only solo event in Asphalt 8: Airborne. Players will be provided with a set course full of Drift Gates they must drift through under the pressure of time. Knockdown will pit two racers against each other to knockdown as many cars as possible in a period of time. Finally, the game has a unique mode called Infection. The slowest racer will be given an infection that gives them an unlimited amount of Nitro. The infection spreads through knockdowns. However, any racer who is not last will have a limited amount of time to knockdown another vehicle to buy extra time. Once the timer expires, the car will explode and the infection will clear. The first vehicle past the finish line is the winner. Personally, I am a huge fan of Infection mode. It is great fun and a perfect choice for a party game.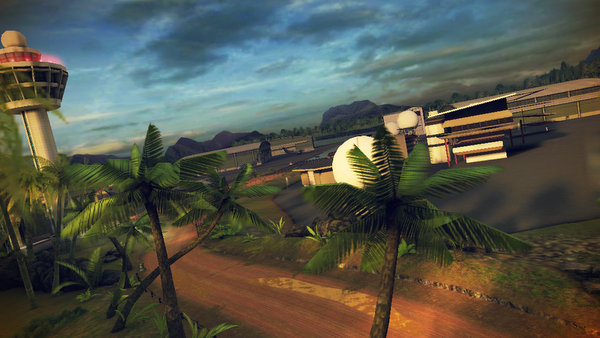 Asphalt 8: Airborne contains 47 vehicles grouped up in five different classes. The line-up favours luxury brands like Cadillac, Audi, and Ferrari. The player starts with a single Dodge Dart GT and will slowly purchase new cars with race earnings. The game has car level recommendations and car requirements that need to be satisfied for certain races. The player can save a little money by purchasing upgrades for their existing vehicles. However, this gets exponentially more expensive after the first set of upgrades. I personally preferred buying the first set of upgrades then buying a better a new car to modify.
Career mode contains eight seasons. Each season contains a variety of events. New seasons are unlocked by collecting stars from events. The first three stars are awarded for placing first, second, or third in an event. The last two stars are awarded for completing two optional requirements in a race. Most of these requirements are pretty benign, such as drifting a certain amount of distance. The multiple flat spins in one jump optional requirement and no wrecks are some of the hardest in the game and often end up becoming an annoyance. All five stars do not need to be earned in one race, but each season's event can only award five stars. There are a 180 events across eight seasons, so there will be plenty to keep players busy in the long term.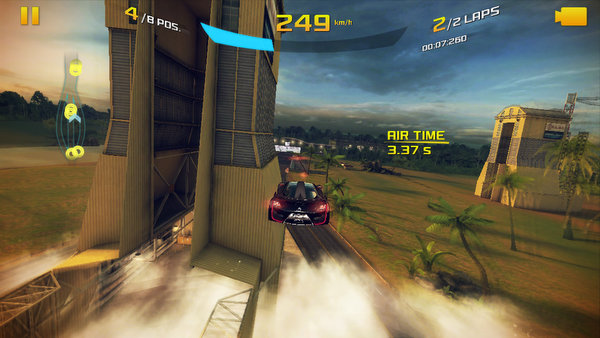 In addition to the single player Career mode, players can take it online with either asynchronous multiplayer or traditional multiplayer over Wi-Fi. Asynchronous multiplayer involves uploading a race performance online, then friends can then download and race your ghost on their own time. My only complaint is that uploading the ghost data is a little slow for some reason, but the impatient can skip uploading data. Traditional multiplayer works well, with little to no lag and room system that allows participants to vote on which event and track they wish to see next.  Those lacking an internet connection can also do quick races with a customized rule set.
AI drivers are well balanced, staying competitive without being impossible to beat. However, AI drivers are not aggressive at all. They all seem to be programmed to drive the cleanest race possible and will make no attempt to knockdown opponents in their way.
There are nine race tracks that can be played in normal or mirrored configuration. There is a great mix of tight urban and off-road driving with plenty of opportunities to go airborne. The routes are not straight forward. Many parts have two possible routes to take. Those who do not memorize the quickest routes to take will struggle a little in harder races. There are some really great dynamic events in some of the tracks, like the spaceship launch in French Guiana.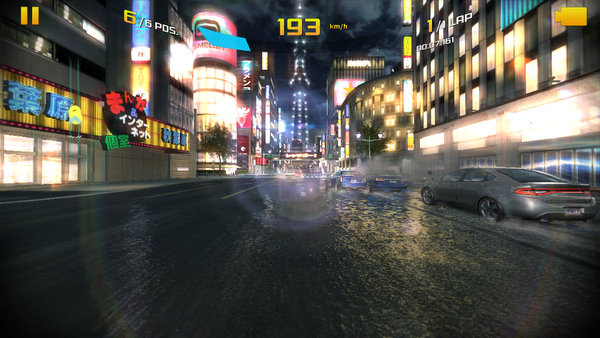 Asphalt 8: Airborne provides players with several options to control the game. The default motion controls are probably my favourite as it is responsive and simple to use. For those who hate motion based controls, there are some touch based controls that also work well. Stunts like drifting are extremely easy to execute, save for flat spins that require the player to drift over a ramp. Even older children should have no problem managing the controls in this game.
Visuals
Asphalt 8: Airborne is a fantastic looking game. Gameloft Barcelona has brought console quality graphics to the small screen. The cars are detailed and the race tracks look lively. There is some minor stuttering on the iPhone 5 in particularly busy moments, but these are extremely rare. My biggest complaint is the car damage. When a car is wrecked, the most that will ever happen is the doors blow off and the hood may come loose once in a long while. The menus can be a little cluttered on the smaller phone screens, but once in game, the clutter is swept away from a minimalist HUD.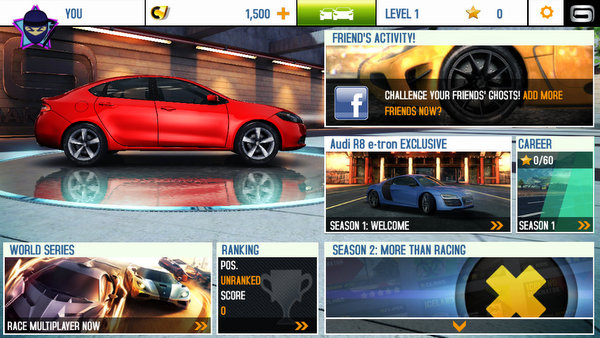 Audio
Electronic music dominates Asphalt 8: Airborne's soundtrack. There are three radio stations to choose from, Bass (which is mostly Dubstep), Rock, and Electronic. The soundtrack is full of licensed artists like Queens of the Stone Age, Crystal Method, and Nero. However, those looking for something beyond head banging tunes will need to provide their own music to drive to. The sound effects tend to be drowned out by the music, but are solid on their own right.
Overall
Asphalt 8: Airborne is a great addition to the series. Gameloft Barcelona has taken great lengths to bring the console arcade racing experience for the small screen. For $0.99, Asphalt 8: Airborne is a fantastic purchase for any racing fan looking to take their favourite genre on the go.


Capsule Computers review guidelines can be found here.