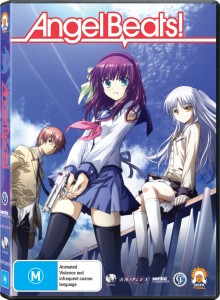 Angel Beats!
Release Date: 18/11/11
Genre: Action/Comedy/Romance
Platform: Blu Ray (Reviewed)
Running Time (mins): 300
Language: English, Japanese
Episodes: 14
Discs: 2
Available for purchase at Siren Visual Online Store ($59.95)
Overview
When you have an anime that ranks in the top 3 on Japan's Oricon sales chart and spawns not one, not two, but five singles that take Japan's musical charts by storm, you know you've got something special. Enter: Angel Beats! an anime that is a force to be reckoned with. Angel Beats! combines many elements of various anime genres, mixing together well to make something truly special much like Summer Wars did earlier this year. Now Angel Beats! arrives on Australian shores thanks to Siren Visual, complete with all 14 episodes and with both the Japanese and English audio tracks. So what are you waiting for? Hurry up and see what all the fuss is all about!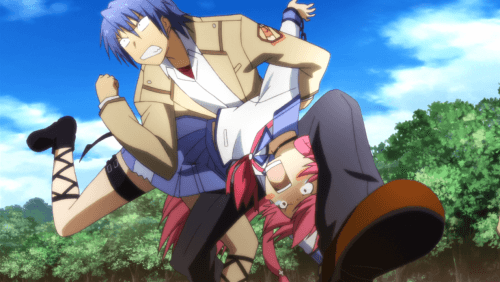 Plot and Character Development
The opening scene of Angel Beats! hits you hard within the first few seconds: protagonist Otonashi Yuzuru wakes up dead. He finds himself trapped within the afterlife, where other students his age exist until they can resolve emotions that held them down during their lifetime. The audience is then introduced to the unique concept of The Afterlife Battlefront, a group of rebellious students led by Yuri Nakamura, who purposely try and stay in this world in fear of being reborn as anything other than human. By doing so, they declare war on God and although hesitant at first, Otonashi is recruited as a member of The Afterlife Battlefront. Angel Beats! boasts an unique setting but what helps the premise excel is the execution of both it's humour and it's heart-felt moments. While these two contain opposite tones, both are done exceptionally well and the transitions between the two are done so smoothly it never appears out of place, forced or squeezed in. One particularly interesting theme throughout is in the afterlife nobody can die. This leads to many unique instances of slap-stick comedy, as well as some crazy battle tactics and over-the-top situations. Almost every character has their own catchphrase and often results in some reoccurring jokes, most of which just become more humorous overtime.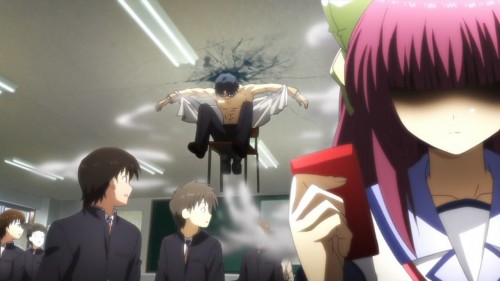 Angel Beats! has many intense moments pushing it's story forward, filled with both emotional and physical obstacles that the Battlefront must overcome, and should have otaku at the edge of their seats through its many exciting plot twists and cliffhangers concluding most episodes. However in some instances this can be a downfall of Angel Beats!, as there are one or two misleading moments where a character may misunderstand something that will lead to building up suspense, resulting in either nothing or very little which can be unsatisfying to viewers. This however happens on rare occasions throughout the 14 episodes of the series and is mostly overshadowed by it's brighter moments. Possibly the biggest highlights of Angel Beats! are the episodes that are dedicated to exploring the often tragic backstories of the Battlefront's members such as episode #3 My Song. These episodes can be very touching and breaks up the humour nicely as well as creating a deeper understanding of the setting, plot and characters which results in a lot of well established character development.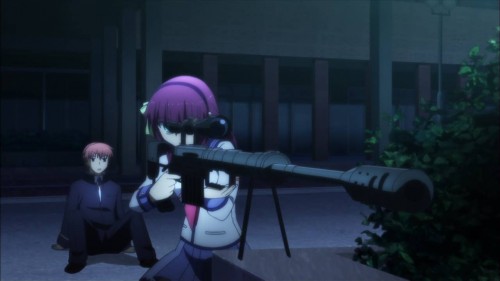 There are many interesting characters in Angel Beats!. Yuri, leader of the Battlefront steals the spotlight with every scene she appears in, with attractive confidence and leadership which is second to none. Although Otonashi Yuzuru is the main protagonist, for earlier episodes Yuri seems to drive the story forward, and as Otonashi begins to understand her, so does the audience. Otonashi is also a quite and interesting character, but his backstory will engage viewers more as the series progresses as he recovers from a case of amnesia. Arguably the most entertaining character development seen throughout the series is with the Battlefront's main antagonist, Angel/Kande Tachibana, who is surrounded in mystery and undergoes many changes throughout the series. Many members of the supporting cast stand out as well such as comedic relief characters such as TK who loves dancing and speaks in broken English and pop culture references, and music groupie Yui who is loud and hyperactive who shares an interesting love/hate relationship with Hinata who is closest to Otonashi. There are a few other engaging cast members in the series such as Ayato Naoi who deserves a notable mention, but many of them do not get as much character development and exploration into their backstories as fans would appreciate. If only the series was a bit longer, the writers would've been able to go deeper into them. While a few characters of this massive cast do blend into the background, most stand out and prove to be very entertaining characters, it's just unfortunate not all of them are shown in as much depth as others. With that being said however, the ones that do go in depth with their backstories are told wonderfully.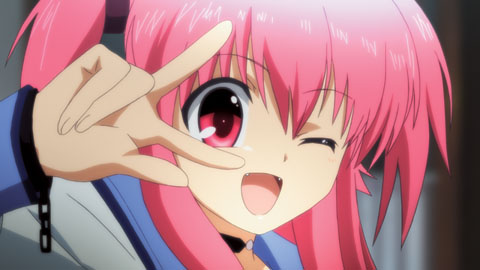 The biggest flaw of Angel Beats is that it unfortunately tries to squeeze in too many ideas into only 14 episodes. It swiftly changes from a comedy, to a romance, to an action/adventure filled with mystery and suspense, to it's major focus on musical performances, to touching on religious beliefs and morality among many other topics that often don't go into enough depth to fully satisfy the viewer. Instead the audience just gets a taste of what could've been flawless if only it had more episodes. The beginning of the series is much more a comedy and slowly becomes more and more of a serious action/adventure as it goes on, but the change feels natural and humour does continue throughout each episode so it still feels like your watching Angel Beats!. What doesn't work however is the focus on the romance element of the anime does feel a little a bit rushed in at the end. This is easily forgivable though, as the climax and the final unexpected plot twist is really touching and does make a very satisfying ending to the anime itself.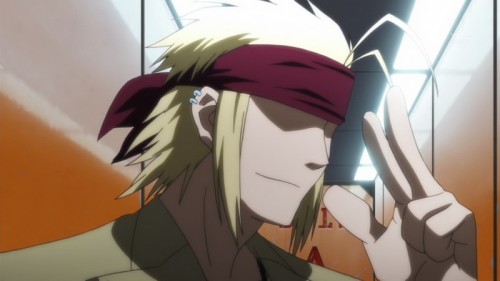 Animation
Simply put, Angel Beats! looks superb and it's pretty clear it's had an impressive budget behind it. While some character designs are clearly more creative than others, most of the main cast are very memorable in both their character design and personalities. The colours and shading capture the emotion of each scene accurately, which is important as the heart-felt moments are often what drives the anime forward. Action scenes contain very fluent animation that are adrenaline-filled and are just as hyperactive of the rest of the show. However the animation shines it's brightest in it's many Sakuga scenes, which are mostly during musical performances. These really capture your attention and even viewers such as myself who aren't fans of J-pop music will find themselves engaged in these scenes as the animation is truly outstanding here.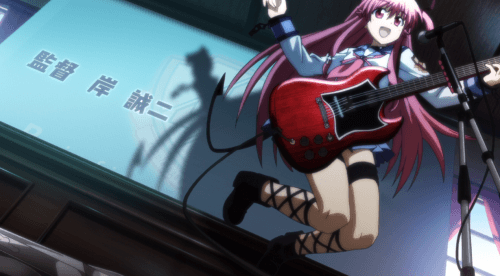 Audio
Music is a major focus in Angel Beats, and it's obvious just from the opening theme with Angel/Kanade playing a very memorable piano melody in the song My Soul, Your Beats!/Brave Song. But don't take my word for it, check the Japanese Oricon weekly singles chart, where it debuted at #3, and sold about 80,000 copies in its first week of sales! Throughout the series a band known as Girls Dead Monster are featured throughout, and their songs are played in Japanese. Oddly, this never seems out of place in the English dub. Five singles were released in Japan from Girls Dead Monster, a testament to how great the composition of these tracks are. On top of all this the English dub is just as great, notably the performances by Blake Shepard as Otonashi and Brittney Karbowski as Yuri. One fun aspect that deserves a mention is the voicing of TK in both the Japanese and English dubs by Michael Rivas and Adam Van Wagoner respectively. The dialogue of this comedy-relif character is awfully bizarre as he'll only say slightly understandable English phrases, often quoted from pop culture. Whilst he speaks full English in the English dub, he speaks in just almost fluent English with only a few Japanese words thrown into the Japanese dub. He is a character surrounded in mystery, and in the Japanese dub never mentions why he doesn't speak much Japanese, just that 'he's a mystery.' It is a lot of fun swapping between each dubs and hearing the minor differences in his voice, so it adds a bit of unique re-playability to it.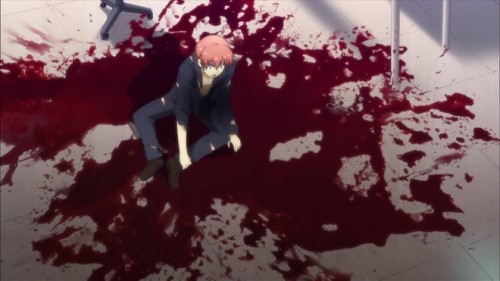 Verdict
Angel Beats! takes the best from multiple worlds and attempts to squish it all into one, and surprisingly this interesting mix works for the most part. It's downfall however is that many of these awesome ideas are not realised in as much depth as they have the potential in doing so, due to the series being so short. However, what is there is truly wonderful, as it presents and conveys these ideas remarkably well and fits them together so they do feel natural. What's there is simply put, amazing. The emotive, heart-felt scenes are nothing short of beautiful, the action will have your heart beating out of your chest and the humour should be appealing to even those who aren't big on anime-styled humour, so it's just jumping from one great idea to the next. Angel Beats! is a must watch for any fan of anime, pick it up now from Siren Visual!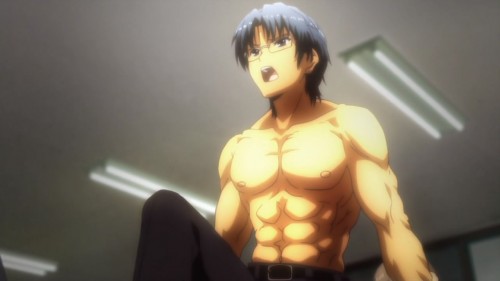 PROS
Great mix of adventure, action, emotive drama and comedy
Great voice acting in both English and Japanese dubs
Awesome Soundtrack
Really satisfying conclusion
Nice animation and superb Sakuga scenes
CONS
Needs to be longer in order to properly explore all it's interesting themes
Some characters have much more interesting designs and backstories than others
Romance element is wonderful, but feels a bit squeezed in