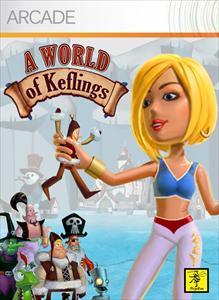 Game Name: A World of Keflings
Platforms: Xbox 360
Publisher(s): Xbox LIVE Arcade
Developer(s): NinjaBee
Genre(s): Family, Strategy & Simulation
Release Date: 12/22/2010
ESRB Rating: E10 (Everyone 10+)
Price: 800MSP ($10 USD)
Story
"Build a robot, rescue the princess, make friends with a dragon and help a creepy witch get even creepier. Take your Xbox LIVE Avatar on a journey through exotic lands while you help the tiny Keflings build and customize their kingdoms! Play with a friend on the same console or with three friends over Xbox LIVE in this story-based, kingdom-building adventure." [Via Xbox.com]
The Keflings find you frozen in an Ice Block and free you from that permanently frozen state. As thanks you decide to help the Keflings that saved you and your quest to build their world begins. As you build you will find new worlds with more Keflings to help. Collect resources, get more Keflings, have the Keflings collect resources, build buildings; all of this is in a day's work for the giant among the Keflings. Can you build the best kingdom for the Keflings, and make them happy?
[pro-player width='530′ height='253′ type='video']http://www.youtube.com/watch?v=qmMKflEMEXc[/pro-player]

Gameplay
A World of Keflings is just like the first game. You tell Keflings to collect resources, you build buildings, you unlock more blueprints, and you build more buildings. The formula is exactly the same as the first and anyone who is familiar with the first game can hop directly into this game without having to learn how to play all over again. The gameplay is also extremely easy, so even little children can pick up a controller and play with their older relatives, such as siblings or parents.
The game is extremely similar to the first one but with many improvements that make the entire experience much more enjoyable. The most noticeable one is the fact that you now have multiple worlds to build in, each world coming with their own unique buildings to build and resources to build with. Having multiple worlds creates change while playing and helps keep everything fresh and new for a longer period of time. The second main change is the upgrades that you get in the game, you no longer have to mine every single piece of ore and cut every tree down looking for a pair of gloves or boots to upgrade your stats. Now you just complete a bunch of missions and exchange a certain item for a new upgrade potion that you choose. Another change is a bunch of stronger Keflings that follow you around and will pick up building materials and bring them with you to the location you are building at. The ability to push buildings without breaking them, color coded items in the blueprints, and the ability to level up your Keflings are just a few of the many new features that makes life as a giant among Keflings much more enjoyable.
Multiplayer is back and this time you can even co-op on the same console. There is nothing more fun than building an entire world for the Keflings while joking around with friends and family. In the original you were able to go into other people's worlds and help them build their giant kingdoms. In A World of Keflings you can do the exact same thing, but this time you can also choose to split-screen with another person if you would prefer to play with someone in the same room. Everything is exactly the same, but now it is you and a friend/relative/acquaintance doing all the building together. Split-Screen also has a weird split-screen set up that rotates the way that the screen is split based on the position of both players. At first the rotation is kind of annoying, but I quickly became used to it; however, I still found the fact that my building window would shut, every time my brother changed the side of the screen he was on, extremely annoying.
Also, I must not forget to mention the Musical Cannons. These canons let you create music in the game by changing a number of settings on each cannon and lining them all up for Keflings to be launched through. It would probably just be easier for me to show you a video of them in action. While they were added as a last minute feature, they are pretty cool and provided me with quite a bit of entertainment as I let my younger brother run around building stuff.

[pro-player width='530′ height='253′ type='video']http://www.youtube.com/watch?v=EI7MBT036qw[/pro-player]

Audio & Graphics
The audio in the game is nothing really special, but it isn't intrusive either. The peaceful melody is there at all times, but is only really noticeable when you are waiting for something or if you are just standing around doing nothing. The Musical Cannons as seen above lets you create your own music for the game as long as you are near the cannons. The ability to have your own song (that you make) playing in the background is a nice feature and creates a change from the same relaxing song that plays throughout the entire game. Some of the sound effects made by the Keflings as you pick them up or kick them around are amusing at first, but they quickly become normal and slip into the background noise unnoticed.
Play as your Xbox Avatar as you build, collect, and kick Keflings all over the place. The scenery in the game is relaxing and the Keflings all have their own unique little hats. The graphics are reminiscent of the original and will make you feel right at home as you move from the first game to the second. The detail on the little Keflings aren't amazing, but they are really tiny a majority of the time and their faults are only noticeable during cutscenes or when they are talking to you. As for the cutscenes, they are usually frozen 3D scenes that the camera pans around; while the effect is simple the point as well as the story of the game is pushed along without having to watch extremely long cutscenes that may become annoying with multiple playthroughs.
Achievements
This game's achievement are pretty easy; however, a few of them may take some time to acquire. A majority of them will be achieved by just playing the game normally, the avatar awards are also acquired by just playing normally through the game. The achievements that may take some players a little longer are "One Tree Hill" and "I Am The City". "One Tree Hill" seems to be glitched and even after you make 25 unique decorations the achievement doesn't always pop up. "I am the City" will just take time, although to make it easier, normal houses without hearts count as buildings built; so you can just spam those.
Below is the achievement list:
The Stars At Night – 10 – Helped enhance your world with culture stars.
I Would Walk 500 Miles – 20 – Visited the Ice Kingdom, the Desert Kingdom, and the Forest Kingdom.
Reunited (And It Feels So Good) – 20 – Talked to the whole family of builder brothers.
All You Need Is Doug – 5 – Thawed out poor frozen Doug.
Smile On Your Brother – 10 – Received Collectibles from a friend. How sweet!
Go Ahead And Jump – 15 – Watched a kefling bounce through a long series of cannons.
One Tree Hill – 15 – Adorned your world with 25 unique decorative pieces.
I Am The City – 25 – Helped out with building 100 buildings.
Be It Ever So Humble – 25 – Finished the Giant's Gift. How relaxing!
Come on, Vogue! – 10 – Expressed yourself with 20 different emotes. Strike a pose!
Endless Doug – 20 – Got to know Doug pretty well. Does he ever stop talking?
Help! (I Need Somebody) – 25 – Started 10 buildings the builders finished without you.
There are also 2 avatar awards
Winged Hat Of The Kefkimo – Acquired through story progression.
Baby Dragon Pet – Acquired through story progression.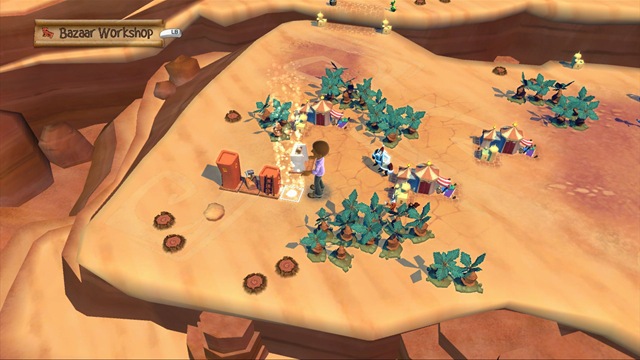 Overview
A World of Keflings contains everything that was loved about the first one and improves on it entirely. There are more places to explore, more buildings to build, and even Keflings that help you carry things. Even functionality is improved and building the ultimate world for your Keflings is much easier. A World of Keflings is a relaxing game that consists of resource management, building a whole bunch of buildings, and kicking a whole bunch of Keflings. Plainly put, if you enjoyed the first one you will love this one; however, the same applies to the opposite. While everything has been improved, nothing has been changed to bring in a larger audience to the game. There is a specific group of people that enjoyed the first one and that same group are the ones that will enjoy this sequel.
I give A World of Keflings

Cross-Title Extra Content:
A World of Keflings is one of the Three titles being released as part of Microsoft's "Games for the Holidays" Promotion. By getting an achievement within either of the other two titles in the promotion (Raskulls and IloMilo) you can get exclusive ingame content for A World of Keflings.
By getting an achievement in Raskulls you can build a special Raskulls' house that lets you bring a Wizard Raskull and a Ninja Raskull into your Keflings' world.

By Getting and achievement in IloMilo you can build a special IloMilo house that lets you bring Ilo and Milo into your Keflings' world.
Also by buying A World of Keflings you can get early access to trials of both Raskulls and IloMilo before they are released.