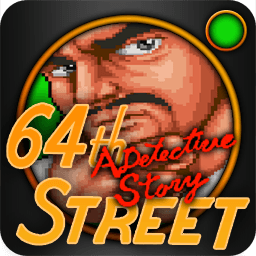 64th Street – A Detective Story
Platform(s): iPhone(reviewed)/iPod Touch/iPad
Publisher(s): DotEmu
Developer(s): DotEmu/Jaleco
Genre(s): Arcade/Action
Release Date: 09/03/2011
Price: $1.19 AU $0.99US (Buy now while on sale)
Overview
Welcome to the mean streets of New York, 1950. Detective duo Rick and Allen run through the mean streets, fighting against the evil organisation "the legacy" in order to rescue the daughter of one of the most influential men in town. This is 64th Street – A Detective Story, the Super Nintendo, beat 'em up, street brawler brought to the iPhone by DotEmu.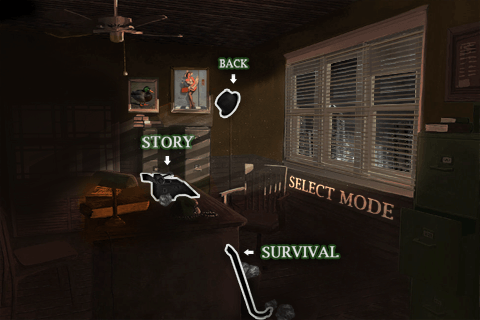 Gameplay
The detective story begins with a protagonist, either Rick or Allen (your choice!). Once those formalities are out of the way, the game begins. 64th Street has six levels that must be completed in order to track down the kidnapped daughter. There are two options for going through these levels, firstly there is survivor mode. Here you are given four lives and try and get as far through all the levels as possible before game over. While this is pretty fun, I find it more difficult and don't really enjoy playing for a high score. If you are more like me and like to be pulled along by a narrative, then story more would be the best bet. Similarly, you are given four lives. However if you beat the level you are granted four new ones and the level is now unlocked to return to whenever. It's through the story mode that the goal of the game can be completed. Both game modes are practically identical and it's all a matter of preference which one to choose.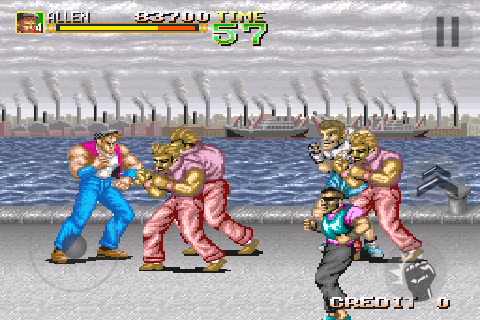 The game also comes with Game Center achievements, which has some pretty awesome bonus features. While Game Center usually means earning achievements by beating certain milestones, 64th Street has a pretty cool addition to this in that if you earn the spanner or steel pipe achievement, you can choose to start levels in story mode wielding either weapon. These are unlocked by beating ten enemies in a row with the appropriate weapon. While it may seem a little thuggish to start a level with a steel pipe in hand, I can't help but take advantage of this exceedingly helpful unlockable feature.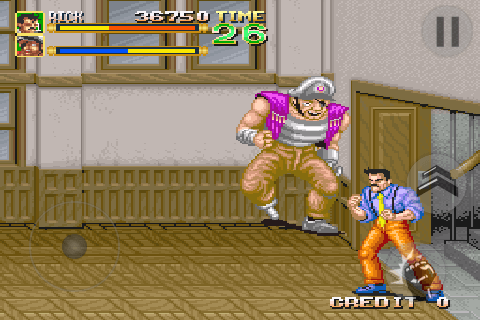 In terms of adapting a Super Nintendo game control system to an iPhone, I think DotEmu have done a great job. The button on the left to control movement and buttons on the right to control action is a pretty standard compromise for adapting console games to iOS devices. However at times (this is particular for games where movement can take place in 3D game spaces) the movement controls are a little hard to manage. 64th Street's opaque and minimal buttons mean that less screen space is dedicated to interface – which is a real issue for me on iPhone games as my thumbs tend to hinder my view of the game for games that require a little more dexterity.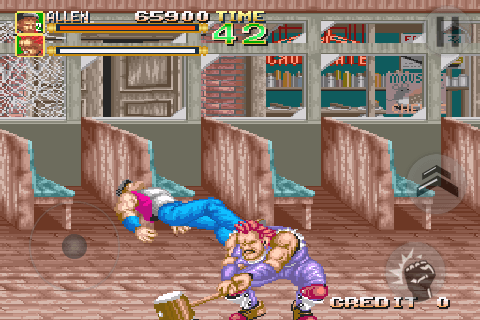 Graphics and Audio
While the pixel graphics might be crude by today's standard, there is something refreshingly nostalgic about pixel-based games for the iPhone. 64th Street- A Detectives Story is no exception. A little paradox in the character design is the appearance of enemies who look somewhat like Hulk Hogan circa the 1980's which is a little odd considering the game is set in the 1950's. Despite this, Rick and Allen suit the theme, and look pretty hard-boiled if you ask me. The level designs are great and I think really do give off that 1950's "track down the kidnapper and I'll pay big bucks" vibe from film-nior movies – in particular the grey docks featured in stage two.
While the music isn't all that complex, it is gritty, retro-synthesised and perfectly sets the scene for beating your way across the six levels of 64th Street. This coupled with awesome thudding sound effects and grunts of defeat knocks the game up another notch and really adds to the overall fun and playability of the game.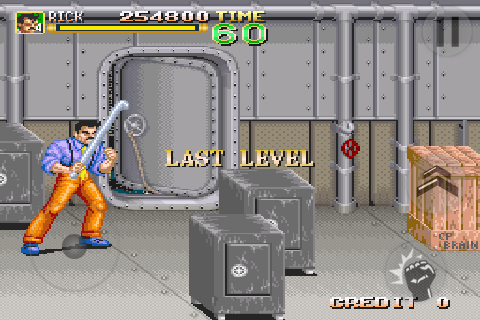 Conclusion
In a nutshell 64th Street: A Detectives Story is fantastic. Whether you pick Rick or Allen, opt for a steel pipe or spanner, or choose to wail on the masses of enemies who strut around 64th Street with your bare knuckles, 64th Street – A Detectives Story is a highly addictive reimagination of a Super Nintendo classic that has been beautifully transferred to iOS devices by DotEmu. Keep an eye out for other games being published by DotEmu, because this game is defiantly a winner.