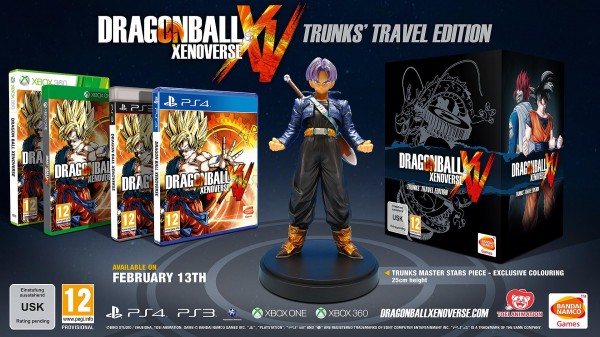 Dragon Ball Xenoverse now has an official release date for the Europe and Oceania regions. As we predicted the release date is not far behind the Japanese February 5th release date and will be available just over a week later on February the 13th. That is all versions except the PC Steam release which will be releasing on the 17th. An official U.S. release date has yet to be announced but we will imagine it will be similar once again.
That's not all that was announced as we also got word on a collectors edition as well as some preorder bonuses. The "Trunks' Travel Edition which is for consoles only will feature a very authentic looking Master Stars figure standing at 25 cm tall with exclusive colouring (although the colouring looks pretty normal to me). You can click on both images to get a closer look at their contents.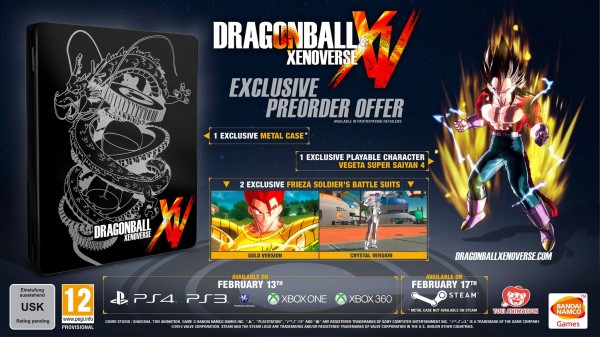 Finally, pre-order bonuses were announced and they are pretty sweet. Pre-ordering will get you:
• An amazing Shenron Black Metalcase
• Super Saiyan 4 Vegeta as a Playable Character
• 2 exclusive Freeza Soldier's Battle Suites to customize your avatars.
The site says these are the only way to get these bonuses and that they will not be available later. A slightly extended trailer has been released by Bandai Namco to showcase these latest details. You can watch it below. Let us know in the comment's if you have been swayed to get the collectors edition, pre-order or even both. I will probably be pre-ordering the Trunks edition if the price is right as that Trunks figure looks pretty sweet.
UPDATE: Some new screenshots have been released showcasing the new outfits and some other newly announced items like Super Saiyan 4 Goku. They also confirm Kid Trunks, Goten, Android 18 and Hercule/Mr. Satan as playable characters alongside world tournament mode.  These screenshots are below for your viewing pleasure.