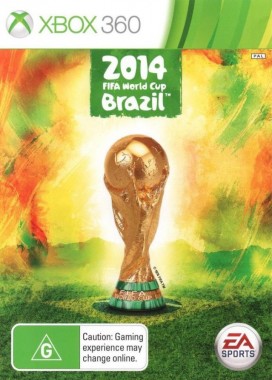 2014 FIFA World Cup Brazil
Developer: EA Canada
Publisher: EA Sports
Platforms: Xbox 360 (Reviewed), PlayStation 3
Release Date: Out Now
Price: $59.99 – Available Here
Overview
EA Sports' 2014 FIFA World Cup Brazil brings all the pageantry and spectacle of the upcoming FIFA World Cup in Brazil to gamers two months ahead of the tournament itself. EA Canada developed the licensed title, coming off of their highly acclaimed work on FIFA 14. Some of the enhancements made in FIFA 14 have made their way over to this current-gen title, with more brand-new celebrations, skills and a plethora of unique game modes.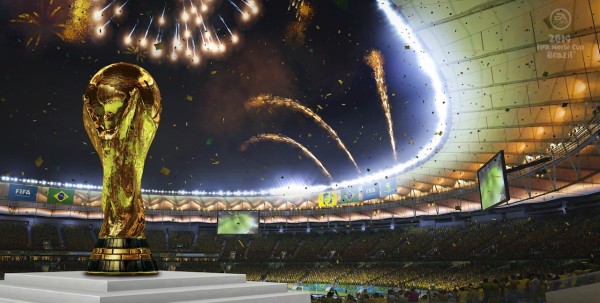 Gameplay
If you've played a FIFA title recently, you'll immediately be familiarised with 2014 FIFA World Cup Brazil's gameplay.Mechanically, it's expectedly consistent with FIFA 14, containing its improvements on dribbling/control, accuracy in first-touch and passing, and other aspects of gameplay. All 203 national teams who took part in the qualifying stages of the World Cup this year have been included… so yes, you can select those massive omissions in FIFA 14, such as Croatia and Japan amongst others. The usual, basic modes of Kick-off, Online Friendlies and Skill Games return, with the latter comprised of a whopping 50 new skills games covering defense (e.g. attempting to defend against two attackers), passing (e.g. 360 passing), shooting (e.g. from the edge of the box) and pace. In particular, the inclusion of pace-focused drills is useful as a keen reminder to refrain from keeping your trigger finger down on 'sprint' at all times, or when it's detrimental to our maneuverability – something a high percentage of players are guilty of.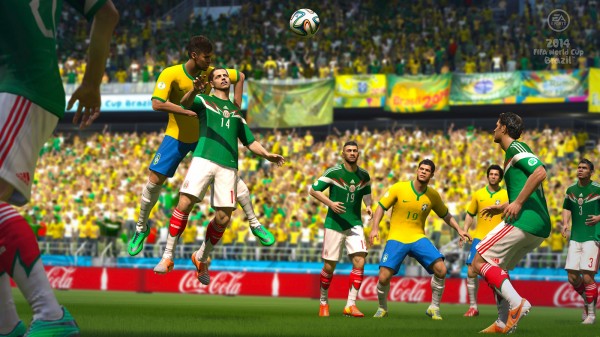 Captain Your Country has you select a nation and then a player from that squad whom you aim to take to the top in form, earning the honored position of national team captain. The news headlines talk of your coach looking to name a new captain, and so the process begins. The player is given a set number of games to raise their ranking within the squad, or else fail to impress – maybe even relegated to the B-squad. Being that you control a single character, it plays precisely like the Be A Pro mode on the pitch, however – dubiously – the 'Be A Pro' camera is not available for selection in this mode, with the default being end-to-end. Story of Qualifying holds over 60 challenges, asking the player to relive the most thrilling real-life moments experienced during the World Cup 2014 qualifying stages these past two and a half years. There are secondary tasks on each, with achievements attributed to completing them all. Once the games actually get underway, Story of Finals will be unlocked, working in the same vein as the former and updated an hour after the results of each big tournament match is completed.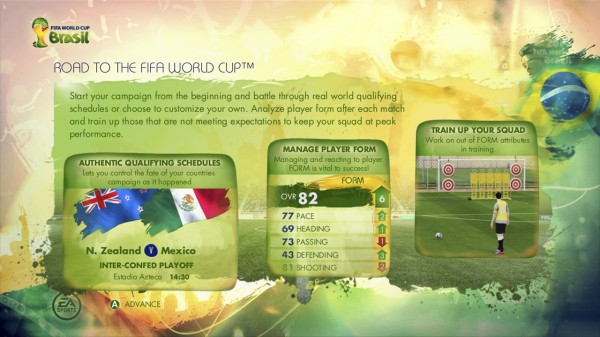 The big enchilada is the Road to the World Cup mode; here, you'll choose a country and proceed to play through the entire qualifying process before (hopefully) taking them through to the finals and potentially winning the grand prize. This is the first time in the series that the whole qualifying process has been playable. On your calendar – which can be simmed, if you please – training days will be scheduled where you may target weaknesses within your team and train to improve them with relevant skill games. This is also featured in Captain Your Country. Up to 32 players can participate in the mode locally. If you'd rather skip the exhausting and, sometimes monotonous journey through qualifying stages, and move straight through to group stages, you can in 2014 FIFA World Cup Brazil, either locally or online. Finally, there's the online only Road to Rio de Janeiro mode, where you play for points – 3 for a win, 1 for a draw – in order to make it ever closer to the next host city, all the way to Rio. You're not locked in, as prior to each match, you may re-select your team. Lose enough, run out of chances, and you'll need to start again from the last stadium.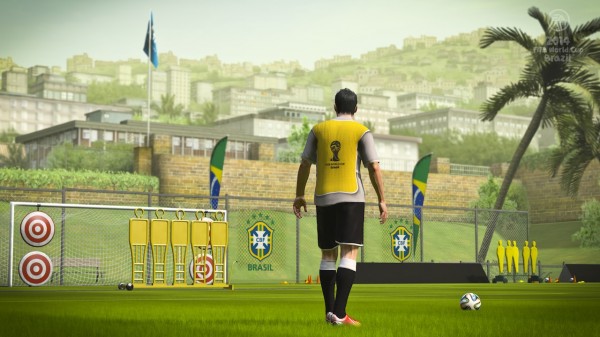 Visuals & Audio
Having adopted the Xbox One as my personally preferred platform for future FIFA releases, and putting numerous hours into FIFA 14 on the next-gen console, going back to the Xbox 360 to play 2014 FIFA World Cup Brazil reminds of just how non-descript the character models for 95% of the players are by comparison; we always identified the lack of quality in that department throughout the years, so it's not exactly a case of "back in the day, this was cutting edge!", but the stark difference is made that much more noticeable now. Otherwise, 2014 FIFA World Cup Brazil looks great, with an enhanced presentation reflective of the FIFA World Cup atmosphere. Each of the twelve stadiums of host nation Brazil are modelled here, and though the amount of detail can not reach that found within the aforementioned next-gen FIFA 14, they have been faithfully recreated and represented. Adding to the unique aura and ambience of the event are the cutaways to fan reactions and celebrations every time their country scores a goal, which is certainly a nice touch.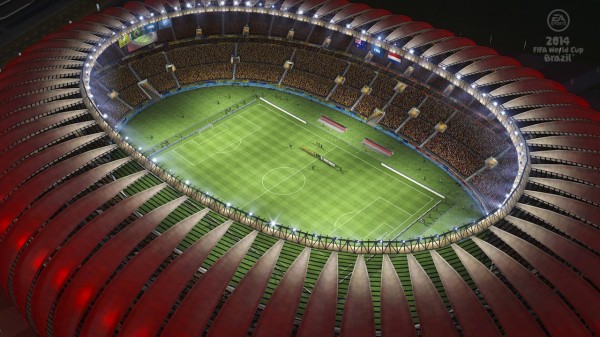 In general, the entire package is extremely colourful; even the box art, the menus and every other presentational element in-between are splashed with Brazil's colours of green and yellow. In the case of the U.I., it can actually become a distraction, but its general intuitiveness prevents that from ever becoming a real problem. Each of the 203 included nations' national anthems can be heard before play begins, and also manually before choosing your team in Road to Rio de Janeiro mode, although they are truncated versions (understandably). The EA Trax list is deep with 34 tracks from artists appropriately based all around the world; Max & Simon's 'Everyone Tonight' and Charles Williams' 'We Are The Ones (Own The World)' Australia's contributions. That being said, to be honest, the soundtrack didn't get much airtime with me since I opted to listen to EA Sports Talk Radio instead whenever available. Players can choose from either team of Ian Darke and Andy Goldstein, or Roger Bennett and Michael Davies (Men in Blazers), with over 50 hours of recorded audio keeping the player updated on proceedings and entertaining them with their discussions.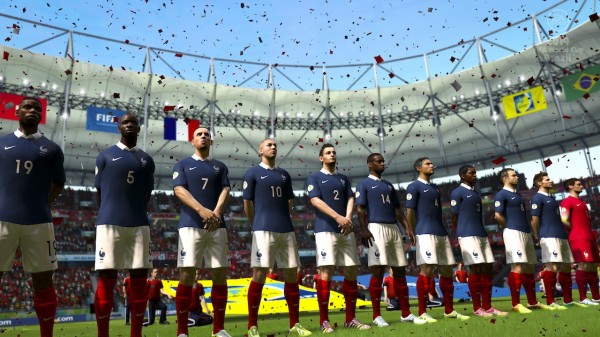 Overall
2014 FIFA World Cup Brazil should tide football fans over until the competition's start on June 12, and beyond with the 'Story of Finals' unlocking on the day. Lag rears its ugly head here and there, but slight hitches are unfortunately nothing new to the franchise. And while the namesake mode just ended up being a compartmentalised section of the main attraction – Road to the World Cup – 2014 FIFA World Cup Brazil – still offers more than any previous FIFA World Cup licensed entry in the series' long history. A few modes feel quite similar and therefore get repetitive faster, but, again, if you're a football fan and have that FIFA World Cup fever, you'll enjoy 2014 FIFA World Cup Brazil.

Capsule Computers review guidelines can be found here.