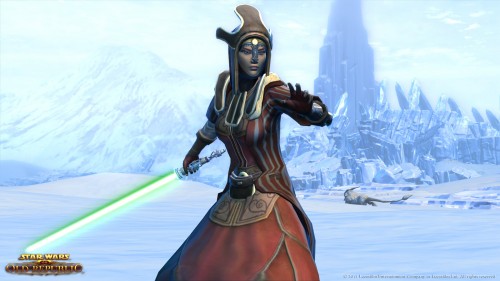 So after the recent announcement of the final date for Star Wars: The Old Republic going to the free-to-play model, it's just a matter of letting players know just what and how the new Cartel Coins and marketplace will add.  Luckily, not wanting to leave people in the dark the developers have been putting out preview trailers of this new information.
As players can see in the trailer embedded below, there are already plenty of additional items planned for the new model that players will be able to purchase with the Cartel Coins system.  Be it lizard monkey pets or axes to replace the Jedi lightsabers, though honestly why anyone would want to replace those is beyond me.
Other information that has been passed along though is that there has been an extension to the Rewards Program of those players who once played the game looking to get back into it for free-to-play.  Now past players can rejoin up to December 20th, 2012 to receive complimentary Cartel Coins for the months in the past they had to pay for.
Players can find out more and begin getting started for SW:TOR  free-to-play by checking out the website HERE.