Genre: Live Action/Action/Adventure
Produced by: Nikkatsu
Director: Takashi Miike
Starring: Sho Sakurai, Saki Fukuda, Anri Okamoto, Kyoko Fukada, Katsuhisa Namase, Kendo Kobayashi
Running time: 107 minutes
Language: Japanese with English subtitles
Available for purchase at: Madman Online Store ($29.95)
Overview
I'm not a fan of live action films. There, I said it. Something about the tacky outfits, the casting of people who really don't fit the role of playing someone who is so perfect in drawing, and the special effects which appear as just that – effects – doesn't appeal to me. Take the failed Dragon Ball movie, the terrible attempts at a Sailor Moon live action, and [insert all the other terrible live action titles here], and there really shouldn't be any reason for me to pick up another live action film again…except now, there is.
Yatterman may just be able to renew my faith in what I see as a largely unpopular genre in the Western world. The film is very anime-esque, yet even more powerful than that is the fact that it's possibly the weirdest yet genuinely enjoyable and light-hearted film that I've seen in a long time. With plenty of "what the…?" moments, and even more moments of laughter and exclaiming "that's so awesome!", Yatterman really did come out as a film that caters to both the kid in the adult and the adult itself.
Plot
The plot originates from its namesake, the animated Yatterman, but Takashi Miike specifically said he was not trying to take the animation and simply throw it on to the big screen. Thankfully, Takashi's storyline is simple and really allows the audience to focus on what really matters: the cool visuals and the awesome characters.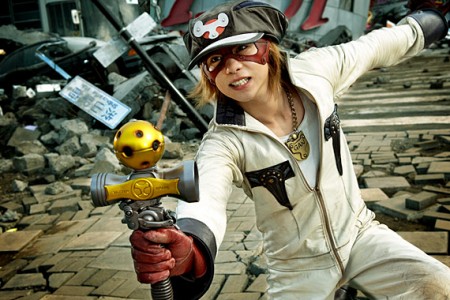 Gan Takada (Yatterman #1, played by Sho Sakurai) and Ai Kaminari (Yatterman #2, played by Saki Fukuda) are a couple who work in a toy factory in Tokyoyo by day. However, at night they transform into superhero duo Yatterman. Accompanied by their mechas Yatterwoof and Toybotty, Yatterman fight crime and stop evil from occurring all over the world. Their thieving enemies, the Dorombo gang who work under the 'God of thieves' Skullobey, are currently on the hunt for the four pieces of the Skull Stone which – when united – are said to create a miracle.  One day, Yatterman come across a girl, Shoko (Anri Okamoto), whose father has gone missing after searching for the Skull Stone, and together with Shoko they must find a way to stop the Dorombo gang before they find all the pieces and take over the world.
Yes, it sounds like one of those superhero films you loved when you were a child. The storyline is really so simple and easy to follow so there's nothing really unique about it; at the same time it's incredibly engaging and hilarious. From the underlying love story Gan and Ai to Shoko's search for her own courage, there is something for every single viewer of all ages – except kids, because there's also a ridiculous amount of sexual humour. The best part is that Takashi Miike took the great elements from a 1970s anime and made it current with tons of pop culture references – think Indiana Jones costumes – so the modern audience can enjoy everything Yatterman has to offer without feeling like they're watching a kid's show.
Characters
The film's main characters are Yatterman #1 and #2, Shoko, and the Dorombo gang consisting of Lady Doronjo (Kyoko Fukada), Boyacky (Katsuhisa Namase), and Tonzura (Kendo Kobayashi). Each has their own unique personality traits which adds to the quirkiness of the film, and this is probably one of the few films I've seen where I've found almost every character funny at some point.
I have to say Boyacky and Tonzura are probably my two favourites from the film. Those two are the classic goofballs in any Asian film, television series, or anime, and they provide plenty of entertainment across the two hours. Boyacky is a little bit more sex obsessed, which makes him perfect for anyone who enjoys a little bit of perverted humour; I also loved watching his good old fashioned attempts at hitting on his love, Lady Doronjo. Tonzura is slightly more random and more of a support character, but he has his funny moments too.
Most of the women in this film were slightly irritating, though. I liked Lady Doronjo, but Shoko and Yatterman #2 are two of the dullest characters I've ever come across in any Japanese film. Shoko's search for courage is touching to some degree, but Okamoto's acting is overdramatic and quite obviously just acting. Yatterman #2 was also kind of pathetic and needy with Yatterman #1, which is a shame because I like Fukuda as a person. It's quite a shame because the film had a lot of potential for funny moments with Shoko and Yatterman #2, but Takashi Miike instead kept them flat, needy, and overdramatic which took away slightly from my enjoyment of the film.
Visual and Audio
The DVD's back cover says Takashi Miike is an "Oriental Tarantino". I completely disagree: if we're comparing him to Hollywood directors, this dude is the Asian equivalent of Tim Burton. In fact, if Burton were to make a live action film based on an anime, I think it would probably look just like this.
The set design was – first and foremost – absolutely spectacular. I adored Lady Doronjo's bathroom, and places like Tokyoyo and Ogypt (yes, that's supposed to be Egypt. Told you this film is awesome), have their own Yatterman flair: Ogypt had massive sphinxes with anime-style cat faces on them. What was equally as great, however, was the costumes. Lady Doronjo and Yatterman had costumes which made them genuinely look like they'd popped straight out of an anime; even better though was Skullobey's massive skull head which must have been a pain for the actor to wear.
As stunning as the set design was though, the animation was equally incredible. There was one particular moment where Tonzura went into a 'daydream' sequence of him in a cartoon-esque scenario, and his face is superimposed over an anime body. Yatterman truly managed to surprise me with brilliant and innovative graphics which brought the world of anime into the world of reality without managing to look tacky.
The sound effects were also great, but what I really found to be enjoyable was the soundtrack. This film is filled with remakes of the Yatterman theme song, as well as a few musical elements where the Dorombo gang or Yatterman will spontaneously burst into song. Again, it's reminiscent of those 80s and 90s anime shows, but Takashi Miike modernized the soundtrack to keep it up to date with its new audience.
Extras
When I opened up the "Extras" menu, I instantly was excited: "Making of Yatterman" and "cast and crew interviews" were displayed in front of me and I thought I would be entertained for another hour or so. Ten minutes later, it finished.
The "Making of" is really very misleading, because it only shows a very little snippet from the production aspect of the film, and none from pre-production or post-production. The interviews were great: I liked hearing Takashi Miike speak about the adaptation from anime to film (he provides excellent insight into what he wanted the film to be), and even better to see an interview with Sho Sakurai, the actor who plays Yatterman #1. The only thing is this: when you enjoy DVD extras, it can suck when they end too early and these ones definitely ended far too early.
The theatrical trailer is included in the DVD as well, but this really didn't stand out to me and after 30 seconds of the trailer I stopped the disc. The trailer isn't half as spectacular as the film, and I would rather find another minute and a half of the film to watch again rather than view the trailer.
Final Comments
Overall, Yatterman was a highly enjoyable film which was engaging in both its plot and its visual elements. While I probably wouldn't watch it again, this film did provide me with a great experience and plenty of laughs. It's a must-see for any fan of the original 1970s Yatterman, or for any fan of live action in general. Oh, and Takashi Miike…please do a collaboration with Tim Burton in some crazy East-vs-West film. We'd all love to see it.
I give Yatterman