Page 1 Page 2
WWE Championship Match – Chicago Street Fight: CM Punk (c) vs. Chris Jericho
The match between CM Punk and Chris Jericho at Wrestlemania 28 was a wrestling classic, no doubt about it, but it was missing the passion and emotion that makes a match truly unforgettable. This Chicago Street Fight between CM Punk and Chris Jericho was the exact polar opposite of their Wrestlemania encounter and in many ways was able to surpass it.
There was little technical wrestling in this match as this really was an all-out Street Fight full of weapons and crazy spots. CM Punk and Chris Jericho wore their street attire, a nice little touch that actually helped the match appear more hardcore. The match was literally 30 minutes of hardcore wrestling magic, one that involved tables, fire extinguishers, kendo sticks, and chairs. The pace was break-neck and the action consistently went back and forth. It had a certain level of passion, emotion, and storytelling that was noticeably absent in the Wrestlemania encounter, and the atmosphere was incredible too.
There were plenty of unique spots and counters involving weapons, and the match demonstrated a rare and almost seamless fusion between technical wrestling and hardcore wrestling. There were some really good moments, such as CM Punk hitting a massive Randy Savage style elbow drop on Chris Jericho through the table, and Jericho hitting his Codebreaker finisher using a steel chair. One of the most intense moments was where Jericho fought hard to survive CM Punk's Anaconda Vice submission hold, barely being able to get out of it using some sick kendo stick strikes. The finish was perfectly executed too, involving some cool reversals.
Overall, this match will go down as one of the best Street Fight matches in WWE history, on par with the classic Street Fight between Triple H and Shawn Michaels at Summerslam 2002. The fact that it got the rare and decisive "This is awesome!" chant from the Chicago crowd pretty much sums up just how brilliant this match was.
Overall: 5/5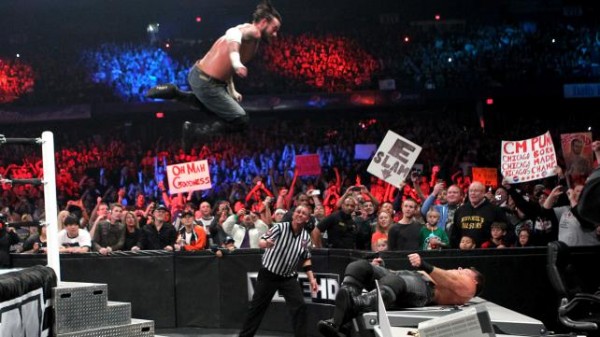 Divas Championship Match: Nikki Bella (c) vs. Layla
This Divas title match was originally supposed to have Beth Phoenix, but a backstage segment showed that she wasn't medically cleared to compete which resulted in a replacement…none other than Layla! who was last seen almost a year ago. Layla is easily among the best female wrestlers right now, and it was great to see her back again in such a surprising fashion. While the match was barely five minutes long, Layla was still able to demonstrate her solid wrestling ability and made the most of the match time. She defeated Nikki Bella swiftly to win the Divas title, and hopefully this a sign of good things to come for the Divas division.
Overall: 2.5/5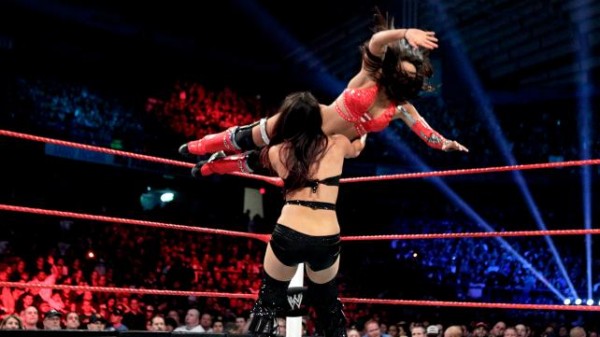 Extreme Rules Match: John Cena vs. Brock Lesnar
Brock Lesnar's first WWE match in eight years was without a doubt the most hyped match on the card, one that had build-up that was almost akin to what you would normally see in Ultimate Fighting Championship. Brock Lesnar's UFC roots was heavily emphasised in this feud, as even his in-ring attire was not his classic attire from his first WWE run, instead he was wearing his UFC garb. It became clear since his return that this Brock Lesnar was not the same Brock Lesnar from 2002-2004, as his time in the UFC changed him in more ways than one. This was demonstrated in his match with John Cena in an unforgettable manner.
The match started off with Brock Lesnar downright assaulting John Cena with some truly stiff and brutal punches and elbow strikes that you would normally see in a UFC bout. It was painful to watch as Cena really took some legitimately painful looking blows that busted his head and caused him to bleed profusely. Yes, there was blood in this match, none of the usual worked forehead-blading as the cuts and bruises were genuine here. The amount of blood spilled in this match was insane, the likes of which haven't been witnessed in the WWE for years. Lesnar really punished Cena with his mixed martial arts arsenal, even locking in some excruciating submission holds. Some of Lesnar's wrestling roots were showcased as well as he performed German suplexs and high risk diving manoeuvres. What was really surreal about this match was how helpless John Cena looked, as he was pretty much dominated throughout the entire match in some very painful and unique spots, to the point where for the first time in years he looked like a true underdog. Cena didn't perform in his usual manner with his trademark moves, as instead he was just fighting to survive.
It looked as if Brock Lesnar was going to squash John Cena for a decisive victory, but the way the match ended was so surreal and unexpected that it left me awestruck in sheer disbelief. Cena was able to strike Lesnar on the head with the chains that he used to carry during his days as the Dr. of Thugonomics, after which he delivered a desperation 'Attitude Adjustment' to Lesnar on the steel steps for a shocking victory. This was not a Super Cena moment where he magically overcomes the odds to win the match as if it was nothing, as instead this was him just barely scraping a win to survive. Even though John Cena 'won' the match, he still came out looking destroyed and defeated. Overall, this was a truly amazing main event match that was didn't turn out the way anyone expected, and an excellent comeback match for Brock Lesnar.
Overall: 5/5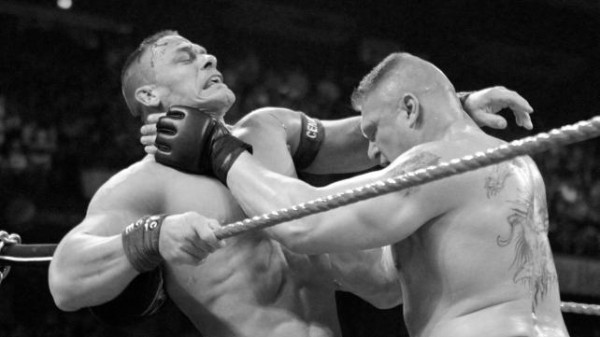 Overall:
WWE Extreme Rules isn't one of the major WWE Pay-Per-Views of the year, it's normally meant to be a throwaway event after Wrestlemania. This year however was different as this year's Extreme Rules is easily among the greatest events that the WWE has put out in the past decade or so. The main event matches were spectacular and even the mid-card was solid. To put it simply, WWE Extreme Rules 2012 puts WWE Wrestlemania 28 to shame, and is one event that must be seen by all wrestling fans.
Page 1 Page 2