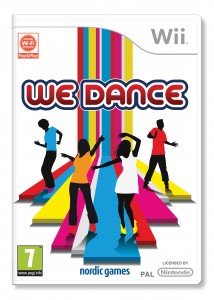 We Dance
Developer: Wired Productions
Publisher: Nordic Games
Platform: Wii
Genre: Music/Dance
Released: 2nd September
From the makers of 'We Sing' comes We Dance, an attempt by Nordic Games to broaden their 'We' brand. However, while creating a karaoke game with decent pitch recognition is difficult, karaoke can still be fun even if the scores onscreen don't necessarily reflect reality, as long as the music plays and the lyrics are displayed on time. A dancing game is a whole different ball game, because if the routines aren't up to standard then you're just paying through the nose for a limited sound and flashing light system. I'm pleased to report that the routines are up to scratch in We Dance and you can clearly see that there has been some help from professional dancers where choreography is concerned, but it does fall down in other areas.
With motion control present in some form on every platform, there is a lot of competition in the dancing game genre. We Dance goes down the traditional route – to the dancing genre's origin – with the use of a dance mat, known in this case as the We Dance Star Mat. The dancing mats from the likes of Dance Dance Revolution have all but been phased out with the introduction of motion sensing remotes, and it appears to have been made redundant by the controller-free Xbox 360 Kinect. Nowadays just about the only place to find dance mats is in arcades unless you revisit the consoles of the previous generation, but while it is quaint to find yourself stepping on one of the 8 panels to match the onscreen cues, you can't argue that We Dance little with the technology that wasn't already achieved ten years ago in its inception.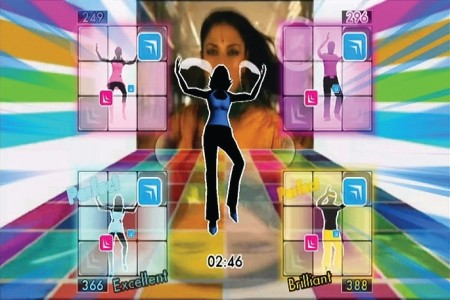 There are three different difficulty settings to dance to; the standard easy, medium and hard arrangement. But rather than just changing the intensity of the routine, selecting the difficulty setting determines the control scheme you will be using. Easy uses the Wii Remote by itself, medium has you dancing with just your feet on the dance mat, and hard brings the two together to use the Wii Remote and Star Mat simultaneously to mimic the onscreen dancers arm movements whilst pressing the various panels underfoot as instructed.
Easy is by far the weakest of modes, mainly due to the poor movement recognition of the Wii and its now-dated motion control technology. It feels unresponsive, meaning you can wave your arms around and score just as well if not better than someone trying to follow the confusing icons indicating gestures you should be doing. However, easy still serves a purpose because it's ideal for younger kids who want to do dance around only vaguely following the routines, as they will still feel they are being rewarded for the efforts when the register a sizeable score, plus the option of easy and the different control schemes means that multiplayer isn't out of the question, because four dance mats would be costly and takes up space.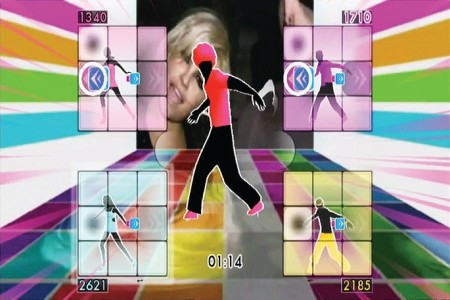 Medium and hard, on the other hand, can offer a decent workout through their dance routines, although the do tend to suffer from overcomplicating things. For example, panels are blue if they should be stepped on with your right foot, magenta with your left of both if it wants you to jump with both feet onto that particular arrow, meaning they've got some really solid routines. In the heat of the moment these colours can be confusing and, given there's no difference between tapping an arrow with your right foot from your left to the Star Mat sensors, you will often just step on any colour with any foot.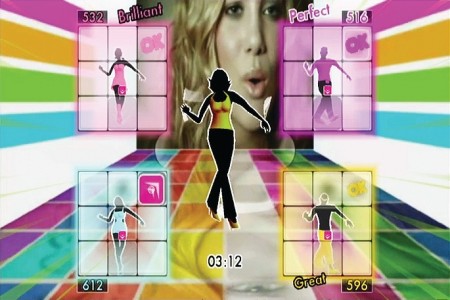 The game looks presentable at first, with an easy to navigate user interface decorated with block colours, and a cute firework effect bursting out of the end of your cursor when you press something. Gameplay itself isn't quite so good-looking, mostly due to limitations of the Wii when it comes to graphics, with a jet black, faceless silhouette of your choice kitted out in some dancing attire to watch as you are dancing. You dance on the only dancing stage on offer in the game and, as you can imagine, the lack of new setting gets tiring. On the plus side, though, the music video for each song plays in the background while you dance to it and the 40-strong track list is a selection of chart-placing, recognisable songs. Given each has full choreographed routines, 40 isn't low, and more have been confirmed to be on the way courtesy of a deal with the Ministry of Sound: five new songs selling at 300 Wii Points each arriving sometime in September through Nintendo Wi-Fi. The full track list that ships with the disc is as follows:
| | |
| --- | --- |
| A.R. Rahman feat. The Pussycat Dolls | Jai Ho! (You Are My Destiny) |
| Ace of Base | Don't Turn Around |
| Agnes | Release Me |
| Axwell feat. Max'C | I Found U |
| B-52s | Love Shack |
| Baby D | Let Me Be Your Fantasy |
| Barry Manilow | Copacabana (At the Copa) |
| Basement Jaxx | Where's Your Head At? |
| Basshunter feat. DJ Mental Theo's Bazzheadz | Now You're Gone |
| Blue | One Love |
| Carl Douglas | Kung Fu Fighting |
| Chamillionaire feat. Krayzie Bone | Ridin' |
| Chuckie & LMFAO | Let The Bass Kick In Miami Girl |
| Donna Summer | I Feel Love |
| Fatboy Slim | The Rockafeller Skank |
| Fedde Le Grand | Put Your Hands Up 4 Detroit |
| Gipsy Kings | Bamboleo |
| Jay Sean feat. Lil Wayne | Down |
| Jive Bunny | Let's Twist Again |
| Junior Senior | Move Your Feet |
| Kid Cudi | Day 'n' Night |
| Kool & The Gang | Jungle Boogie |
| Los Del Rio | Macarena |
| MC Hammer | U Can't Touch This |
| OK Go! | Here It Goes Again |
| Outkast | Hey Ya! |
| Pendulum | Slam |
| Pixie Lott | Boys And Girls |
| Puretone | Addicted To Bass |
| Room 5 feat. Oliver Cheatham | Make Luv |
| Rose Royce | Car Wash |
| Sergio Mendes feat. The Black Eyed Peas | Mas Que Nada |
| S-Express | Theme From S-Express |
| Sister Sledge | He's The Greatest Dancer |
| Snap! | Rhythm Is A Dancer |
| Spice Girls | Spice Up Your Life |
| Survivor | Eye Of The Tiger |
| The Saturdays | Forever Is Over |
| The Village People | YMCA |
| Whigfield | Saturday Night |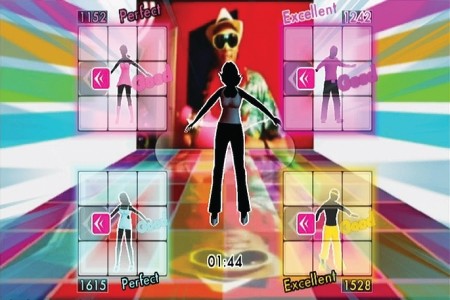 On top of the 'We Dance' mode, various other extra modes let you examine high scores or watch/listen to the music videos without having to dance. A Dance School mode attempts to teach you the moves of each routine, but again, this has some misleading visual cues popping up. Party Games is another extra mode which provides three different mini-games: 'Step', 'Jump' and 'Pose'. Some require the dance mat, limiting the "party" feel if you only have one dance mat and can't play multiplayer. Still, all are fairly throwaway and 'Jump' in particular doesn't have all the much to do with dancing.
Not that We Dance is a bad example of the genre, but its use of a dance mat seems like a step backwards and, aside from combining it with the Wii Remote to score on your arm movements as well, does little new to make in any different from other dance mat games from a decade ago. The 40 tracks are relatively good with some big artists credited, but there's a lot of competition in the dancing game genre, so with its confusing visual cues and routines you could probably do better, especially due to the fact that the arm movement recognition serves only to highlight the weaknesses in the Wii's detection abilities.