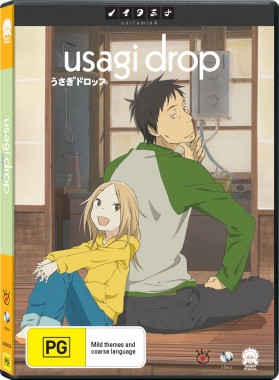 Usagi Drop
Studio: Production I.G.
Publisher: Siren Visual
Format: DVD (Subtitles Only)
Release Date: February 22, 2012
Price: $49.95 – Available Here
Overview:
What makes for a good 'coming of age' story? Does there need to be a child put in a situation that forces them to 'grow up'? Or is there more to this story type than meets the eye? Usagi Drop is a 'coming of age' story, except in not the ways one would expect. From the outset it looks to turn the concept of growing up on it's head and by the time it's final scenes roll it has succeeded.
Usagi Drop is an enjoyable play on age old story conventions and has a warm gooey heart beneath it for added measure. With an unique nostalgic art style deployed and an honourable message, Usagi Drop is perhaps one of the most rock solid 'Slice of Life' series in years.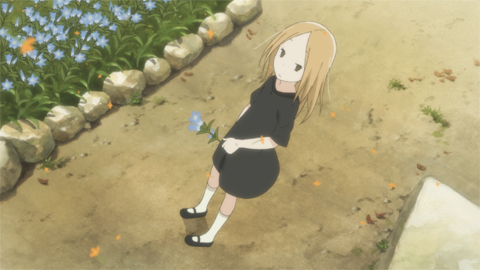 Story:
Part of what makes Usagi Drop so irresistable is the storyline. It is simply a heartwarming tale of a man who takes it upon himself to raise a child who isn't his. Said child is the daughter of said man's horndog Father who unfortunately passed away leaving behind a child he had to another woman. It's a rather complex family affair that the series does not waste too much time on, instead focusing on the relationship formed between the two main leads.
The main character Daikichi on a whim decides to take in the orphan child Rin, he doesn't have much reason for doing so, he just felt it to be right. Over the course of the series, Daikichi learns the difficulty involved with raising a child and eventually matures into a father figure that Rin could be proud of.
This is where Usagi Drop turns conventions on their head, instead of having Rin, the child, mature over the course of the series, it focuses instead of the 'coming of age' of Daikichi. He has to learn what being an adult is all about, he has to learn what it means to have responsibilities and this series is just as much a personal journey for him as it is for Rin.
I found the inner journeys of the two protagonists to be the heart of the series and it really is the glue that holds it all together over the course of the series. I was unfortunately however disappointed at the lack of climax to the plot, things seem to end in a very lack luster way which did leave me longing for more from the series. But as they say, it's not about the destination, it's about the journey and this is a series all about the journey. The emotional quests for both Daikichi and Rin is a highlight and the fulcrum of all the happiness and joy this series expresses in volumes. Love is a powerful thing. Powerful enough to change people. Powerful enough for them to mature. That is the resonating message of Usagi Drop.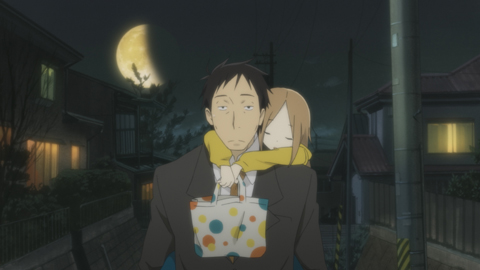 Visuals and Audio:
Production I.G. have deployed what is possibly their most unique art work and animation to date with Usagi Drop. The art glows with nostalgia for a time that may or may not have ever existed, a time where everything was alright. It's that peaceful nostalgic feeling that makes the aesthetics of Usagi Drop such a stand out. It is beautifully composed of vibrant pastel colours all flowing as fluidly as life. It's a wonder to behold, especially when considering that this is just a 'Slice of Life' series at the end of the day.
To complement to excellent visual work, the soundtrack is equally impressive, featuring an opening theme song from Japanese pop sensation PUFFY AmiYumi, a song which is both incredible memorable but also a perfect fit for a series which instils such unbridled happiness. The rest of the soundtrack is likewise good and is top to bottom one of the best OSTs in recent memory.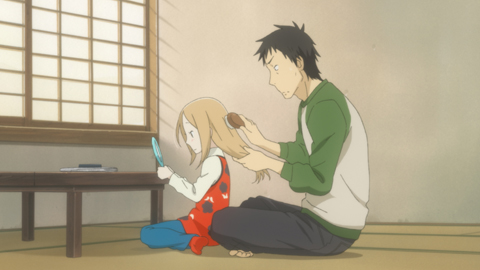 Extras:
Siren Visual have really done a great job with their release of Usagi Drop, which might I add is the series first release in an English language format in any English speaking country, a feat in itself that is worth commendation. Their release of the series is subtitled only, which shouldn't be too bothersome to the titles target audience but it does alienate some casual viewers who aren't fond of subtitles. When it comes to extra content, there are bonus episodes, TV spots and some trailers. The series comes packaged in Siren's usual chipboard slip covers which as always is a delight.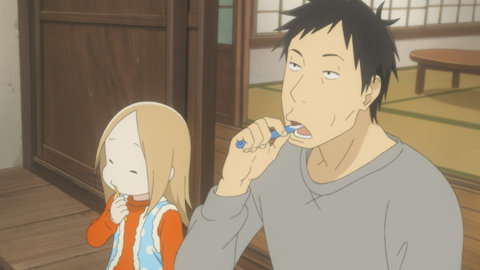 Overall:
Usagi Drop is an all in all solid 'Slice of Life' anime series and a great series to spend some time with. There is a warmth this series gives that a lot of anime can't or don't even aspire to. Production I.G. known for their sci-fi series and general high concept storylines have dialled it back significantly with this simple quaint 'coming of age' story about a man who chooses to Father a child who isn't his own. It's heart-warming, touching and flat out pure enjoyment.
Siren Visual's release of Usagi Drop is a must see for anime fans looking for something different to the norm. However this release is probably not going to do much for casual fans, but it's a necessity for the more hardcore fans that can appreciate what this series is all about.