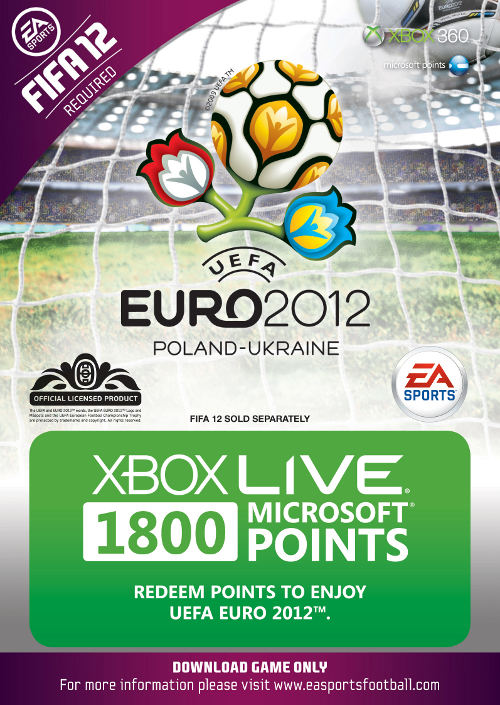 UEFA EURO 2012
Publisher: EA Sports
Developer:
Platform: Xbox 360 (reviewed), PS3, PC
Release Date: Available now for download for FIFA 12 owners!
Price:  1800 Microsoft Points ($15.99 US)
Overview:
So after controversially deciding to release EURO 2012 as an expansion to FIFA 12 rather than a separate game, EA Sports have unleashed the DLC into the marketplace for download, essentially adding three modes and 53 (not all licensed) teams.  Expedition mode is the main attraction for the release, yet does it live up to it's hype? Keep reading to find out.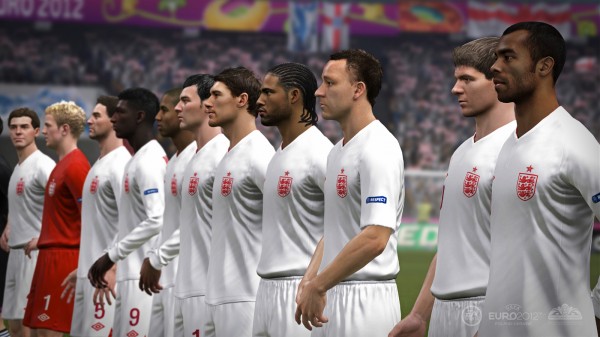 Gameplay:
In terms of the actual matches, match engine, control system etc. it's identical to FIFA 12.  To be honest I don't see why you would expect anything different if it's an expansion to FIFA 12, so I've got no complaints there.  If you wanted the bugs fixed from FIFA 12 you'll just have to wait until FIFA 13.
Expedition mode was the one thing that really caught my attention for this release, adopting a mode similar to World Tour in FIFA Street but with way more players to build your team with and using real reserves instead of created characters as your initial team.  It sounded like a really good idea and I was pretty excited, yet skeptical.  Unfortunately my skepticism was more appropriate as the end product was rather disappointing.  Your matches are limited to 2 minute halves, which I didn't really mind given the amount you have to get through to unlock players.  My first issue, which I anticipated, was having to play many lowly ranked teams.  When you unlock a "road" to a semi-decent team, you have to beat them three times just to get one of their stars.  It all gets too laborious for my liking, especially when you lose matches.  The overall goal of collecting "mosaic" pieces also seems a bit dull and I felt there could have been a greater incentive to beat all the teams….three times each…
Another issue I have with the release is the fact that some of the teams aren't licensed.  Notable examples include the Welsh national team who contain superstars such as Gareth Belth, Aaron Rumsey, and Craig Belmont.  Whilst I realise it doesn't matter that much, the price of the DLC doesn't seem quite justified, especially given the full licensing we usually enjoy with EA Sports.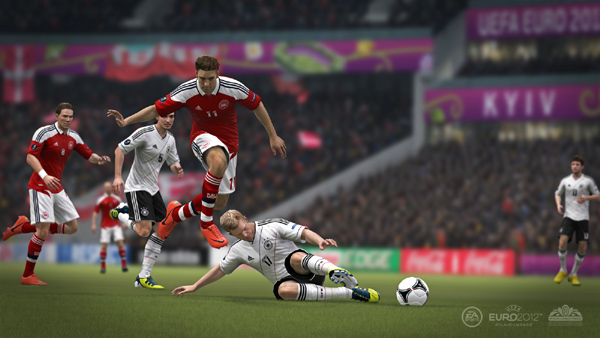 Audio and Visual:
In terms of audio, there hasn't been that much done to the game.  The soundtrack that accompanies the mode is just the FIFA 12 one.  It would've been nice if they included a few new songs to freshen it up a bit, given the amount of hours (or more solid months) that I've spent listening to the FIFA 12 one whilst playing.  The commentary has been marginally altered, with a few (and I really mean a few) new comments about the tournament, but no real difference.  It would've been nice to have a bit more history and stats integrated into the commentary to acknowledge the EURO tournament and just provide some more entertainment to spruce up the unaltered gameplay.
The menu design and graphical elements of EURO 2012 is very contrasting to the subtle style that FIFA 12 has, and in does somewhat give the sense that you're playing a different game, until you get on the pitch of course.  The one bonus is the addition of the eight official stadium from the tournament, which are adequately represented and definitely give the game a much needed point of difference. Even with these however the atmosphere is bland and doesn't feel much different to a regular league match (or even 3rd division match) in FIFA 12.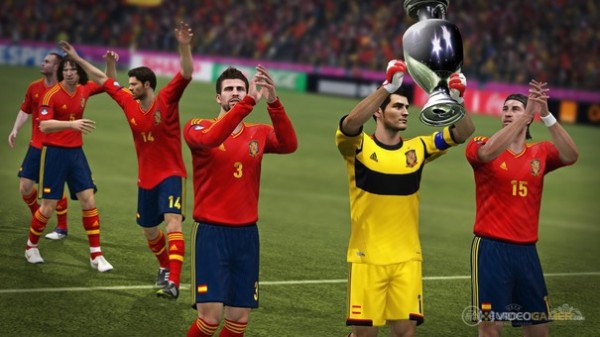 Overall:
EURO 2012 is still a solid extension pack for FIFA 12, and to be honest I don't think having it released a full standalone title would have been that much better.  The addition of all the EURO nations is always fun (even with the odd lack of licensing for some), and the new stadiums help spice things up a bit.  Expedition mode is a neat idea and is fun for a while, however I can't see many people bothering to complete it (unless you're really into your 360 achievements..).
At the end of the day, EURO 2012 is nothing spectacular and whilst it does add a bit more longevity to FIFA 12 (not that it needed an excuse), it stil falls a bit short.  The pack, especially the online part, will probably be much more useful once the hype starts for EURO 2012, but it's up to you to decide if the price tag is worth it.