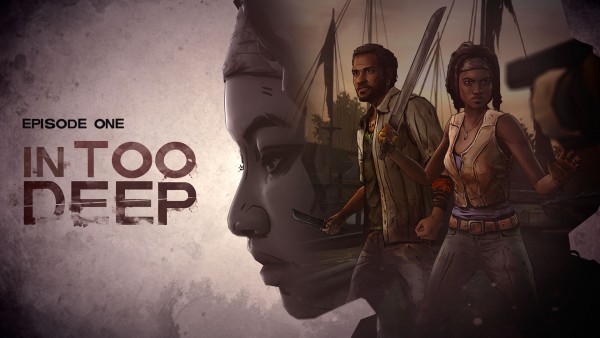 The Walking Dead: Michonne – In Too Deep
Developer: Telltale Games
Publisher: Telltale Games
Platforms: PC, PlayStation 3, PlayStation 4, Xbox 360, Xbox One (Reviewed)
Release Date: February 23, 2016
Price: $4.99 – Available Here
Overview
Telltale Games made a massive impact on the fans when they released their first season of The Walking Dead and while a few cameo appearances were used to help generate some hype in the first episode, the company quickly moved into molding their own story separate from the main storyline in The Walking Dead comics. Unlike those first two seasons however, this time around Telltale Games is crafting a story set around a fan favorite character in the mini-series The Walking Dead: Michonne. With the first episode, In Too Deep, now available, is this series off to a decent start?
Story
It is worth noting that although this storyline does take place ahead of the television series (most likely a few seasons ahead at least) those who have never touched the comic book series shouldn't worry about any core story spoilers here while those who have been keeping up with the comics can likely place The Walking Dead: Michonne's placement due to her missing signature samurai sword being replaced with a machete.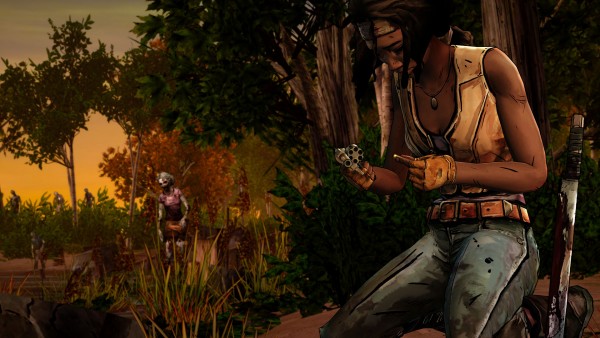 Anyways, the story here kicks off in an extremely memorable way as In Too Deep begins the story with a look at Michonne as she struggles with her past and those that she has lost. In an absolutely wonderful blend of action and traumatic flashbacks that blend together to offer a striking experience where Michonne near absentmindedly fights off Walkers while being haunted by her past. This is then followed by a striking decision that, while unfortunately meaningless, shows the mindset that Michonne is currently in while traveling alone.
It is here that she meets and joins with Pete and three weeks later finds herself on board his boat with a small group of survivors. While Pete is attempting to try and reach some friends that he has traded with in the past over a short-wave radio, the boat becomes damaged and it is here that the story starts to struggle with setting itself apart from being cliché.
In a search for supplies that may fix their boat, Michonne and Pete leave the rest of the crew behind and check out their only option, an apparently abandoned ferry. As one would expect, things immediately start to go wrong as Walkers attack, an unexpected encounter with other survivors leads to a dangerous misunderstanding, finally leading to capture and intense questioning before leaving fans with very little meaningful development for any of the side-characters or why we should care about any of them.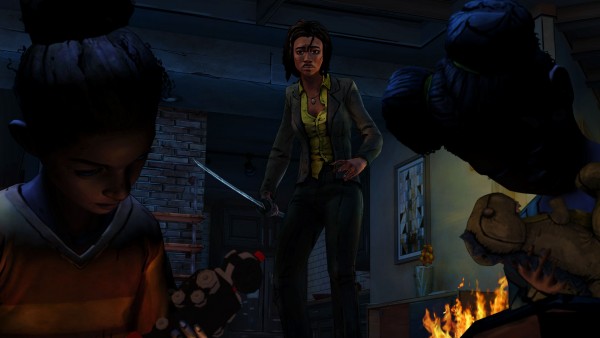 While the setup is as predictable as they come and the few decisions that players make on who they wish to side with takes place over a number of tense feeling scenes that, from the preview of the next episode, boil down to an unfortunately straightforward route, the way that the story handles Michonne as a character and her emotional struggles is the best part of this series so far.
Being the star of this mini-series and already a fleshed out character that fans are familiar with it shouldn't be too much of a surprise to hear that she is easily the best part of the series. Michonne's traumatic losses continue to haunt her in memorable fashion and if In Too Deep is a sign of things to come, it'll be interesting to see how Michonne struggles with her emotions over the next two episodes, though hopefully they will be longer than this one as, even while examining everything possible, this episode clocks in at barely an hour in length.
Gameplay
As one would expect with a Telltale title, The Walking Dead: Michonne – In Too Deep, features many of the standard gameplay mechanics that involve making dialogue decisions, some of which are important, within a certain time period, taking part in quick time events to combat Walkers, and exploring an environment and examining various parts to an area to either uncover something or learn a bit more about the area.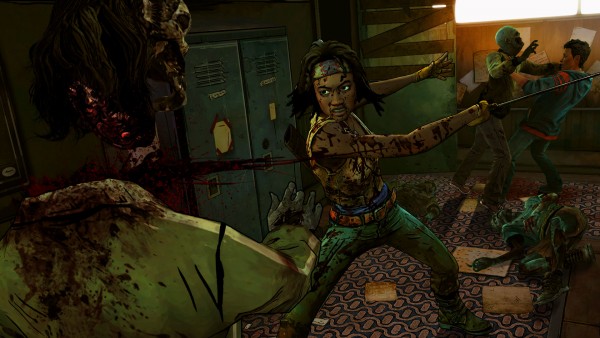 This title offers a little bit of exploration but what it really shines at is the action sequences. When Michonne is about to enter combat against the undead the screen narrows to highlight the action and put an emphasis at how skilled Michonne is even when she is using a machete instead of her sword. The fights are of course handled through QTE moments but the way these sequences play out in The Walking Dead: Michonne really make the combat feel intense and visceral. Unfortunately this does lead to some trade-off where the title will suffer quite a bit of slowdown during these action sequences.
Visuals & Audio
The cel-shaded art style persists in The Walking Dead: Michonne and works to the benefit of the series as it fits well with the comic book styling of the original artwork. The characters are handled well with Michonne appearing very close to her comic counterpart while the violence and gore is displayed in brutal fashion as quite a few of the Walker kills are a bit unorthodox this time around.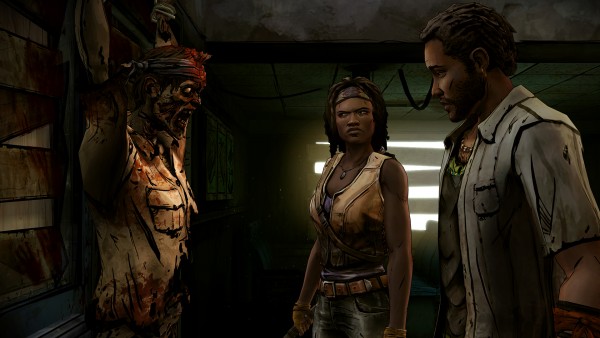 Considering the fact that so many people will likely be familiar with Danai Gurira portraying and voicing Michonne, Samira Wiley handles the character incredibly well by fitting her personality nicely. The soundtrack for the episode fits well with a solid voiced opening theme and closing credit song.
Overall
The Walking Dead: Michonne – In Too Deep does a decent job introducing fans to the three episode mini-series by offering fans a look at what is haunting Michonne but unfortunately players shouldn't expect too much more than that for now. This episode sets up some solid groundwork with Michonne being portrayed perfectly but does little to get the player invested in the rest of the storyline in this short episode. Let us hope that the next two episodes will delve deeper into Michonne's traumas while also providing players with some reason to care about what else is happening around her.
Capsule Computers review guidelines can be found here.