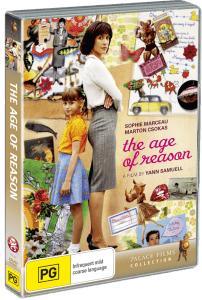 Genre: Comedy/Romance
Director: Yann Samuell
Featuring: Sophie Marceau, Martin Csokas, Michael Duchaussoy
Running Time: 97 minutes
Available for purchase at: Madman Online Store ($29.95)
Overview
If there is one thing French films have taught us as viewers, it's that there are more insightful, more hilarious, and more disturbing ways to produce content for the big screen than we have ever dreamed. From the shocking content of films like Ma Mere to the delight of Amelie, French cinema is constantly pushing boundaries and exposing us to those things we ignore, cannot see, or have forgotten.
The Age of Reason (or L'age de Raison) is by no means an original film that pushes boundaries, but it most certainly does expose the childhood that we have forgotten, ignored, or even potentially suppressed. The film is a glimpse at days gone by, which makes for a delightful nudge to all of us viewers to not forget our inner child.
Plot
Margaret Flore (Sophie Marceau) is a successful, hard-working woman who is an executive at a construction company. She runs life on a schedule: all appointments, dinners, and even romantic getaways with her secret beau, Malcolm (Marton Csokas) are planned up until the second. On her 40th birthday, a mysterious old gentleman appears with a package of letters that Margaret wrote to herself when she was seven years old – or what the French call 'the age of reason'. As Margaret reads these letters and re-discovers her past, she realises she has become the exact opposite of who she wanted to be.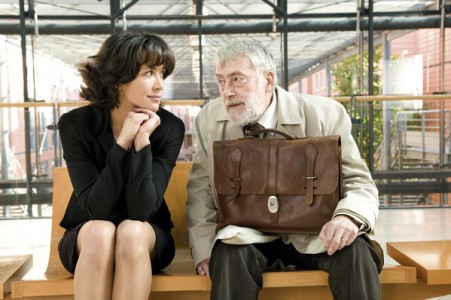 Thank god it isn't her seven-year-old self here talking to this old man.
The plot is absolutely predictable, and that's one of the beauties of the film: nowadays when we watch films, we are constantly expecting a twist because we have seen it all…but remember when you were a child, and the simplest of plots could make you smile? Yann Samuell takes us back to the days when our expectations weren't as high as our desire to observe and take a journey with the moving images on the screen.
Sophisticated twists and turns? Narratives that must be based on realism to make a point? Samuell asks, "What of it?" The Age of Reason instead captures the magic of what it is to appreciate the simple things in life, and also nods to the imaginative side in us: while the plot could never happen in the real world, neither could a lot of things we dreamt of as children. Instead of letting reality take the wheel, both the real world and the world of our childhood (where anything can happen) sit in the two front seats of the car, and steer along the road of the film.
Characters
The main character in the film is Margaret Flore, a high powered executive. Flore is cold, calculating, yet has moments of delicate humanity hidden underneath her tough exterior. She relies on photographs and details of iconic women, such as Mother Teresa, Marie Curie, and Joan of Arc, to help her decide what her reaction to a situation is going to be. However, when she receives the letters she is thrown off, and – instead of being unshakeable – she reveals a completely different side of herself.
Marceau as Margaret Flore, rediscovering her childhood self.
Marceau delivers a wonderful performance as the leading woman, and truly nails the role of the executive that is at a conflict between who she was and who she is. She is a mirror for so many adults these days: those who often have to sacrifice plenty in order to reach success in their career. In fact, I was so thrown off by how much of myself I saw in Marceau's portrayal of Margaret that I had to pause the DVD and breathe for a minute. That's a testament to the power of Samuell's character, though: Margaret is so real, and her childhood counterpart so poignant, that it's hard to believe this is just a film.
I wish I could say the same for the rest of the characters, though. Aside from the mysterious old gentleman, a notary (Michael Duchaussoy), who seems to be the Albus Dumbledore of this film, the rest of the performances were average at best. In fact, Malcolm seemed so absolutely devoid of that X-factor – which characters need to spark with an audience – that he instead became a complication to the entire plot. Throughout the film, he did nothing but suppress Margaret and, to be honest, I wish he was less of a main character and more of a complication that is killed off at the end of the film.
Visual, Audio, and SFX
If there is one part of the film that would have to be singled out for instigating delight and that "feel-good" tone the film proclaims, it's the visual and audio aspects. The Age of Reason's cinematography and soundtrack mirrors that of Amelie, and it really hits the nail on the wondrous childhood positivity and optimism that is central to the film.
Samuell's use of animation is particularly endearing: the photographs come alive in a great series of stop-motion, and letters cut to animated sequences with pasted flowers, balloons, and coloured-in settings. The animation contributes fantastically to that childhood desire to create; the days when we all felt like artists, and when a piece of paper was enough to fill us with joy. The cinematography only adds to that, with great long shots, pans, and unique angles to play on the imagination of us as the audience.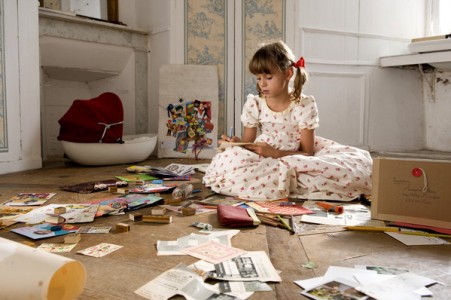 Margaret's seven-year-old self, and what beautiful cinematography it is.
The soundtrack works in harmony with the visual: the music generates an atmosphere that you can't help but tap your feet to. While some moments hold a little more sadness and require those slow songs, Samuell still manages to inject hopeful tunes in there somehow to make us feel like everything is going to be okay. I must say that I have noticed soundtracks like these appearing in an increasing amount of films and they are doing their job well, but The Age of Reason truly uses the soundtrack to complement Margaret's life, Marceau's performance, and the plot.
DVD Extras
The DVD only comes with the theatrical trailer, which is a letdown. There was plenty of opportunity for Samuell to include a section titled "Margaret's Letters" where audiences could flick through the beautiful art of Margaret's 7-year-old self. The props were already there from filming, so it truly would have been that extra touch. When a DVD only includes the trailer as a special feature, it often feels like the easy way out and this film could definitely have used some extras to back it up.
Final Comments
Despite the flat characterisation of Malcolm and the lack of extra features, The Age of Reason is a film that everyone can enjoy. Marceau's performance, the soundtrack, the visual components and the simplicity of the narrative transports us all to a place that we had long forgotten in cinema…and it's most definitely is time to revisit it.
I give The Age of Reason