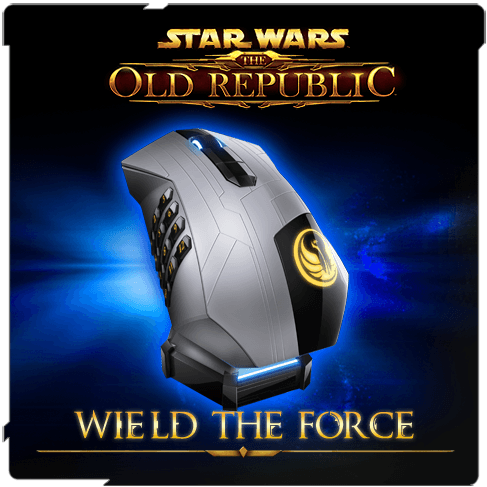 Star Wars: The Old Republic Gaming Mouse
Manufacturer: Razer
Device: Mouse
Price: $229.95 AUD
Purchase: Razerstore
If you're into PC gaming, chances are you've heard of Razer: a PC peripheral company known for its outstanding quality products for the hardcore gaming enthusiasts. And if you're into MMOs, chances are you've heard of Star Wars: The Old Republic: EA and Bioware's recently released and critically acclaimed foray into the world of massive multiplayer online games.
What do you get when you mix up both of those things? Why, it's Razer's Star Wars: The Old Republic Gaming Mouse!
This Old Republic themed mouse was created specifically with an MMO player in mind, and the accessibility and ease of use that it provides, on top of Razer's usual feature customization and high-end technology, make this an appealing add-on to fans of any MMO, but particularly anyone who has seen their waking hours swept away by The Old Republic.
The mouse's design is sleek and comfortable. With a grand total of seventeen buttons optimized for use in MMOs, it looked like a daunting tool when unboxed, but its curve fits suitably in the palm of the hand, with the thumb resting on the twelve-buttoned left side panel. The mouse itself is grey in colour, with lines and creases in it designed to give you the feel that it's a piece of Star Wars space technology. On the right side of it, a light-up emblem of either the Republic or the Empire can easily be slid in and out of the mouse's body, so if you feel like being a role-playing extraordinaire , you can switch between the emblems when you switch characters and alignments. The mouse-wheel also features a backlight, and it can be customized within the Razer Synapse interface to display different colours in a pleasant fluorescent hue.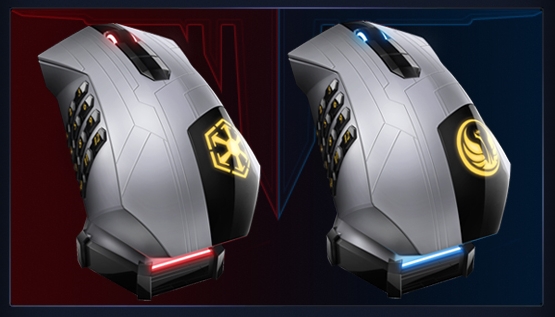 The right-side of the mouse also features a removable side-panel in which the battery is placed for when you want to go to wireless mode. The battery's life can extend over twelve hours of continuous play, but it can last for up to 72 hours if you use it in shorter bursts. The wireless receiver, which doubles as an aesthetically pleasing stand and battery charger for the mouse, that comes in the package is a handy tool, as you can elect to use it in order to untangle the mess of wires usually involved with PC gaming.
But sometimes, it's nice to have the wire there, particularly if you're travelling or are just old-fashioned like me, so the USB cord that powers the charger/receiver can also be plugged directly into the mouse. Then you flip a switch on the bottom of the mouse and voila! All set for wired gaming.
With 5600 dpi Razer precision technology and a one millisecond response time, there's no denying that Razer has put its normal amount of high-end quality into the product, but what surprised me was how accessible it all was in practice. Let's face it, a mouse with seventeen buttons is probably not the most enticing thing to see, and the twelve side panel buttons were definitely quite a psychological hurdle.
However, Razer provides handy bumper stickers for the uninitiated. Using the guide provided, you can place these bumpers on specific buttons on the side panel's keypad in a way that enhances your muscle memory while  you play. Where I fumbled a bit within the first few hours of play, these essentially served as training wheels, and I soon began getting a feel for the mouse and its many buttons. It was an addition I did not expect and it was surprisingly effective in quickly acclimatising my hand to the new control scheme.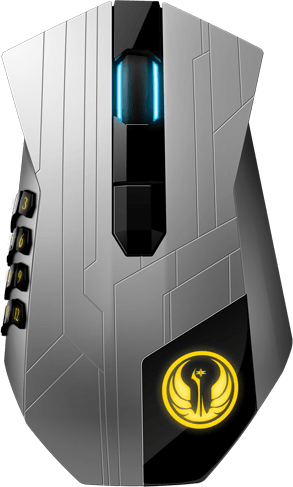 So I took the mouse for a whirlwind tour of several games: MMOs, first person shooters, RPGs, and (what PC gaming session is complete without it?) League of Legends. Needless to say, where the mouse really shines is with games that involve quickslots and skill bars. It became ridiculously simple to use hotkey commands that on keyboard controls involved a lot of finger stretching. Indeed, while playing MMOs in the past, I usually always gave up on hotkeys altogether and just clicked individual skills as I wanted to use them. No more!
Once you're accustomed to the twelve buttons on the side of the mouse (by default they replace the 1 to = keys on your keyboard), you'll find yourself easily pulling off even the skills on the pesky skill bars that require you to hold Shift or Control at the same time as pressing a number. It really helped my MMO experience as a whole, as I stopped paying attention to clicking skill buttons during combat and could actually enjoy the actual animations on screen. The controls are equally effective for RPGs that use skill bars, and being able to use active inventory items in League of Legends with hardly any effort because of those twelve wonderful buttons has definitely positively impacted my play.
The bonuses of the mouse are definitely less apparent when playing first-person shooters, or any game that has a simple control scheme. When all a game requires of you is shoot, aim, reload, and grenade, the seventeen buttons provided on the SWTOR mouse are a bit excessive. If your PC gaming is limited to shooters and point-and-click adventures, then this mouse really isn't for you. But then, why are you interested in a Star Wars: The Old Republic mouse if you spend your days playing Call of Duty? The simple fact is that this mouse is a tool of extreme and simple convenience for any MMO player.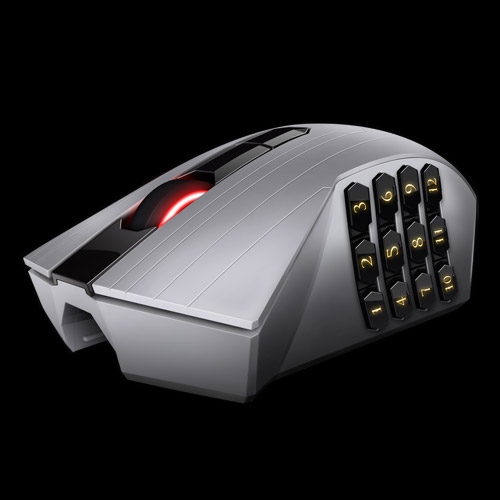 For the more dedicated PC player, the mouse does feature Razer's Synapse 2.0, which allows you to customize your mouse's settings and save those into the Cloud, so they'll be remembered wherever your bring the mouse. The customization options allow you to truly make the mouse your own, and macros on a twelve-buttoned mouse would definitely help in competitive real-time strategy games.
The SWTOR mouse also comes with two faction-based stickers for the Old Republic and two Razer stickers. I immediately wanted to slap one of the latter on my Xbox 360 for irony's sake, but then realised that I didn't want to waste the sticker like that. Knowing myself, those stickers will probably just gather dust; they're something I'll happily keep as a collector's item, but never actually use.
All in all, the Star Wars: The Old Republic gaming mouse is a remarkable piece of PC gaming gear. Though first impressions may be daunting, Razer really took care to provide a way to ease players into the world of 17-button possibilities. The fact that these seventeen buttons can then be customized further via Synapse is simply icing on the cake. If you're an avid PC gamer and you love The Old Republic, there's no better gaming mouse for you.