G'day Everyone MasterAbbott's back with another of his Collector's Edition unBOXings !!  Today we test drive UBISOFT's Splinter Cell Conviction Limited Collector's Edition on Xbox 360.
This is what you get in the Limited Collectors Edition on the Xbox 360 PAL / EURO
* An exclusive Sam Fisher Figurine * Tom Clancy's Splinter Cell Conviction Game * Infiltration Mode : Eliminate All Hostiles in the mission area without being detected * A special playable skin : SHADOW ARMOR * Early Access to 3 weapons :   SC3000, SMG-2 and MP5 * The Official Splinter Cell Conviction Soundtrack (Over 17 Tracks)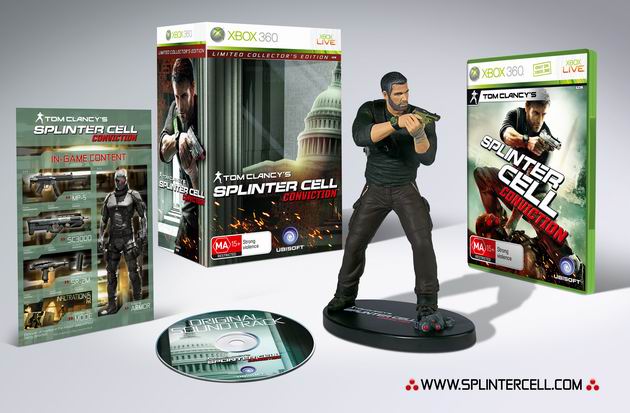 Check out the video unBOXing below to see everything up close and personal.
The Limited Collectors Edition does come with a few cool little extras.  But most of them should just be included in the game.  There's no limited edition art book, that normally comes with collector's editions, and the case is just your standard Xbox 360 case.  In other parts of the world this collectors edition actually comes in a nice tin case.  The saving grace for this collectors edition is the Sam Fisher Figurine.  It's finely crafted and doesn't look cheap, time and effort has gone into make Sam Fisher look as realistic as possible.  The soundtrack is also pretty cool but expected in a collector's edition box set. 
How much would you expect to pay for all of this ?  Well here in Australia the RRP is $119.  Yes quite a steep price to pay for a game a sountract and a plastic doll.  If your a super keen fan of the Splinter Cell series you could swallow your pride and pay the price.  But for the rest of you just wanting to play the game, this collectors edition is a little to expensive.
Good Points :  
Sam Fisher Figure looks very nice
Soundtrack
Bad Points :
No Art book
Content should already been included in the game
PRICE WAY TOO HIGH
–
Overall score :