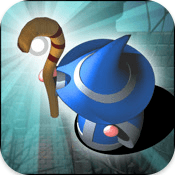 Title: Solomon's Keep
Genre: ACTION/RPG
Platform: iPhone, iPod Touch
Developer: Raptisoft Games
Price: *INTRODUCTORY PRICE : $0.99 – BUY NOW
–
Solomon's Keep by Raptisoft Games is a top down dual analog action RPG.  Similar to Diablo & Torchlight.  You control a wizard on a mission to take down the Evil Solomon who has raised an army of undead minions in his keep.  To prove yourself to your fellow wizards you're going to have to enter the keep and cleanse the tower of all evil and put an end to Solomon's evil plans.  By doing this you'll be accepted into the wizard ranks and everyone will give you the respect you deserve.
Solomon's keep has 20 levels to explore and let me tell you it might start off easy but then gets extremely hard if you don't choose your skills wisely.  You start off with Magic Missile which is recommended for newcomers but you have other attacks such as lightning, acid rain, and even fireball to name a few at your disposal (Fireball is the one I ended up using)  Each skill has a sub category.  For example if you start using Fireball you can of course level it up so it can do more damage, but then you can select other skills like embers or explode that will cause the fireball to explode on impact causing even more damage to surrounding enemies, and embers which will cause little bits of fire to break off and cause damage to enemies.
There are multiple spells and skills to choose from when you level up. But one thing that I found quite annoying was once you do level up you dont get to choose or allocate skill points to a specific ability.  As shown in the video review below,  only a list of 3 spells or Skills appear and you can only choose from them.  If you don't like any, you're pretty much stuck with picking one of them.  This could cause all sorts of problems down the track as you might not have enough power or skills to take on harder and tougher enemies. 
Another issue is the lack of a save game.  If you're clearing out a level and you die right at the end of it.  Your taken back right to the beginning of that tower level.  Now if you had leveled up and picked a really cool spell or ability, this is lost and you have to hope you get the same one again when you level up.  ( I have since found out that if you use the town portal key to go back into town to buy or sell items the game is saved once you return back to the tower, but by doing so you have to exit the game by pressing the iPhone HOME button and then reloading the game – very annoying and time consuming)   That was the only thing that stopped me from throwing my iPhone against the wall.  I have to say Solomon's Keep really gave me a good challenge there isn't many games out there that make me wanna smash my controller or in this case my iPhone but Solomon's Keep was able to do that… but in a good way 😉
Gameplay is challenging and the enemies are well designed.  The action is great, there are also mini bosses to take on that breaks the game play up from destroying the same old monsters ( but what do you expect to find in a tower full of undead creatures)  The mini bosses are well a designed and have their own special abilities that you need to learn to over come them.  Finally the final Boss Battle was brilliant and very challenging.  No spoilers but expect to scream and yell and cry all at the same time, but in a good way as he's no push over !!
Ok Video Review time :  Everything you need to know about Solomon's Keep is covered.  Click on the play and enjoy the review.
Capsule Computers would like to give Solomon's Keep a 7.5 Capsules Out of 10
Overall Solomon's Keep is a great little action / rpg game that will keep you busy for hours.  The lack of a save game, the ability to choose your own skills when leveling up and the little issue with the inventory back to game-play / control movement are quite annoying but looking at the big picture Raptisoft Games have done a great job at their first attempt in creating a fun and certainly very challenging action / rpg game.  If you love your RPG's then give Solomon's Keep a go.