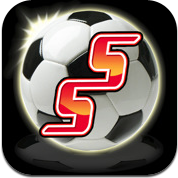 Game : Soccer Superstars
Platform : Apple iPhone / iPod Touch
Developer / Publisher GAMEVIL USA, Inc.
Price : $4.99 : BUY NOW
Manage or guide your Soccer Team to Superstardom !!
Take your team to world success in Season Mode, bring home the trophy in Cup Mode, or relive memorable international soccer moments in Dramatic Mode !! That's what GAMEVIL's Soccer Superstars is all about !!
Those familiar with GAMEVIL's Superstars series of Baseball Superstars games will need little introduction to their latest title Soccer Superstars. If you are new to this style of game play from GAMEVIL you are in for  the ride of your life as you get to experience cool features and modes which will have you managing a team and rookie character which you mould and shape just the way you like in this action packed RPG Style game.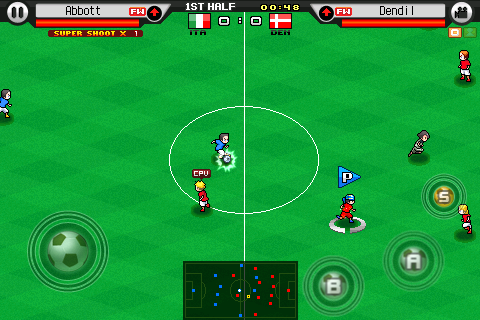 GAMEVIL has implemented a very easy to use control setup for Soccer Superstars when playing matches.  On the left side of the screen you have the virtual control stick which you use to move your player around the field.  One thing I did find a little annoying was the size of the analog was a little small and manouvering my Superstar was a little fustrating.  There are 3 other buttons.  The A which is used to pass when you have the ball and request the ball when your team mate is in possession. You can also challenge for the ball when your Superstar is close to the opponent and you want to take possession of the ball in a fair challenge.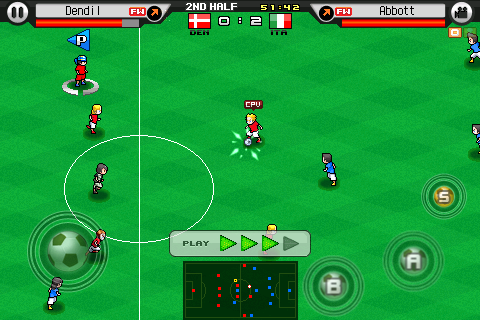 The B button is used to shoot for goal when you have the ball, if your team mates have the ball and  they are close to the goals pressing the B button will send a request to them to take a shot at goal.  Also when off the ball and your superstar is close to the action you can press the B button to go in for a hard slide tackle, but beware this could and most of the time end up in a penalty, yellow card and sometimes RED card.   The third button is called the S button which allow your Superstar to use his super-powered goal attack.  Starting off as a rooking you will need to earn popularity, similar to experience which you get by playing well in games or going to special events etc.   Once you reach a certain level of popularity you can then train and buy super power attacks.  There are a total of 4 levels of super power attacks.  Level 1 starts off with a standard high powered kick towards the goal that most of the time smashes though the net.  Reaching level 4 will have you setting the ball on fire sending the ball screming into the goal, totally ignoring the goalkeeper.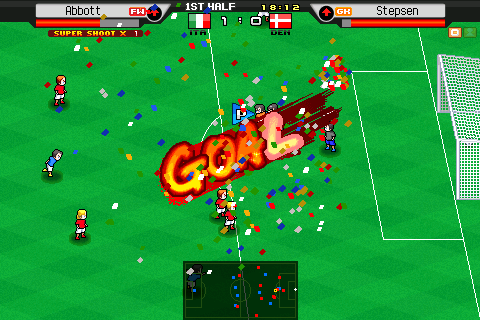 GAMEVIL have also introduced a semi-automatic control system which can be used to assist in moving the active player, it's a decent attempt at helping out the new comers to the game but personally, I recommended switching back to the manual control system which gives you full control of the SuperStar / players and you can go wherever they desire. 
The biggest selling point for Soccer Superstar is its emphasis on the heavy team management mode, here you can create you very own team, and lead them to victory, which ever way you think is best.  The other big selling point is the player's career.   With the use of strong RPG style mechanics you can train your superstar and increase their ability in shooting, running, technique and stamina.  All are very important but you can only pick one training session activity before each game.  (this is covered further in the video review)  You can also increase your superstars ability by purchasing items which will upgrade their skills and improve the teams overall chances to win.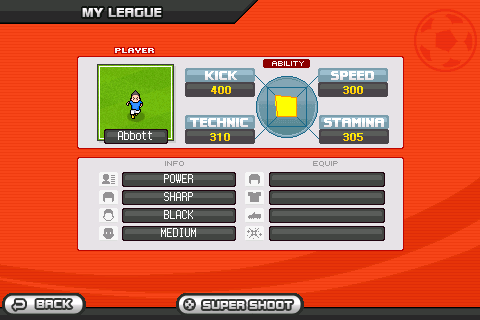 Now sit back and enjoy the video review which will cover in more detail further aspects of the game.
Superstar soccer is a great first attempt at a soccer RPG game from GAMEVIL.  The control system is lacking a little and will take a bit of time to get used to.  The RPG elements are great but it would of been nicer to see more options to choose from and more interactions and choices.  If you are a fan of soccer and like a twist of RPG then Soccer Superstars will keep you busy for HOURS and HOURS !!  The amount of modes and features available will make your head spin.  Casual gamers might find Soccer Superstar a little complicated at first but give it a chance and everything will slowly fall into place and you'll be a pro in no time !!
Pro
RPG element gives the game more character and volume.
Anime character designs are cool.
Huge amount of gameplay modes.
"Dramatic' mode is superb
Cons
Hard and uncomfortable controls. 
Final Score