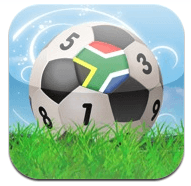 Soccer Sudoku 2010
Platform: iPhone
Publisher: Avanquest Software
Release Date: 31st May, 2010
Genre: Puzzle
Price: $0.99(US)
BUY NOW
'Soccer Sudoku 2010' provides a soccer style spin on the world renowned number puzzle game of sudoku, just in time for the FIFA World Cup which is nearing ever closer and before we know it, will be upon us like a rash. Soon you won't be able to find anything without an image of a large ball or a world cup emblazoned on it, and this is definitely one for those of you who catch the world cup fever.
The game lets you pick from a choice of 32 national teams, and this choice is reflected during the game, with the team's kit and name displayed on the Sudoku puzzle. This is merely a quirk and doesn't affect the way the game plays at all, although die-hard fans may appreciate their favourite teams jersey showing in the background. The same cannot be said for those people who's teams were left out- I can only imagine how I would feel if I found my national team left out. In contrast, some of the other animation features, rather having little impact, have a negative impact. For example, the moving animations that play during the game can be very distracting, and in my experience with the game, I found them to be very off-putting. Sudoku benefits from an organised and static game board, so to have small icons and graphics around the puzzle can affect you concentration.
There are three different game modes:
Relax mode:  play without pressure; stop and resume as you like
Arcade mode: complete the puzzle and win the game before the final whistle
Challenge mode: compete against online opponents from around the world and influence your team's world ranking.
They offer a variety of play modes, with Arcade mode and Challenge mode enabling a increase of tempo if you feel it is necessary. In my experience, the game is more enjoyable when played at a slower and more tranquil pace. This is where 'Relax mode' comes in handy. In theory, Sudoku is usually played on a piece of paper, so a mode where you can take your time, and come and go as you please, is generally much more satisfying. The game's features, which allow you to exit, then come back later and resume where you left off, aid this mentality, and accomodate for a user who may only have time to pop on for short bouts of time.
The game gives a good degree of difficulty with the three traditional levels of difficultly; easy, medium and hard. The puzzles themselves can be tough, one of the games good qualities, and would present a challenge to even the most hardened sudoku players.
In summary, the game isn't bad,  with challenging sudoku puzzles, but with the option of help for less experienced players. However, it is let down by a few small niggles which can have a substantial impact on the game, such as small icons moving on the screen which can be irritating, diverting your attention from the task at hand. For those of you immersed in the FIFA World Cup, who also have a soft spot for sudoku, this soccer themed puzzler may be for you, just bear in mind that there are many sudoku games on the market, some of which are undoubtedly better than this.
Final Score :