Game: SingStar Dance
Publisher: Sony Computer Entertainment
Developer: SCE London Studio
Genre: Dancing, Party, Karaoke
Platform: PS3
Release: Out Now!
Price: £19.99
You've played one SingStar, you've played them all… right?
Wrong! Take one hugely successful singing game franchise, integrate a new dance feature which utilities the Playstation Move controller and you have one incredibly fun combination which is sure to be a hit this coming holiday season.
As continued big hitter for Sony, SingStar has had something of an across the board VIP revamping which sees SingStar Dance following the recently released SingStar Guitar onto store shelves. SingStar Guitar, which supplemented singing action with guitar-based game-play was reviewed here.
Should you be an early adopter of the Playstation Move controller the first time you load the game up you will be welcomed to an initial setup process for the game. This ensures the correct calibration of the Move controller to your personal surroundings. Once this quick and easy setup is complete you should be all set to tackle the 30 track line-up and dance the night, or afternoon, away!

Those familiar with the series should feel right at home using the tried and tested interface that has served previous instalments so well with the only difference being the addition of an on-screen dancer whose moves you must mimic with the Move controller. This handy feature displays choreography and timing guidelines that fit extremely well for the song you have chosen to dance and/or sing along with. It should be noted at this point that despite being a well developed aspect of the new game (and part of the title) the dancing is completely optional and SingStar Dance can just as easily be enjoyed without having to shake your thang!
Gameplay
Rather than have players hold a Move controller and microphone at once the game instead allows players to share the singing and dancing duties as a multiplayer experience. You can have up to two singers and two dancers during each track (make sure your play area is big enough for this) with the screen dividing into two to accommodate the different modes. Vocal tracks take position on one side with one track above the other for two singers with the the dancers section taking the up the other side. There is an option to play online too but only with friends on your friends list.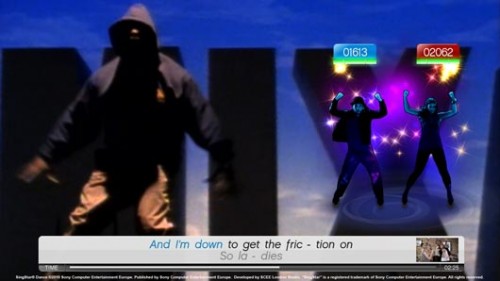 Using Move controllers dancers attempt to mimic the onscreen performer, a task which should be fairly easy for most to pick up. Even players with two left feet should pick up the routines with a little repetition and who knows, SingStar Dance might see a whole generation of disco wallflowers becoming dance floor pros in no time at all!
In single player mode you can sing solo and dance alone but trying to do both is something of a logistical nightmare and confusing in the extreme. Little wonder then that many of today's popstars prefer to mime instead of performing fully live! Personally I would have loved to have a headset style microphone that would not only make you look the real deal but would also free up your hands for throwing shapes! I honestly believe either using this kind of hands free microphone or even the mic on on the Playstation Eye camera (required anyway for Move) would have made the game much more fun as well as a great deal less limiting as trying to dance and sing with the Playstation Move controller in one hand and the SingStar mic in the other is best left to all but the most flexible and ambidextrous of individuals.
Selecting which of the 30 track song line up you wish to bust a move to in the dance mode is made simple using the Move controller for navigation. The aim of this mode is to follow the on-screen dancer as they demonstrate the carefully choreographed dancing moves. You earn points by dancing at the right time and in the correct position and the more accurate your movement the higher the score accrued – it's really as simple as that.
As with past SingStar titles you have the option to watch the original music video of any chosen track or even watch a live feed of you from the Playstation Eye camera as you perform – great fun if you have mates over! The PlayStation Eye also allows takes random snapshots during play which can then be viewed at the end of each performance. These snapshots can then be edited, saved and, should you feel brave enough, uploaded to your MySingStar and Facebook profile to share to the world!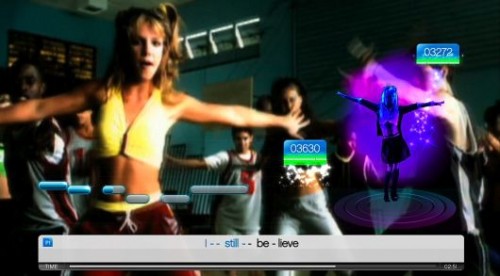 If there is a negative with this mode it's that other top tier dance games on the market tend to show you the upcoming step to create smooth transitions during play whereas Singstar Dance requires you to watch the onscreen dancer and then mimic the move pretty much after it has happened. This becomes less of an issue after multiple playthroughs due to the repetition required but it does take the fun out the game a little. In addition I also found that the Move detection was occasionally off the mark and believe this may have been overcome if the game supported the use of two Move controllers. This would definitely help players pull off some of the tougher moves in the harder difficulty levels.
In terms of unlockable features and in-game career progression Singstar Dance does not really open up anything new as the game continues. Instead the game is aimed squarely at having a a good time from the get go with it's bright and breezy approach.
With a good tracklist out of the box and a great back catalogue of songs available for download via the SingStore on the Playstation Network there is plenty to keep players occupied. The only downside is that downloadable tracks available at the time of writing are not 'dance enabled' although I am informed that Sony are actively looking into this.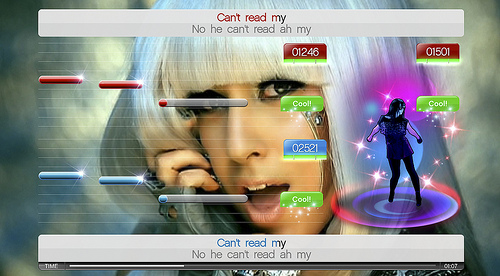 Overall
I feel Sony hit all the right notes with this crowd pleaser of a game and with Christmas just around the corner it's nice to see a high quality karaoke/party game on the shelves and at a great price-point too. With a strong tracklisting and the ability to use any previously purchased songs in the new game there is plenty to enjoy. Hopefully Sony will consider incorporating a second move controller for accuracy of movement and a hands free mic for those that want to sing and dance in the not too distant future.
So whether you are looking for a game that will give you a good workout both physically and vocally or simply something to have fun with or even get you fit after Christmas this game is more than worth the effort and surely a better alternative than the latest z-list 'celebrity' workout video. It's a combo package that's definitely worth making a song and dance about!
Tracklist
The Tracklist for SingStar Dance is right up my street and features a great range of pop, dance and R&B tunes from a variety of eras. From Gloria Gaynor's "I will Survive"  to Lady Gaga's "Poker Face" this SingStar will surely have everyone rockin' around the Christmas tree this year.
1. N Sync – Bye Bye Bye
2. Black Eyed Peas – Shut Up
3. Blondie – Heart Of Glass
4. Chris Brown – With You
5. Cyndi Lauper – Girls Just Wanna Have Fun
6. Diana Ross and The Supremes – Baby Love
7. Gloria Gaynor – I Will Survive
8. Gossip – Standing In The Way Of Control
9. Gwen Stefani – What You Waiting For?
10. Jamiroquai – Cosmic Girl
11. KC & The Sunshine Band – That's The Way (I Like It)
12. Kid Cudi vs Crookers – Day 'N' Nite
13. Kool And The Gang – Celebration
14. La Roux – Bulletproof
15. Lady Gaga – Poker Face
16. MC Hammer – U Can't Touch This
17. New Kids On The Block – Hangin Tough
18. Outkast – Hey Ya!
19. Paula Abdul – Straight Up
20. Pitbull – I Know You Want Me (Calle Ocho)
21. Reel 2 Real feat. The Mad Stuntman – I Like To Move It
22. Ricky Martin – Living La Vida Loca
23. Run DMC vs Jason Nevins – It's Like That
24. Salt N Pepa – Push It
25. Shaggy – Boombastic
26. Sir Mix A Lot – Baby Got Back
27. Soulja Boy – Crank That
28. The Backstreet Boys – Everybody (Backstreet's Back)
29. The Jackson 5 – I Want You Back
30. The Pussycat Dolls – Don't Cha
I give SingStar Dance 8