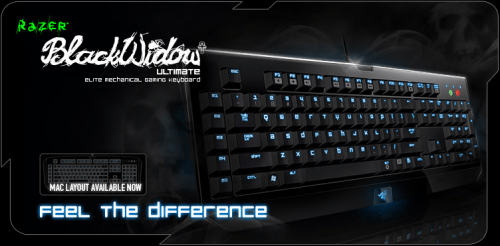 Razer BlackWidow Ultimate Keyboard – Elite Mechanical Gaming Keyboard
Developer: Razer
Compatible with: Windows® 7 / Windows Vista® / Windows® XP / Mac OS X (v10.5 to 10.6)
Available for purchase at: Official Razer Store ($129.99USD) or Official Razer Store ($199.95 AU)
The first time I laid eyes on the Razer BlackWidow Ultimate was back in 2010 in the Razer booth at Tokyo Game show.  I instantly fell in love with it, as the Razer representative was explaining its features to me, I wasn't actually listening to anything he was saying, I totally zoned out and all I could think of was its Ultimate beauty and hoping that one day I could have her in my room on my desk all alone and all to myself.  Well people, that day has finally arrived:  Razer's BlackWidow Ultimate keyboard appeared on my doorstep and after unpacking it I have her all to myself, turning off the lights, I can finally get acquainted with all her amazing features such as her illuminated and 1ms response time keys.  Is the BlackWidow's beauty really that ultimate?  Read on and find out.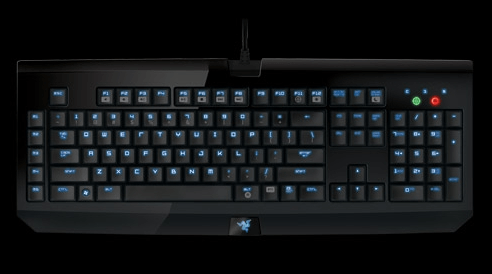 The Razer BlackWidow Ultimate keyboard is a fully mechanical keyboard with 50g actuation force providing 1ms response time. It's fully programmable keys allow on the fly macro recording. It also has USB-pass-through and Audi-out / Mic-in jacks along with very cool backlight features.
The look of the of the BlackWidow Ultimate is very slick, one thing that I do want to mention is that it's got this high gloss boarder running around the entire keyboard that personally I don't like as it's a magnet for dust and my pet peeve "finger print marks" This can make the keyboard look messy in the light. The keys however are a nice matt black and feel great on the fingertips.  For all you wireless fans out there, the Blackwidow Ultimate is NOT a wireless keyboard but it has a very long braided cable (very well insulated) that feels like cloth/material. As always with all RAZER products the packaging is top notch and taking the keyboard out of the box is a quick and simple task that will not have you ripping or tearing apart anything.
Gone are the days of having your little desk lamp turned on so you can see where your typing, with the BlackWidow Ultimate you have individual backlit keys with five levels of lighting, pressing the function key along with the light key will toggle you between all five modes which are dull to very bright.  I personally love the blue colored lights on the keys as they are easy on the eyes and don't feel at all annoying to look at while typing in the dark. Also the light matches the lights on the front panel of my PC so that makes it even better for me as I like color co-ordination in the office and while playing video games.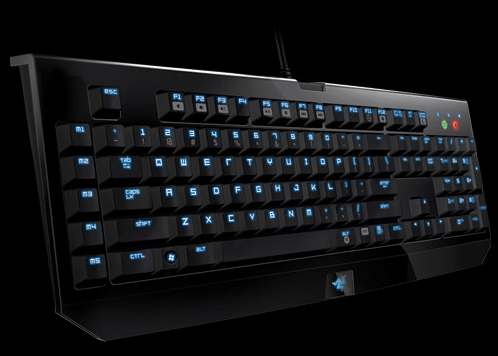 The first you will notice about the Ultimate is that it's very solid and quite heavy, weighing in at 1.5kg's. Being heavy does have advantages and it does come in handy when you're play games such as first person shooters or RTS such as Star Craft II where your fingers are moving frantically all over the place and you can't afford to look down to re-adjust yourself because the keyboard moved slightly, this can sometimes be a deciding factor in tournaments or online matches.  I personally found the weight of the keyboard to be a major plus for me in terms of gaming and even when I'm just trying to type I don't want to re-align myself because the keyboard moved, I want to stay in the zone and type away like a madman and the BlackWidow Ultimate gives me that option.
I must say that for the first few hours using the keyboard it did feel a little awkward as this was my first time using a mechanical keyboard the keys are far more responsive than a regular keyboard that uses the standard rubber in lay (old keyboard Logitech MX 5500) but after a while as with all things you start getting used to the keys, the pressure and the feel and most importantly the clicking sound really helps with typing and I believe it improves your accuracy and speed.
The main feature of the BlackWidow Ultimate mechanical keyboard is the feel.  On a regular keyboard you never quite know if you've actually pressed the specific key fully so that it registers to the PC and through to the game or an the email your typing, but with the Ultimate keyboard when you push any key on the keyboard down slowly or fast you hear a "CLICK" this sound also plays with your head because if you can hear the click that means its worked and you know you can move on and press the next key.  As previously mentioned the 50g actuation force and a reduced actuation of 2mm resulting in 1ms response time is amazingly quick and what you need for online gaming or just touch typing in the office.
Another cool feature available is the audio-out / Mic-in Jack and USB-Passthrough.  You can of course plug in your headset into the mic/audo jack (which worked quite well) and then a USB memory stick or USB mouse without having to maneuver you way to the back of your PC and fiddle your way through finding the jack or the USB slot.  I'm personally using the USB-Passthrough with my audio headphones and they are working perfectly, would have been nice to have 2 USB slots hey one slot is better than none.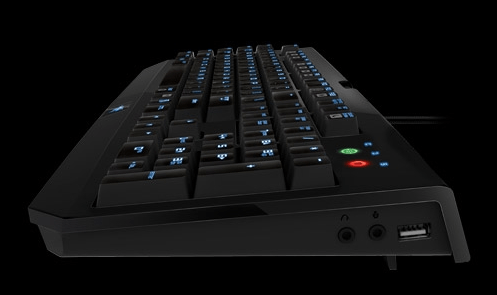 Finally, the part where all the MMO fans came to read.  I must say that the Black Widow with its "On-The-Fly macro recording and 10 customizable software profiles is where the magic really happens, with a simple click of two buttons you can set your macro click again stop the recording and your right to go.  I'm not a big fan of MMO's so I didn't test it out on WOW or RIFT but I did test the on-the-fly macro on a few of my Steam titles such as Mass Effect, Amnesia, Torchlight and Beyond Good and Evil and had no problems what so ever.  You have the option to change between 10 profiles without having to go into any driver menus which is where the BlackWidow blows many of the other keyboards out of the water.
Now how much do you expect to pay for all of this you ask?  Well if you live in the USA the BlackWidow Ultimate is retailing for $129.99 from the Razer store.  If you live in my neck of the woods (Australia) the BlackWidow is retailing for $199.95.  Quite a huge jump in price difference, now taking both these prices into consideration the BlackWidow is still quite expensive, are you getting your money's worth? I have to say YES! But can everyone afford this Ultimate keyboard?  I'd probably say no.  That said the BlackWidow Ultimate with its mechanical and backlit keys, programmable on-th-fly macro recording, audio and usb-passthrough make it a delight to work and especially game with, both casual and of course hardcore gamers will find plenty to love in this keyboard.  If you can muster up the cash to pick one up – you will not be disappointed.
Technical Specifications
•Full mechanical keys with 50g actuation force
•Individually backlit keys with 5 levels of lighting
•1000Hz Ultrapolling / 1ms response time
•Programmable keys with on-the-fly macro recording
•Gaming mode option for deactivation of the Windows key
•10 customizable software profiles with on-the-fly switching
•5 additional macro keys
•Gaming optimized key matrix for minimized ghosting
•Multi-Media Controls
•Braided cable
•Audio-Out / Mic-In Jacks
•USB-Passthrough
•Approx. size in mm: 475(L) x 171(W) x 30(H)
•Weight: 1.5kg
System Requirements
•PC with USB port
•Windows® 7 / Windows Vista® / Windows® XP / Mac OS X (v10.5 to 10.6)
•Internet connection (for driver installation)
•At least 75MB of hard disk space