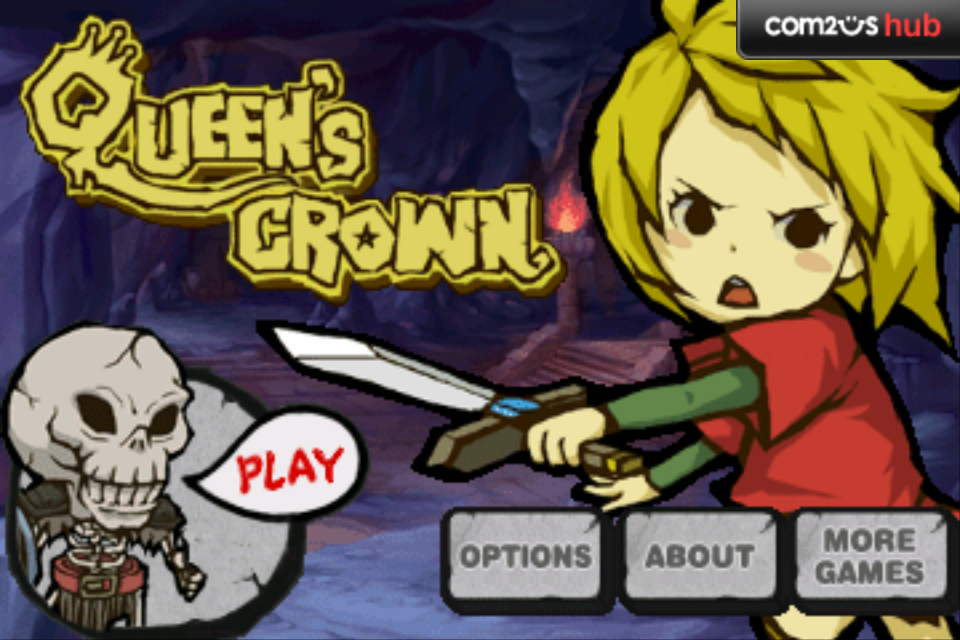 Game Name: Queen's Crown
Platform(s): iPhone/iPod Touch/iPad (iOS 3.1.2 or later)
Publisher(s): Com2us USA, Inc.
Developer(s): Com2us USA, Inc.
Genre(s): Action, Casual, RPG
Release Date: 2nd December, 2010
Price: $4.99 (Now on sale for only $2.99! GET IT HERE!)
Overview
Just when you thought you would have time to finish off the already-great-amount of RPG titles that you owned in your iOS devices, Com2us adds another one to the list. The name is Queen's Crown and it is another hack-and-slash RPG title, slightly different from their popular RPG series, The Chronicles of Inotia. It has a deep storyline, with humors chipped in here and there to assure you an enjoyable adventure throughout. This time around, you will be placed in the shoes of Ann, the precious princess and the only heir of the throne in the Scarbelhold Kingdom, which is at the edge of destruction, again.
Storyline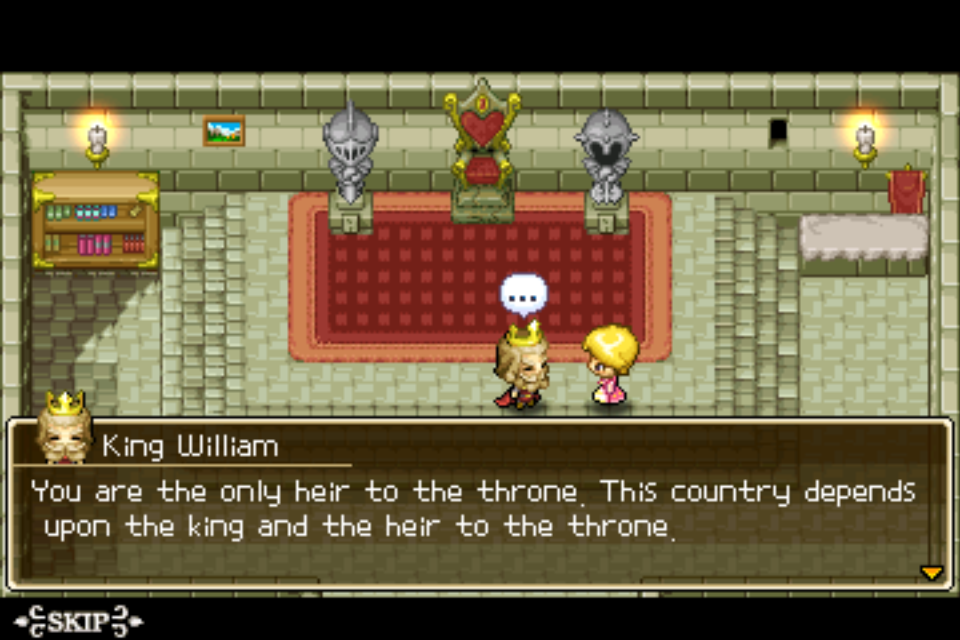 When you first started, you will be introduced to the history of your kingdom with sentences flashes on and off on your screen. It basically tells you about the tale of the Golden Crown. Apparently, the Fairy sacrifice herself in order to helps protect the Kingdom during the battle with Skelentom and its three demons. Years later, the castle is attacked once again by the evil forces after enjoying several years of peacefulness. Your father (more precisely, Princess Ann's father), King William will ask you to leave the castle through a secret tunnel located just behind his throne. He also asked a female servant to protect you along the way (not for long, though).
You will then be babysat by the female servant for the next few minutes. Her name is Katrina, she will be in charge of the tutorial session in-game and will also appear on and off during the game. Only after these tutorial lessons that your journey in the Scarbelhold Kingdom will truly begins. Your mission is to recover the peace in the Kingdom. Sounds simple? You bet! Plenty of monsters and bosses will attempt to stop you (as well as the Grim Reaper who constantly express his love towards you). Be prepared for a challenging journey ahead!
Gameplay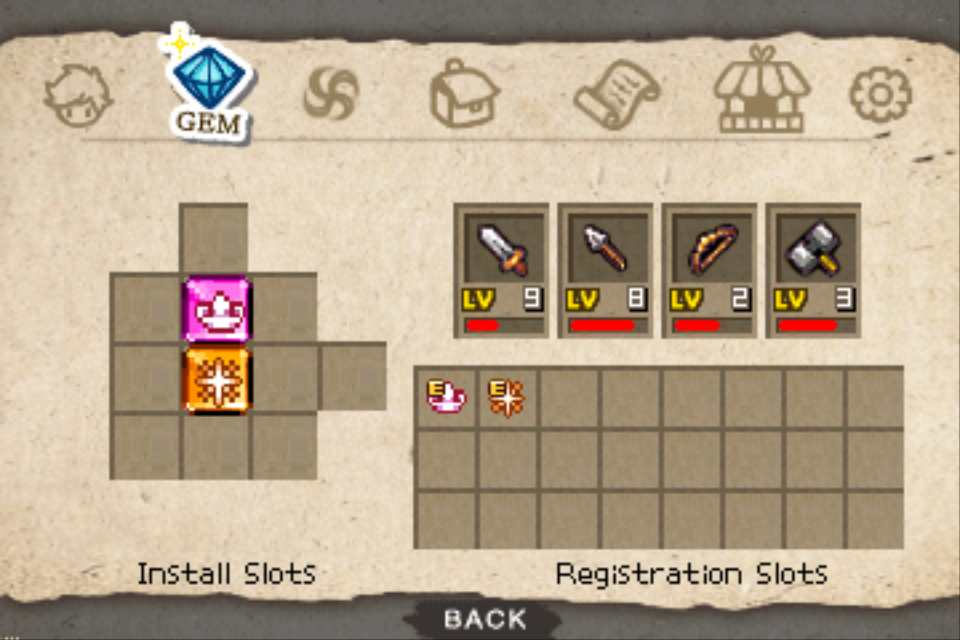 There will be four different weapons for you to play with; each comes with a special ability of their own. It is your top priority to master the usage of each of these weapons as they are usually useful in many different situations. For example, having to dash quickly with the spear allows you to dash through monsters, or the tornado'ish ability of the mace could help you get out of trouble if you happened to be surrounded by many monsters (and it's going to happened a lot of time, seeing that the respawn rate of the monsters in Queen's Crown is pretty high).
In general, the towns and dungeons in Queen's Crown are significantly smaller compared with the other similar titles (Zenonia, The Chronicles of Inotia, etc). However, Com2uS compensates that by bringing several new features to the game, which include things like infinite dungeons, weapon-leveling system, unique game quests and bosses that appears after the ending. One of it that worth mentioning is the Gem System. This is the only way to differentiate your princess from the others. By equipping different gems (which you will be collecting during your journey), your character grows in terms of increments in stats or strengthening of your skills. In addition, you can also strengthen your weapon by enchanting it with the gems. Do note that gems registered with the gem slots cannot be used/recovered to enchant your weapons, so use them wisely!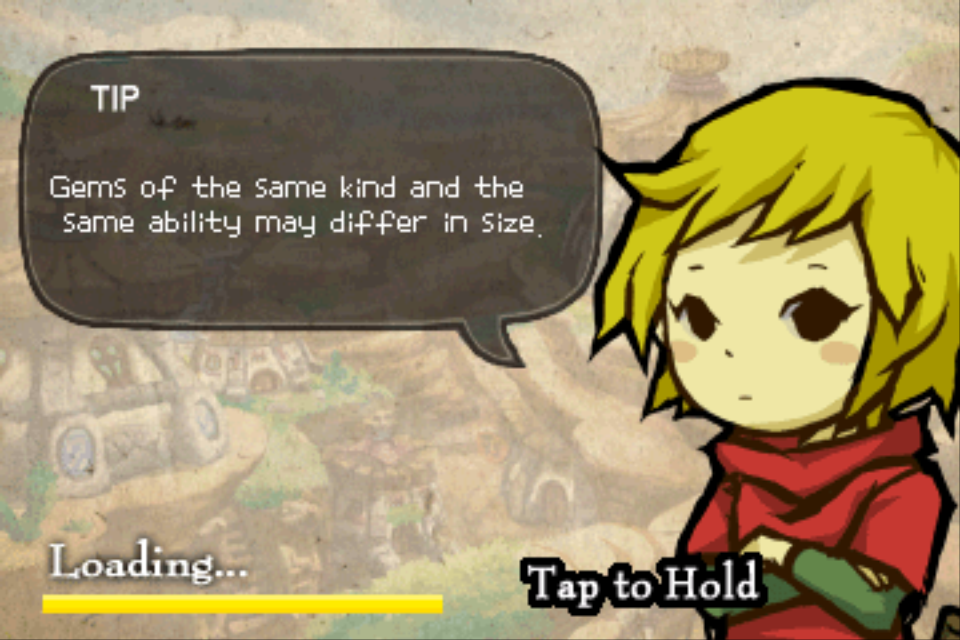 There are also a lot of other features included in Queen's Crown which are greatly welcomed in any RPG, such as the auto-save feature, simplified mini-map and the IM-like emotions and speech bubbles during a conversation. I like the fact that important information are color-coded, assuring that they will not be buried in the sea of information presented to the player. I also like that I only need to walk over an item to pick it, instead of staying close to the item and press the action button like in most RPG on the App Store. Save me a lot of time.
The only possibly downside of Queen's Crown is probably it's lacking in terms of customization. You will only have 6 magic skills to play with, without any skill trees to develop. Apart from that, there are no job classes to choose from, you will play the ONE and only Princess Ann, with 4 different stats (STR, VIT, DEX, INT) to add as you gain stat points by leveling up. This also means that characters across players are going to be very similar. I'm not saying that it's not good. In fact, I actually like it, but the other players would either just love it or hate it.
Controls
Control is one of the most important aspects of an RPG, and Com2uS simply nailed it down perfectly. The touch buttons are responsive at a soft tap of your finger, and movement is simply very smooth with the D-pad. Also, there is a wheel-style button on the top left and right corner of the screen, which allows you to quickly switch your current active skill and weapon respectively simply with a touch. Sadly, you would not be able to customize the size and visibility of the controls button, which seems to be a norm on the App Store nowadays. Well, the default is good enough in my opinion, so no complaints here.
Graphics
Visually, I think this game looks fantastic. It might not have Retina Display-enabled graphics, but I think it's very adorable to look at. Com2uS adopted a graphics style that has never seen before in its past game releases, with adorable characters and colorful cartoonish backdrop. It is working very well with the game. It mimicked a 16-bit graphics style that was used in many chart-topping RPG on the App Store, which appeals to most gamers on the Apple handheld devices.
Conclusion
Overall, this is one of the great casual RPG that you will rarely see on the App Store. The lack of customization in terms of character building might not appeal to some people, but it is actually a plus point to people who doesn't want the stress to worry about their character every single minute. It also has Game Center and Facebook integrated for you to show off your great stats and achievements to your friends. Simply said, Queen's Crown has all the elements you would want in an RPG game, minus the stress. With up to 10 hours (or more) of gameplay at a low price point, there is no reason for you not to get it if you are an RPG fanatic.
Queen's Crown earned…