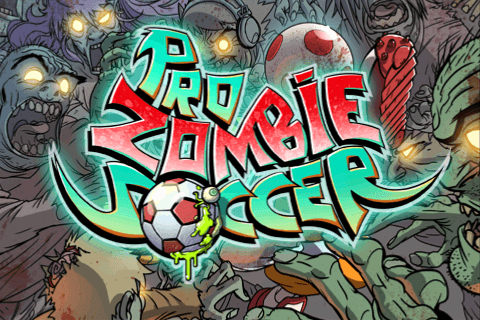 Pro Zombie Soccer
Company: Chillingo
Platform: iPhone (Reviewed)
Release Date: Jun 15, 2010
Price: $0.99 – Buy Now!
Story:
Poor Jax, he is an average soccer playing but unfortunately he never did become recognized professionally. However now that the world is about to come under quite an interesting zombie apocalypse, the only ones around will be the zombies to see what he can do with that ball of his.
Though through some unfortunate circumstances he will no longer be able to stay on the opposition very long as he was bitten by a zombie soccer player when the apocalypse began. And because of this he now has amazing soccer prowess and will use this new ability of his to survive as long as he can before he to turns into one of the undead.
The story itself is told through a number of comic book styled cut scenes that are very incredible looking. These cutscenes are very comedic which helps to keep the game fresh as everytime you finish a level you will be treated to a sometimes funny bit of story here and a plot twist there.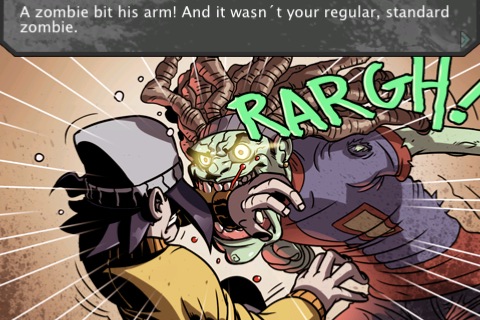 Graphics:
As you begin Pro Zombie Soccer you will be introduced to the first cut scene and right there you will see what looks like it is straight from a comic book. The artwork is excellently drawn and colored. Everything you are seeing in this comic style art is superb and over the twenty levels you will be experiencing are a major highlight for finishing a level and advancing to the next.
The actual game play itself is just as detailed as the comic book cutscenes. There are a large amount of zombies to deal with, from schoolgirls and football players to zombie swat teams. You will be seeing a large variety in the enemies you will be facing and each one is very unique in both appearance and the way they act. Of course as this is a zombie game you will also be introduced to quite a large bit of blood and gore so if you do not appreciate a nice decapitation or some guts flying around then this may not be a title for you. But c'mon…. they are zombies being destroyed by a kid with a soccer ball!
Gameplay:
When you choose to begin the game you can select either Normal or Hardcore difficulty. As you play through the game you control Jax on the left side of the screen and then aim his shots using a slider on the left side of the screen, this will determine where your attacks will land and destroy any kind of zombie. There are a few different zombies that will require specific actions such as bouncing off the wall or hitting them right between their undead legs.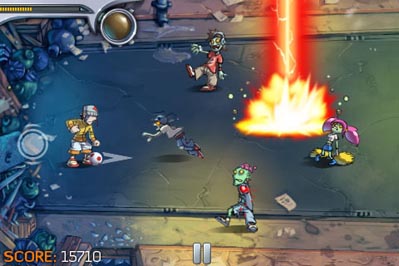 There is of course your own special attacks to go along with the amount of damage you can do to the zombies. The first of these special balls is called the Lightning Ball, which makes the ball travel faster and return to Jax quicker. The second special ball is the Piercing Ball that will plow through multiple zombies at one time and can turn the tide of the zombie waves. Third and definitely not least is the Angry Military Satellite which can unleash hell upon the zombies through laser attacks from space.
There are two different types of mode that will be unlocked outside of story mode once you have finished the given levels. These two modes are the hardcore mode that will unleash a heavy onslaught of zombies upon Jax. And then the Zombie Odyssey which is more or less a survival mode.
Overall:
There are plenty of different Zombie apps on the marketplace but you will be hard pressed to find any game with a set up like this one. Killing zombies with a soccer ball, and the storyline to go with it will put this game at the top of your list of apps. There may be a bit of an issue with repetitiveness but this is broken up due to the amount of comedy you see.
I give Pro Zombie Soccer: