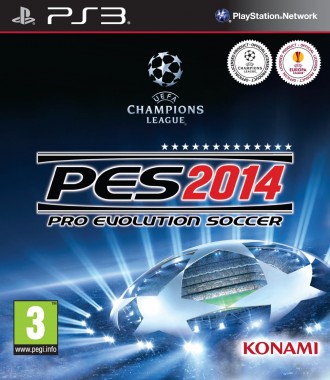 Pro Evolution Soccer 2014
Developer: PES Productions
Publisher: Konami
Platform: Playstation 3 (Reviewed), Xbox 360, PC
Release Date: September 19, 2013
Price: $59.99
Overview
The Pro Evolution Soccer franchise is one of the longest running and enduring in the sports video-game genre. Here we are now with the 14th installment in the series and this is arguably the game that most lives up to the name of 'Pro Evolution Soccer'. This is a game that evolves the soccer video-game formula into new and interesting directions and improves on it tenfold. For what it lacks in big name licenses, it makes up for with gameplay excellence and some of the most remarkable aesthetics seen in a sport game this generation. Pro Evolution Soccer 2014, or more commonly referred to as PES 2014, is a special breed of sports game and it is one that scores goal after goal in all the right places.
Gameplay
This is a game that is both for hardcore soccer fans and also for those who casually enjoy the sport. PES 2014 is a simple yet complex game that has a multitude of layers to its gameplay that can both benefit those who explore its finer details and those who want to just sit down and play around with it for a bit. Put simply, it captures the perfect balance between hardcore and casual play.
The control scheme is mapped out logically and quickly becomes second nature after a few minutes playing with it. For more hardcore players you can switch to a more detailed control scheme which will allow for some more creative play than simply sticking to the default.
One of the most important evolutions seen in PES 2014 however is its improved computer AI. The opponent's AI is well designed to add a greater sense of realism as players behave in more 'human' ways and react naturally rather than mechanically. They will attempt strategic and tactical play in ways that you just don't see in your run of the mill soccer games. It is clear that a great deal of attention was paid to fine tuning the AI with this new Fox Engine and the pay off was well worth it.
On top of that, there is a new system that is introduced to the series with this game which is known as M.A.S.S. or the Motion Animation Stability System. This new system makes physical contact between players more genuine and true to life than ever before. Not only that but even the way the ball itself connects with the players is more accurate in its depiction than previously seen. It is a true technical feat and one of the more impressive components of the game.
PES 2014 features several gameplay modes, each with their own wealth of entertainment to be enjoyed. Probably the most played mode will be the standard match mode, a jump in and play exhibition style mode that allows players to set up a match and just go for broke with it. This mode also crosses over to online play and can play played up to an impressive 11 vs 11 online match.
Also of note is the Football Life mode which is effectively the career mode of the game. You can take on the roll of manager of your chosen team and even take to the field yourself to compete. It's a lovely mode with a great amount of depth that will give players countless hours of playtime as they try to build the perfect team and win each competiton that they partake in. It is clear that PES Productions placed a great deal of effort into creating an immersive and deep experience here with Football Life and they have succeeded.
The game features an impressive Competition mode to boot that allows you take a team through a competition as is evidenced by the title of the mode. It is a simple and fun mode that lets you challenge yourself on how far you can take your team in a tournament setting. It is a great place to test your mettle before going to the big league of the aforementioned Football Life mode. No tonly that but it is a great deal of fun taking on team after team in some epic clashes.
PES 2014 also packs a comprehensive training mode and edit mode. Both modes are superb thanks to their incredible amount of detail. There is a lot of things to try out in training mode as far as editing goes there is more customization availabl ehere than you could possibly imagine. They are two great modes that round out the incredible experiences available throughout the game.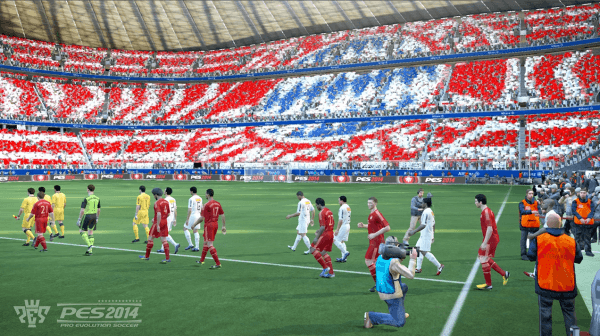 Whether you play PES 2014 online or offline, it is a wildly addictive game that is simple yet complex, challenging and a whole lot of fun. The online mode is especially impressive with the number of options available to players to customize their matches and how many players can be brought together for an epic battle of the ball. The match-making works well and it couldn't be more easier to jump into an online game with the simple click of a button. PES Productions have done well to create a fluid and exciting gameplay experience.
Konami have released several DLC packs for the game, a few of which we were given to try out along with the rest of the game. Included were a plethora of kits for teams such as Benfica, Manchester United, AS Roman and AC Milan. These kits and more are all available as part of the awesome European kit pack, Latin American kit pack and 3rd kit pack. All packs are well worth the download and add some star power to the game with these huge names in the sport.
All in all, PES 2014 signifies a true evolution in the genre and that is highly evident by its gameplay that goes above and beyond in all regards. The only thing that lets down this otherwise remarkable game is the lack of some key licenses such as the Barclay's Premier League, however the UEFA Champion's League more than makes up for that.
Visuals and Audio
There is simply nothing that compares to the aesthetic excellence on show in Pro Evolution Soccer 2014. It is awe-inspiring visually, with graphics that look about as close to real life as you can get. It looks and feels like you are controlling a real game of soccer and that in and of itself is a testament to the stunning work PES Productions have done to make that game as good looking as it is.
Comparitively the game's soundtrack is more hit and miss. While the visuals are gorgeously detailed and highly impressive, the soundtrack is a scattershot mess of opera tracks, pulse pounding rock, accordian instrumentals and even some bizarre choir recordings. It is a mish mash of genres that doesn't quite come together, but it undoubtedly gives the game a unique audio experience that will stick with you for better or worse.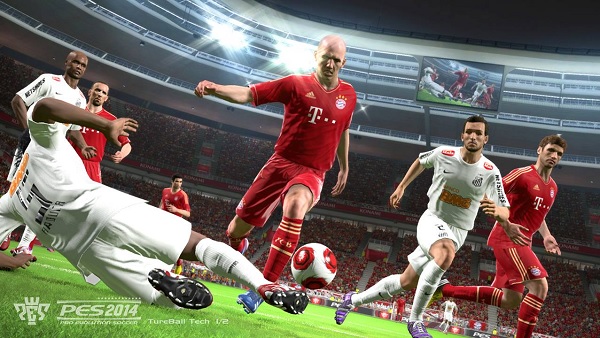 Overall
PES 2014 is a crowning achievement in the soccer game genre. PES Productions have done an incredible job on the game, creating a rich and detailed immersive experience that gets better the more you play. There is a lot to see and a lot to do in PES 2014 and it will undoubtedly provide you with hours of fun for your price of admission. What really sets PES 2014 apart however is the strides it takes to evolve the genre. With updated AI and hit detection, there is a level of realism to PES 2014 that is truly unprecedented. This is a remarkable game by all counts. Konami have scored a big time goal with PES 2014, this is the soccer game to own this year.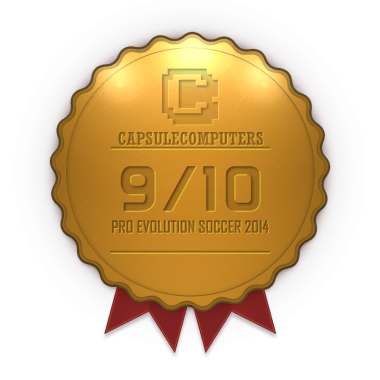 Capsule Computers review guidelines can be found here.