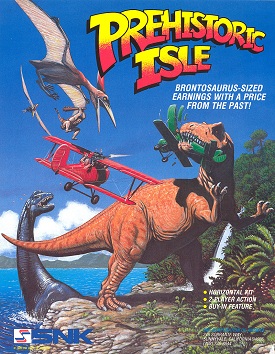 PREHISTORIC ISLE
Platform: PSN
Publisher: SNK PLAYMORE
Release Date: December 20, 2011
Price: $4.25
Overview:
PREHISTORIC ISLE is a 2D side scrolling classic produced by SNK PLAYMORE and released in the 80's. It has been re-released for our gaming pleasure, and is known for its addictive game play. The question is can this arcade classic stand up to the expectations of modern day gamers.
Story:
The story in PREHISTORIC ISLE is a simple one. The protagonists are airplane pilots who investigate an island which has had a lot of airplane accidents. As it turns out dinosaurs of all sorts occupy this island, and you have to kill them with your unlimited bullets and only one type of power up. Thus you have to fly around the island, underwater, and finally underground to eliminate all the dinosaurs that occupy the island. The final dinosaur boss is of course the T-Rex, who is bigger than three of your screens, thus you only fight his face, and of course he explodes when you finally kill him. Reading this you can tell the story is lacking in depth, although it is an arcade classic, thus SNK never tried to boost the storyline. This is because this game is meant to be simple and addictive, not one which you have to stand around at an arcade booth for 20 minutes to listen to.
Visuals & Audio:
It is quite obvious that SNK are trying to keep this classic exactly as it was in the arcade, as the visuals are exactly as they were in the 80's. This game employs the very popular screen scrolling model and has the level advance whether you like it or not. The visuals keep with the theme of a classic arcade look, as the game is in 2D with the backgrounds being just drawn pictures, and the enemies being simply moving drawn pictures.
What the visuals lack in the audio excels in. Classic 8-bit audio is employed within this game, having a separate track for each of the five levels. These classic repetitive tunes push us further into the arcade experience and enhance the overall addictiveness of the game, creating an hour spent on this game seeming like only minutes.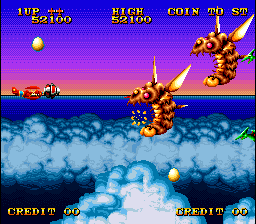 Gameplay:
If I were at an actual arcade I would have spent over $100 on completing this game. It is very addictive, and at first very difficult. Once you get a hang of the controls and learn the tricks of the trade you can start moving through the game with less difficulty. Although the concept is simple, the enemies often swarm your screen and with only your ability to shoot in one direction at a time, it is very difficult to survive. Your only chance is to stack power up's so that you can kill each enemy easily, though once you die all your power-ups are lost. When played from start to finish PREHISTORIC ISLE can be completed within an hour, though I imagine finishing this game on only one credit you would have to be a gaming legend, or have a heavy addiction to the game.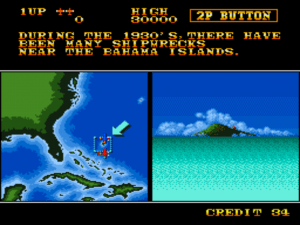 Overall:
PREHISTORIC ISLE is a game which was never meant to stun anyone with it's amazing story and/or visuals, it is a game which is meant to draw you in and make you want to play the same level over and over and over again. I believe that with its 8-bit audio and addictive game play it has done exactly that. I am very much looking forward to SNK re-releasing more of their classic games on today's gaming consoles.