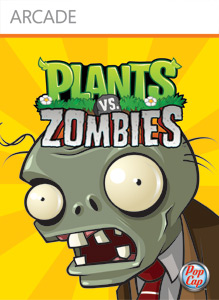 Game Name: Plants VS Zombies
Platforms: Xbox 360
Publisher(s): PopCap Games Inc.
Developer(s): PopCap Games Inc.
Genre(s): Action
Release Date: 9/8/2010
ESRB Rating: E10 (Everyone 10+) Animated Blood Cartoon Violence
Price: 1200MSP ($15 USD)
Story
"A mob of fun-loving zombies is about to invade your home in Plants vs. Zombies™. Defend yourself with an arsenal of home-guardin' plants to mulchify zombies before they reach your front door.
Enjoy all the fun-dead action of the original hit game, plus lively new features. Get twice the zombie-zapping action with two-player versus and co-op modes. Upgrade and decorate your house in the interactive leaderboard, and check out your friends' houses, too. Plants vs. Zombies for Xbox LIVE Arcade is loaded with seven game modes, new rabble-rousing features, and unlimited replayable action … so the fun never dies! " [Via Xbox.com]
There isn't much of a story in Plants vs. Zombies. Zombies are trying to attack your house, while you must defend it with plants. That is pretty straight forward.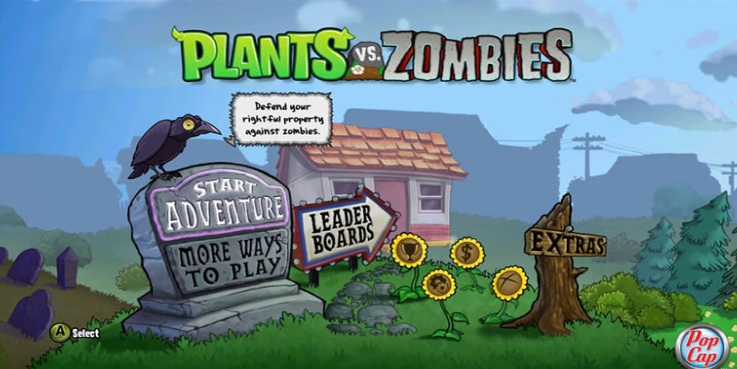 Gameplay
Plants vs. Zombies is a very basic resource management game. You must collect resources, which is sunlight, and then use the sunlight to grow more plants. Use the plants to defend your house. It is kind of like a tower defense game, except you are defending a house with plants rather than building towers to defend other towers.
Throughout the game new gameplay mechanics will be implemented to keep everything fresh. There is night time where you don't get random sunlight, and can only get sunlight from other plants. There is also a pool level that only lets you grow aquatic plants in the water. There are even more gameplay mechanics that create a mixture of experiences and brings something new in each level.
Throughout the game you will get more plants to defend against an ever growing number of zombies. Each plant does something special, and you must plan accordingly because the stronger the plant the more resources are required to grow it. Just as you get new plants, new zombies will appear too. Each zombie has a different ability, or unique stat that makes them a formidable foe. You can check out each different plant or zombie in the almanac within the game.
There are additional co-op modes, and extra minigames that weren't in the original Plants vs Zombies game. For those of you who haven't even played the original, the extra modes are unlocked by playing through adventure mode. There is puzzle mode, survival mode, and a series of minigames such as Zombie Stomping, and Zombie Bowling. There is a lot to do in this game, and tons of fun to be had alone or with a friend.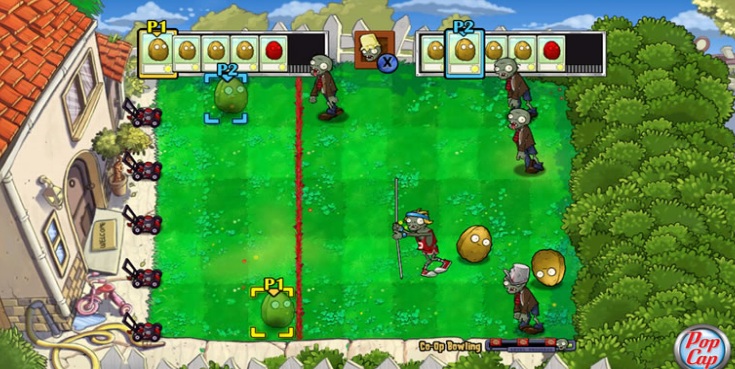 Audio & Graphics
The audio seems to be imitating classic types of songs, but many of them loop regularly and get quite annoying. There are some songs that are catchy, but they are quickly droned out as you focus on what you are trying to do. On the bright sight, all the sound effects are pretty good. Destroying zombies with plants never sounded better.
Most of the graphics are 2d, but don't let that turn you away. The graphic style fits perfectly and it lets you focus on the design more than the actual artwork. There are many different plants, and many different zombies each of which all look different. Early in the game you will unlock an almanac, which lets you look at every plant and zombie you have encountered. Reading the descriptions of each one is awesome, because many of them are hilarious. Every time I ran into a new zombie, I would go and check out what their description was in the almanac. Not only is it funny, but the almanac also gives insight on their stats.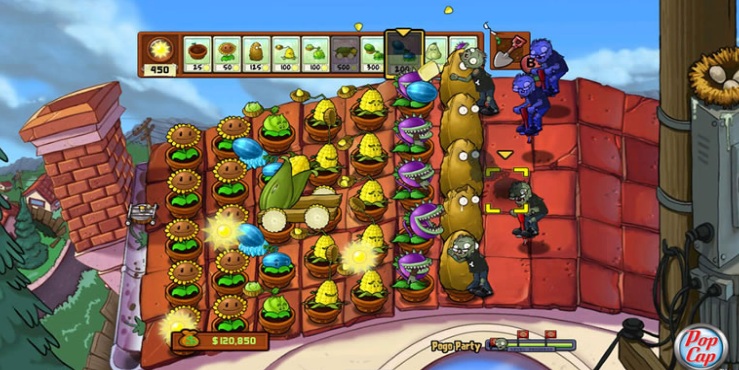 Achievements
The achievements found in Plants Vs. Zombies vary in difficulty, but all of them are obtainable by playing the game a lot. A majority of them require you to do a certain task, or beat a specific area of the game. None of them are actually that hard, and simply just take time. When you start the game, you won't be able to do any of them, but as you progress through adventure mode you will unlock more plants which will in turn let you unlock more of the achievements. Even the multiplayer achievements can't be done until you unlock the multiplayer game mode through adventure mode. The bottom line is that you won't be able to do any of the achievements until you progress a decent way through adventure mode, so just go for "Home Lawn Security" and once you have that, then go for the rest.

Below is the achievement list:
Home Lawn Security – 25 – Complete adventure mode
Master of Morticulture – 25 – Collect all 49 plants in the game
Smarty Branches – 15 – Grow the Tree of Wisdom to at least 100 feet
Crash of the Titan – 10 – Defeat your first Gargantuar
ZFF's 4 Evr – 20 – Bowl a winner with a friend in Co-Op Wall-Nut Bowling
Alive and Planting – 25 – Survive 40 waves of pure zombie ferocity
Soil Your Plants – 10 – Plant your first 10 peashooters
Versus vs Versus – 15 – Go on a 5 game winning streak in VS. mode
Explodonator – 20 – Blast 10 zombies at once with a Cherry Bomb!
Close Shave – 15 – Win any level after all 5 lawnmowers have been used
Shopaholic – 10 – Go trunk diving and spend at least $25,000 on Crazy Dave's Twiddydinkies
Nom Nom Nom – 10 – Stop the horde using only the Sunflower, Wallnut, and Chomper on any level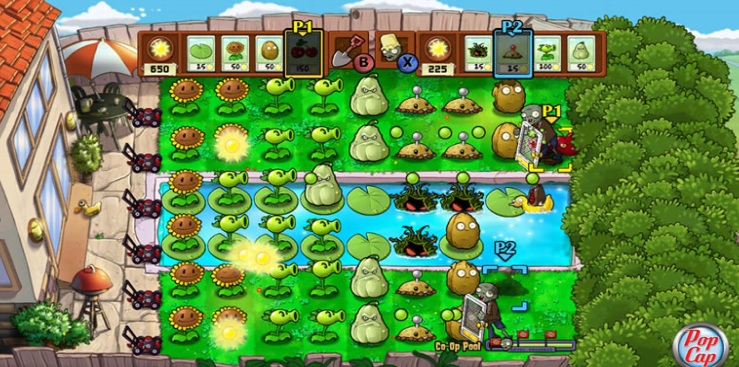 Overview
Zombies Vs. Plants has arrived on consoles, and it is better than ever. If you enjoyed the game on the PC then you will love this version. There are new modes to enjoy as well as co-op. New and improved leaderboards lets you show off what you have done in the game, while looking at your friends' houses to see what they have done. For those of you who have never played the game, Plants Vs. Zombies is an enjoyable experience that lets you manage resources and defend your house from an onslaught of zombies. What more could you want?
I give Plants Vs. Zombies