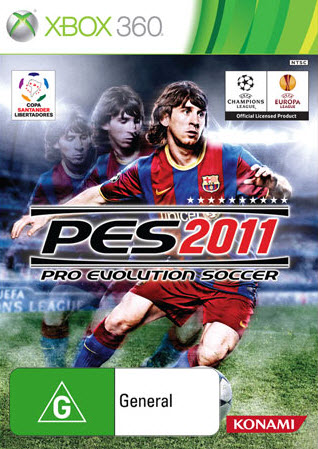 Pro Evolution Soccer 2011
Platforms: Xbox 360 (PC,PS3)
Publisher: Konami
Developer: Konami
Genre: Sports
Released: Out Now
Price: $59.99 US, £39.99 UK, $99.99 AUS
The football console war is one that has been raging on for many years. Just when one game asserts its authority, its opposite number bites back with an innovative new feature or two. I am of course talking about FIFA versus PES. The battle for supremacy favoured PES in the past, although in recent years it has been EA with FIFA who have been leading the way, leaving PES with no option but to follow suit, rather than revolutionise the genre. PES used to be the more realistic game of football, and subsequently was the football-sim of choice for the more dedicated player, but partly due to FIFA's game coming on leaps and bounds and partly due to the formula of PES becoming stale, PES has come in at a sorry second-place for the past couple of years. That said, after last year's dramatic improvements, FIFA didn't bring much new to the table this year, presenting a prime opportunity for PES to catch up and maybe even overtake, but how did it fare?
Although at a glance it would be a fair assumption, it would be unfair to say PES 2011 is indifferent to previous iterations of recent years. Despite the fairly standard proposed developments for this year's game (little more than a new passing system and a 'motion-blur' effect for a viewing experience just like that of a real-life game of football) in actual fact, the game's progression has been much more substantial this year. Where the last couple of titles disappointed, the developers have taken note and created a better game of football as a result.
Konami has finally taken a sizeable step in the right direction here. Take for example the pacing of the matches, an instantly noticeable improvement. It seems someone was listening to the complaints of players of the series, as the match action has been slowed to a much more realistic pace, providing enough energy to let aspects like momentum come into play, while still allowing you to be more tactical in your approach at other times. Not only can you launch a relentless attack and have the opposing defence on the ropes for an age until you finally slot one in, but also you can decide, at times, to slow the play down and approach victory from a different direction if your original strategy isn't working quite as well as you might have planned.
Other changes on the pitch further improve on the nuances of the past, sorting out little niggles. While graphics-wise it is still behind its rival, there is no doubt about it that the presentation of the game has been glossed up, with menu screens looking a bit more polished and less of a gimmick, and player character models looking more realistic, albeit only slightly. The character animation is still a little robotic in nature, with repetitive, and also occasionally buggy, sequences re-enacted in response to events that just happened in the game. The aforementioned passing system isn't as shallow as it might sound. On the contrary, it mixes the game up having a power bar for passing as well as shooting, meaning that no longer can you aimlessly press A, safe in the knowledge that the ball will flow fluidly through each players feet. Manual passing control means that you have to know where you are trying to pass the ball to, instead of just hoping for the best but secretly knowing it will end up at your team-mate's feet. If you do this in PES 2011 you will find yourself giving away possession very cheaply, and it is this new addition which adds an unprecedented level of depth to passing in a football game.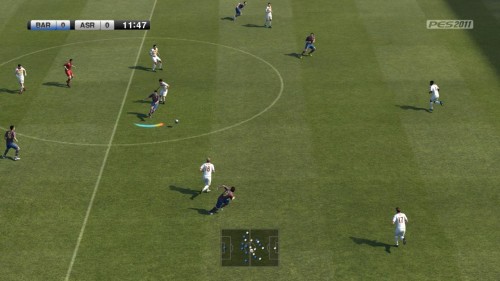 The game also features a noticeable differentiation between difficulty settings, which is great. You can feel your gradual skill progression until eventually you realise you are beating opposition you were struggling on before, signalling it is probably time to put the difficulty settings up a notch. The AI is still iffy in places, although the CPU opponents capabilities are sufficient for a tough match. The main weaknesses in the AI are just when it comes to your own players decision making. For instance, if the ball is right next to one of your players and moving very slowly, but it is intended for another player, he will leave it to be intercepted, no doubt, instead of collecting it so the ball doesn't go to the opposition. The other downfall of the AI is the goalkeepers, and while I can empathise as this is a difficult position to program, simply because the decisions a real football 'keeper on a match-by-match basis are the most important and the most frequent of all positions on the pitch, it really isn't up to scratch. Luckily for Konami, this is something FIFA has yet to sort out either, but unluckily for us, this means, as the AI controls the goalkeeper for the most part, a lot of awful decision making that can lead to the gifting of cheap goals.
From the menu screen there is a fruitful and varied selection of modes, from the well respected 'Master League', to various other cups and leagues, online functions, and the unsubtle mimic of FIFA's 'Be a Pro' mode named 'Become a Legend'. Firstly, 'Become a Legend' mode – although it will probably be a mode you play the least due to its disengaging nature (similarly to FIFA's version) of playing as a lone player as opposed to the whole team. It puzzles me why anyone would favour this over playing as the entire squad; it fails to involve the player and is uneventful on the whole. Also, this copycat gesture comes across as a little desperate, because despite both modes in their respective games being poor, FIFA's possesses slightly more polish. Conversely, the developers should have tried something more innovative to set it aside from FIFA instead of just resorting to mirroring the opposition's movements.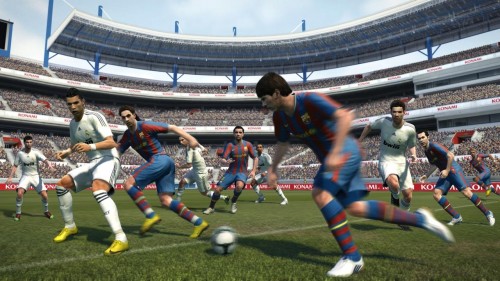 Maybe it is the fact that EA holds the lucrative license, which, as a consequence, leaves Konami with the dilemma of having to give teams ridiculous names like 'West London Whites' and 'West Midlands Stripes', but in a lot of ways FIFA 2011 is a more gripping experience. Granted, the Master League is engrossing to play, and the range of game modes means the game can literally last as long as you need (presumably until next years edition) but FIFA has a greater sense of authenticity and as a result, is more compelling to play. Along with the official team names, kits and leagues, certain aspects of the game make it feel more "real". Where its rival visually presents an injury, PES is content to pop up a picture of a physio telling you a player is out injured; it just feels a bit prototype-like.
In conclusion, Konami has come up trumps and offered up a great game of football. It has to be the best PES for a few years, and it is nice to see the franchise has made it out of the divot it has been stuck in for a few years. Niggles have been fixed and pacing issues have been addressed, and on the whole it is much improved from last year. Although there were welcome gambles this year such as a new passing system, there is a lack of new ideas coming in, so next year it would be better to see some fresh features rather than rehashed versions of others. FIFA ever-so-slightly edges it, but PES has certainly closed the gap this year. An entertaining game of football, it's just FIFA 2011 is a bit better.
Pros
On the whole, a great game of football
Improvements galore on last years version
Wide choice of game modes- longevity
Cons
Not unique enough
FIFA's still slightly better, but it's close