Only Lovers Left Alive
Studio: Recorded Picture Company, Pandora Film
Publisher: Madman
Formats: Cinema
Release Date: April 17, 2014
Overview
Only Lovers Left Alive is independent film icon Jim Jarmusch's latest, starring the extremely popular Tom Hiddleston (THOR, The Avengers) and always enthralling Tilda Swinton (We Need To Talk About Kevin, The Grand Budapest Hotel) as centuries old vampires who live for love amongst a dying world. Jim Jarmusch is often credited with kindling the American independent film movement with his 1984 absurdist comedy Stranger Than Paradise, and has since remained a major presence in independent cinema state-side. Though its appeal may widen as it stars the white-hot Loki himself, Only Lovers Left Alive is art-house personified and might not be for most.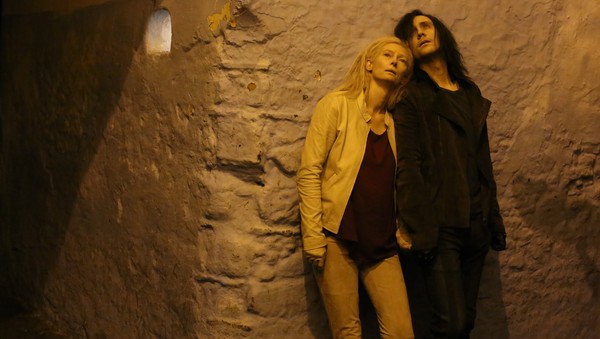 Story
Adam (Hiddleston) is a reclusive musician, living away from all of what's left of society in a Victorian-era house on the abandoned side of Detroit, Michigan (although, it seems the whole of the United States has been effectively abandoned), apt for a vampire such as he. A crisis faces the "zombies" of the Earth – how Adam unsympathetically refers to humans – as they fail to find a solution to their increasingly self-polluting ways. It's not the ozone layer or global warming that is cause for concern, but instead our global water supply. When he's not busy lamenting the depressing state of the world "zombies" have left in their wake, Adam continues to make new music, which always ends up sounding solely appropriate for funeral services. He's also drawn to the lure of suicide, asking local 'rock and roll kid' and personal supplier of guitars and other eccentricities, Ian (Anton Yelchin), if he knows a guy who can craft him a wooden bullet of the densest wood. Ian is quite naive, not even connecting the dots or batting an eyelid at the odd request. Adam obviously knows this, and trusts him because of this very fact.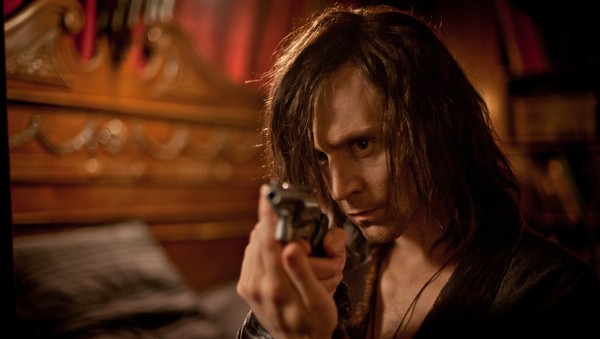 Eve (Swinton), Adam's wife (as if the biblical names didn't already tip you off), lives a decidedly different life across the other side of the world in Tangier, Morocco. Living in a technologically abaft country by comparison, Eve is not completely opposed to new technology, such as her iPhone which she uses to video call Adam. He on the other hand, living in a once advanced metropolis, is anachronistic in his insistence on complicating affairs, hooking up his old laptop's webcam to a tube television in order to complete the communication. Eve is happy in Tangier, supplied with O- blood from her mentor and fellow vampire, dramatist and poet Christopher Marlowe (John Hurt), but upon witnessing Adam's clearly morose frame of mind and spirit, decides to fly over to be with her love. Once reunited, the audience is not subjected to an almost expected, lustful rendezvous, but one that shows the true depth of the fondness between these world-weary souls. The film doesn't really have much of a plot, per se, with the only real event being the arrival of Eve's sister Ava (Mia Wasikowska), whom Adam despises for certain transgressions she made in the past.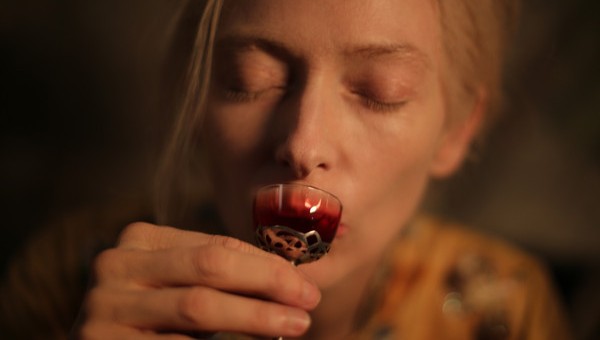 Ava's "crimes" are never spelled out to the viewer, but spending one minute with the character is enough to explain his adverse attitude towards her; she is a spoiled, teenage brat maturing as slowly as her vampire body decays. Once again, her actions land the couple in an unfavourable position that ultimately instigates their leaving to Tangier in order to avoid potentially unwanted attention. The film features some humorous, satirical and sometimes scathing lines, mostly aimed at the music industry. Some may find it too self-aware or self-indulgent in those pop-culture referent moments, but from someone who has experience in the medium like Jarmusch, it's okay to trust in his knowledge and laugh along with him. The film does drag slightly with a runtime of just over two hours, particularly in the final twenty minutes or so, also succumbing to a somewhat abrupt end. However, the vibe of the film isn't like any other, which along with the superb acting from our leads, is reason enough to drink in this art-house experience.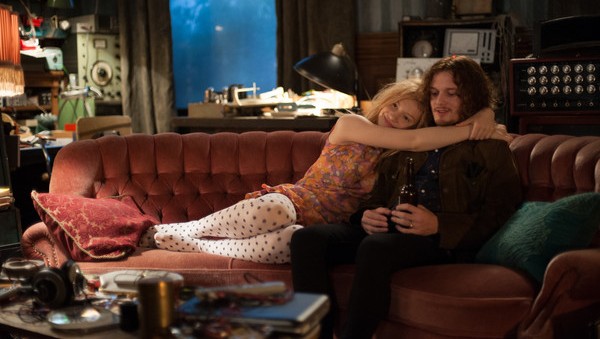 Visuals & Audio
If anyone walks into the cinema without knowing that the protagonists are vampires, they will as soon as the reel rolls; the text of the opening credits is all made in a deliciously dracula-esque gothic font. The film opens with a spinning record slowly dissolving back and forth to a spinning shot of Eve laying on her bed, staring up at the ceiling, a visual transition technique that Jarmusch utilises multiple times to great effect, matching the movie's pace and airy feel. The lighting throughout is naturally sourced. Though Tangier has an overall warmer colour palette, rarely is a scene not bathed in shadow and dark tones. Adam's Detroit abode is dim and darkened, with the cool rockstar having closed every curtain and blocked out all light. As a vampire, that's a necessity, but his personal style is similarly drab, opting only to decorate with blacks, deep reds and purples; the colour scheme, combined with the numerous instruments and records lying about, appropriately presents the feel of a lived-in music studio as opposed to an inviting home. Adam's very possessions and decor are antiquated, from the furniture to his 200+ year old dress robe.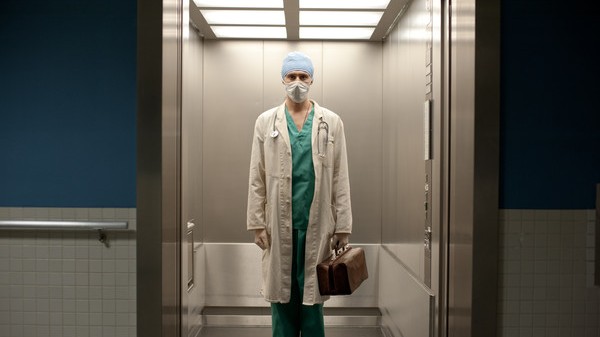 The visual symbolism in the film goes beyond their immediate surroundings as Eve wears all white, with Adam wears all black; Eve believes in seeing the positive in this existence, choosing to dance her cares away while Adam is the pessimist, opposing her stance. Even Eve's hair is of an unusual, but metaphorically stark, white hue. The original instrumental soundtrack of the film composed and performed by Jozef Van Wissem & SQÜRL has an airy, yet haunting quality to it. When the droning guitars kick in, it becomes quite hypnotic. The strings are the focal point across the board, mirroring Adam's obsession with all things bowed and plucked. In fact, some of the score doubled as the fictional music the character was responsible for creating. Lebanese singer Yasmine Hamdan gets a spotlight moment near the conclusion of the film with a seductive and mesmerising performance. Hiddleston himself busts out an elongated version of Paganini's Caprice No. 5 on violin in a single-shot, with no editing trickery. Surely there are other ways to fake it in post, but for all we know, Hiddleston is simply a very quick learner.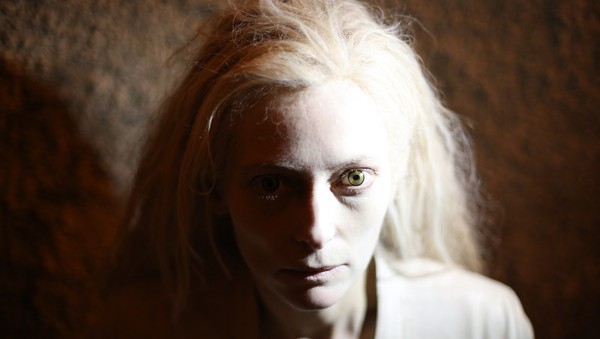 Overall
It's extremely hard to classify Only Lovers Left Alive; it's part trippy, musical love letter, part dark comedy, part vampire romance (not like Twilight, mind you) and part existential study. At the end of the day – as Adam and Eve would require – Jim Jarmusch has created a vehicle for the wonderfully ethereal Swinton and brooding, but tender Hiddleston to dig their fangs in and help bring the independent film community a fresh, atypical take on vampires. Heart-achingly relatable in its message and, dare I say it, human, Only Lovers Left Alive is a beautiful and twisted, albeit long in the tooth and meandering tale. Regardless of whether you attain any meaning from the feature, there's certainly this intangible, effortlessly enchanting and artistic aspect to Jarmusch's newest creation that demands our eyes and our ears.

Capsule Computers review guidelines can be found here.