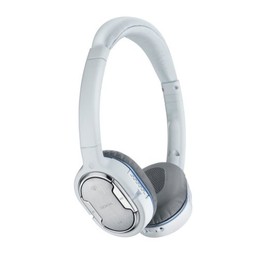 Nokia BH-905i
Make: Nokia
Model: BH-905i
Standby time: 600 hours (25 days)
Charge time: 2hrs
Operating (bluetooth) Range: 10m maximum
Weight: 167g
Dimensions: 190 mm x 140 mm x 35 mm (flat)
Price: AU$349.95
Bluetooth version
2.1 with enhanced data rate (EDR)
Bluetooth profiles
Handsfree profile (HFP) 1.5
Headset profile (HSP) 1.1
Advanced Audio Distribution Profile (A2DP) 1.2
Audio/Video Remote Control Profile (AVRCP) 1.0
The New Nokia BH-905i Bluetooth headset is basically, a perfected version of the previous model, the BH-905, with a complete redesign of the headband. Nokia has done well for the construction and rebuild, as the pads on the headset are quite comfortable and light on your head whilst resting, it's unlike any other headset I've worn. The plastic stems are curved outward slightly, which looks a little silly, but they do provide a nice fit. However the earpads don't work as well as full-sized earcups when it comes to the noise cancellation, but they do a decent job.
The headset features multi-microphone active noise control that eliminates 99 percent of ambient noise. Not to mention its wireless mode with stereo widening that creates an immersive center of sound experience. Pair it with a compatible Bluetooth device–such as a mobile phone or iPod–or use a full range of adaptors to plug to any player, there's not really much this headset can't do in terms of connectivity and it's an easy process.
Most of the controls are housed on the right earpad. Above the Nokia branding is the multifunction call button, while the play/pause control is underneath it. The track shuttle controls are on either side. The control labels are etched into the metal surface, so you can find them by feel. There's not really anything missing, they're quite easy to press as well.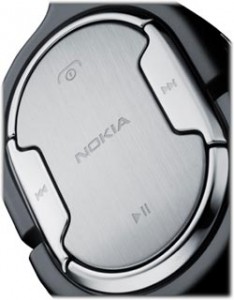 The Nokia BH-905i gets points for being a wireless accessory, if you're using a modern notebook/phone, you should have Bluetooth capability, but there are bluetooth dongles available if your device lacks built-in bluetooth. That said, losing the cord means having to charge the headset nearly every night, which isn't really such a problem in the age of smartphone battery life. But do really want to have another device to charge? I don't listen to music constantly but in the experience I had with daily usage, the headset lasted more than 5 hours, which is more than adequate for average users. Remember the BH-905i headset comes with Active Noise Cancellation (ANC), which can sap battery life so use this feature judiciously.
There are controls on the BH-905i headset for playing your music; you can fast-forward, go back, play/pause music from the headset directly (the Right 'ear' specifically). This isn't a normal trend for headsets, with controls usually on the chords, so it didn't exactly feel natural to begin with. However after daily usage it did eventually become second nature, but it still remains a little awkward personally.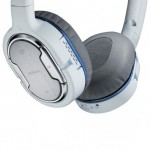 I'll be the first to admit that I'm not exactly an expert in the area of audio or acoustics, but from an average users perspective the Nokia BH-905i sounds just as good or better than previous headsets I've had. The sound is quite immersive and I did manage to become lost in my daily gaming habits on public transport (mostly Pokemon), it's one of the best experience I've had with headphones to date, however whether or not you can justify paying the hefty price tag is a personal choice.
Overall, I'm quite the fan of these headphones. They feel like they're built to last, they fit nicely and muffle out the world when you have them on. However, I can't find the motivation to cut the cord by moving to a wireless headphone accessory with this price tag (currently AU$350). Nevertheless, it's the current average price for the market of Bluetooth headphones.
In conclusion, quality sound, design and comfort make this headset a keeper, but the price tag may or may not deter people from a good investment.
Here are the adapters bundled with this headset:
3.5 mm Nokia AV connector
3.5 mm iPhone compatible AV connector
Audio cable
Supporting adapters for:
◦                                  2.5 mm Nokia AV connector
◦                                  Standard 3.5 mm jack
◦                                  Standard 6.3 mm jack
◦                                  Standard airplane jack
◦                                  Adapter for VoIP calls
Technical Details
Bluetooth-enabled headphones for music and mobile conversation; twin speech microphones
Hear clear music and calls with multi-microphone noise cancellation for blocking out noise on planes, trains, and more
Great comfort with adjustable headband and soft supra-aural ear pads; wear wireless or wired with a wide range of music players
Up to 15 hours of talk time with active noise cancellation (24 hours of talk time without noise cancellation)
What's in the Box: headset, charger, carrying case, user guide, and wide array of cables and adapters
Features of Nokia BH-905i Active Noise Canceling Bluetooth Headset
8 microphones for cancelling the background noise and providing high quality music enjoyment as well as the luxury of silence when you need an environment to relax.
2 microphones for capturing speech and advanced digital signal processing enabling clear communication even in noisy environments.
Tune your wireless music with new bass booster and stereo widening audio features
Wide compatibility for using with music players at home, when travelling, or on the go–wirelessly or with wire s.
Ultra lightweight with a compact travel case for maximum mobility.
Great comfort with adjustable headband and soft supra-aural ear pads.
Make calls from your computer with a VoIP adapter for your headset.
Specifications for Nokia BH-905i Active Noise Canceling Bluetooth Headset
Universal compatibility with devices supporting wireless Bluetooth technology: Bluetooth Specification 2.1 + EDR, Headset Profile (HSP) 1.2, Hands-Free Profile (HFP) 1.1, Advanced Audio Distribution Profile (A2DP) 1.2 and Audio/Video Remote Control Profile (AVRCP) 1.0
Wired connectivity: Compatible with 3.5mm headset jack inputs
Speaker drivers: 32mm high performance drivers
Frequency response: 15Hz to 20kHz
Battery: Li-ion Polymer Rechargeable Battery 600 mAh
Operating time: 24 hours of talk time; 25 hours of music playback; 15 hours of talk time with active noise cancellation; 16 hours of music playback with active noise cancellation; 40 hours of wired music playback
Charging time: 2 hours