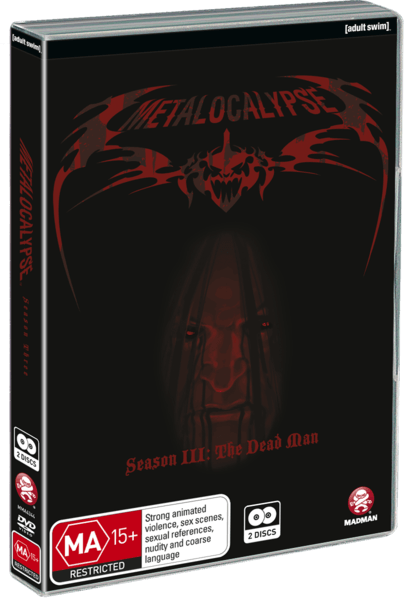 Studio: Titmouse
Publisher: Madman Entertainment
Formats: DVD (reviewed) / Blu-ray
Release Date: October 21, 2015 / Original Release Date: December 1, 2010
Price: $34.95 AUD (DVD) – Available Here / $34.95 AUD (Blu-ray) – Available Here / Complete Series Box Set $89.95 AUD – Available Here
Overview
Following the attack on Mordhaus, Dethklok has to manage without the help of Charles Offdensen. The members of the band have no idea how to manage money and subsequently find themselves in even more trouble when their lack of legal knowledge puts them at great risk. Meanwhile, the mysterious Falconback Project begins.
Story
All episodes in this season are 21-minutes long. The previous format did not allow for particularly in-depth plots or character development, so the format for this season significantly alters the tone of the show. The shift towards plot driven drama began with the previous season, but this shift is so far proving to be nothing but a positive change. Metalocalypse may not be exactly the same show it started out as, but the episodes are more meaningful and engaging than ever before.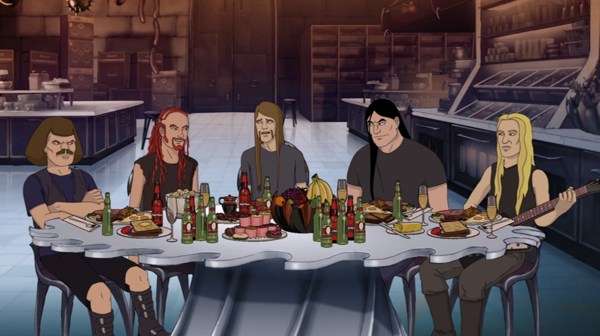 Some of the more meaningful events in this season include the band's decision to start acting like normal people instead of celebrities. They learn what life is like for people less successful than themselves, although this unfortunately does not result in them learning what sympathy is. They are still as incapable of looking after themselves as they were before; despite being incredibly successful, they still need Offdensen as a guardian figure in their lives. One episode deals with Skwisgaar's father abandonment issues surprisingly seriously and carefully, although the drama is still interrupted by grotesque humour. The character development that occurs in this season makes it possible to see the band members in a different light. While this development may have added a level of depth to the show, very little plot progression actually occurs. The mystery of Charles' death is left unintentionally unanswered by the end of this season, suggesting that the reveal of the true nature of the conspiracy involving Dethklok is being saved until quite late in the series.
Visuals
The episodes are now produced natively in the 16:9 aspect ratio. The visuals are now uncensored except for in a brief shot in which Murderface is imagining that he is surrounded by a couple of topless women. There is still plenty of violence, death and destruction, but there are fewer visual gags than before. Although they were an entertaining touch to the series, this season does not suffer as a result.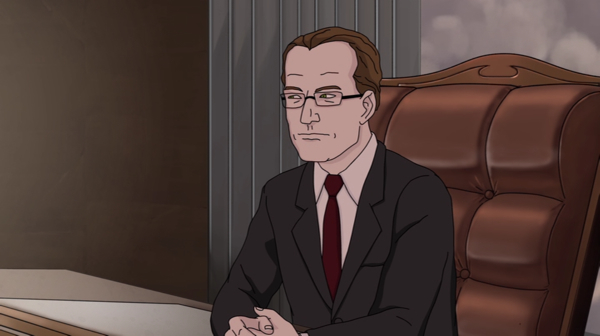 Audio
The swearing is no longer censored. The writers seem to have recognised this in the fourth episode; there is an attempt to avoid swearing in this episode. There is still just as much variety in the music as before, so fans who have enjoyed the music so far will continue to enjoy what is on offer here. Fans of Dr Rockzo in particular will enjoy hearing a song performed by his old band Zazz Blammymatazz.
Extras
Once again, there are many extras included. The music videos for the songs "Bloodlines", "Burn the Earth", "Black Fire Upon Us" and "The Gears" are available in the Special Features menu on the first disc, as is Nathan Explosion's reading of Shakespeare's Othello. There are numerous pop culture references and even North American Sports references in this 38-and-a-half-minute extra. The animation is extremely limited; the sound of pages turning can be heard despite Nathan's hands remaining motionless. There is no possibility of gaining an understanding of the play from this reading, but Nathan does make a couple of interesting critiques of the play. This long video may not particularly interest people who are not interested in Shakespeare's works, but it may otherwise be entertaining for viewers. There are two hidden extras on the first disc. A chilling teaser for General Crozier and the Falconback Project can be found by pressing up four times when the 'Special Features' button is highlighted. Another video featuring Offdensen palling around can be found by pressing up or right when the previous hidden extra is highlighted.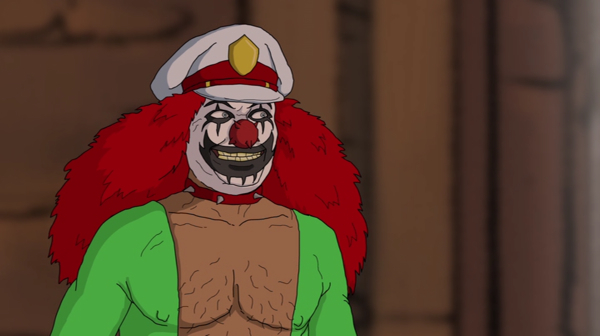 There are several extras in the Special Features menu on the second disc, the majority of which are extended scenes from various episodes. They include: "Dimmu Burger Drive Thru", "Places", "House Cleaning", "Furniture", "Immortal Records", Klokateer Recruitment videos 1-4, "Escort Services", "Drunk", "Snacks" and "Two Swedish Dads Extended Cut". Most of these extras have a reasonable length, but the extended scene of Pickles' drunk nonsense is tedious to watch due to its long length, pointless dialogue and limited and repeated animation. There are three hidden extras on the second disc. A strange and poorly animated three-and-a-half-minute dance sequence featuring three Murderfaces can be found by pressing up four times from the 'Special Features' button. An eight-minute video of a janitor cleaning a room for the Tribunal can be found from the previous hidden extra by pressing up or left to highlight a window on the left building. Very little happens during the first three minutes of this video and there is no incentive to watch the rest of it. A whack-a-clown video can be found by pressing up or right from the previous window to highlight a different window on the same building. The entertainment value of the extras included with this season will again vary for each individual, but there are many entertaining extras included with this season.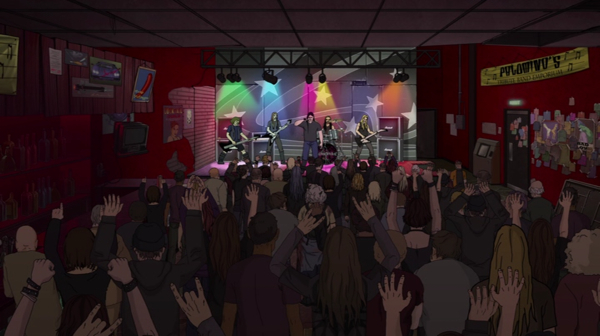 Overall
The style of the show has changed, but it is clear that the writers know exactly what they are doing. The members of Dethklok are still as ignorant and immature as ever, but there are moments when they exhibit human qualities and almost seem like normal people. That they are not in fact normal people is a point that is driven home on multiple occasions, but the clever satire of fame and other topics such as religion, drugs and political tensions makes the series feel as if it could somehow take place in the real world. It will be interesting to see how the plot progresses with just twelve episodes and one television special left, but the series has been going strong thus far and shows no sign of slowing down anytime soon. It is one of the most engaging animated series on American television.
Capsule Computers review guidelines can be found here.