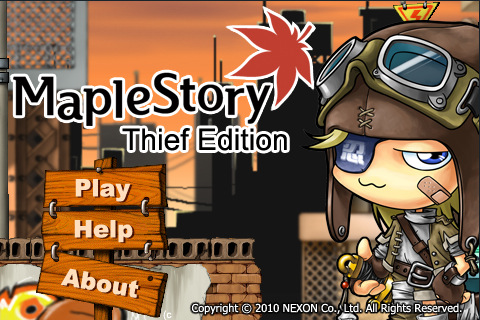 MapleStory: Thief Edition
Company: NEXON MOBILE
Release Date: August 16, 2010
Price: $4.99
Story:
A port of the famous MapleStory online RPG, playing as a thief or assassin, you create your own story. Every choice you make with every item you can obtain changes the story, creating multiple endings. Potions, weapons and much more creates an almost exact replica of the online game. Mini-games are available as well, in case you need a small break from work.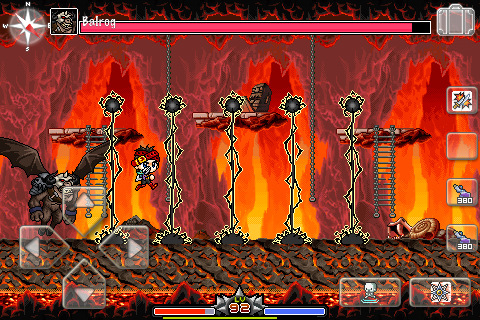 Sound and Graphics:
If you're a MapleStory fan of the online RPG, then the sounds and graphics of this game are perfect! It's almost an exact port to the iOS platform! So, if you're looking to put the online game in your pocket, then this game is for you. If you've never played MapleStory online, then the sounds in this game are the typical sound effects for jumping and everything else that you would expect. The background music is boring and made me want to quit the game, which I did. Unlike other RPGs, this game brings you into a boring and sad environment. The sounds, along with the graphics, become annoying after just a little while. The graphics are exactly like the online game, so they did a great job porting the graphics of the game to the iPhone, but the graphics are still terrible. You could see the graphics of the game shown in the above screenshot. That's possibly the best graphic moment of the entire game. It has boring sounds and looks unappealing. There's not much to compliment when it comes to the sound and graphics categories.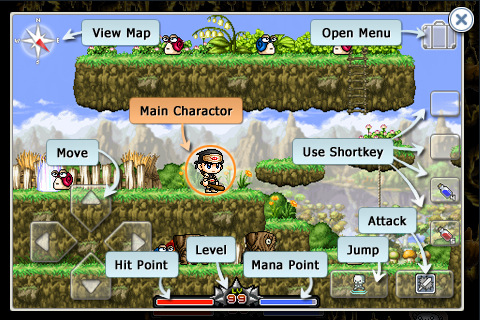 Gameplay and Controls:
Gameplay is almost exactly like the online RPG, but for someone who's never played this game before, the gameplay is not addicting. Not only is it not addicting, but the controls are so bad, this game may not be on your iPhone for too long before you delete it. Besides the controls being so small and sometimes unnoticeable, they don't even recognize every tap. I was looking forward to a great game with lots of jumping around and action, but this was a major let down. Again, for a MapleStory fan, this game is great and everything is perfect in every way about it, EXCEPT for the horrible controls. Everyone else, I would recommend looking for other RPGs in the App Store. In this game, you obtain weapons, treasures, clothing, fulfill mission and more. Attacking snails, climbing ropes and ladders, interacting with characters to see what they're thinking or to fulfill missions for them, this game has what every RPG should have. The only problem is the way the game was designed. Besides being a side-scroller, this game is no fun at all and there are so many better ones out there, I don't see why anyone would spend $5 on it, unless you're an original Maple Story fan. If they made a complete re-design of the controls and other buttons, this would possibly be one of the best RPGs, but will that happen?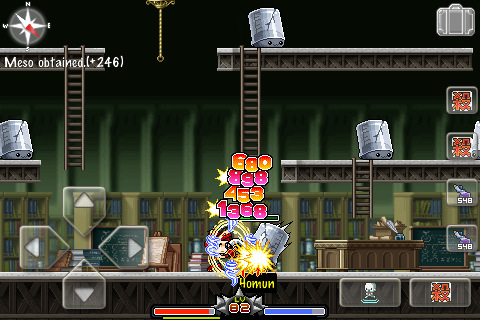 Summary:
This game definitely has some great RPG-ness and it could be fun if they fix the controls. The graphics are sad, but if the game is good enough, then it's definitely playable. This game would be good enough if they ever get to fixing the controls. As of right now, this game is not worth $5. If they update the background music and the controls, then I would give this a VERY GOOD rating of 8.5 capsules, but until then it is getting a GOOD rating of 7.5 capsules. The controls are too terrible to play with. The graphics are understandable because they are meant to match those of the online game. The sounds are not interesting and the gameplay would be pretty good if they fixed up a few things.